When most people think of having a small getaway or a road trip out of Nairobi, very few think of Machakos County. Everybody is always thinking of Naivasha, Nakuru, Limuru, Nanyuki, Kajiado and the likes. But what people don't know is that Machakos County has quite a lot to offer in terms of scenery, activities and accommodation options. Plus the roads are really good for any type of vehicle so there is no need to worry about rainy seasons or potholes.
Did you know that Machakos town was Kenya's first administrative town? Right now we could have been saying that Machakos is the capital city of Kenya. The county is quite large and it starts all the way past Syokimau to Matungulu and parts of Thika. It has 8 constituencies including Machakos, Yatta, Matungulu, Masinga,Kangundo, Kathiani, Mwala and Mavoko.
From Nairobi CBD it will take roughly an hour to cover the 65 kilometers and reach Machakos town without stop overs . But what is a road trip without stop overs to explore and enjoy what each place offers? The following are some of the fun and affordable activities to indulge in when you visit the county.
Visit the African Heritage House
For cultural diversity and understanding, a visit to the African Heritage house in Mlolongo is a must. When you get to Mlolongo stage just ask for "Kwa Donovan Mzungu" and you will be directed to the house. This orange historical house is a rich collection of art, jewelry, fabrics and books. It was completed in 1994 with inspiration drawn from mud architecture from across the world. It has been gazetted as a National Monument since 2014.The doors are inspiration from Lamu and Zanzibar and part of their interior courtyard is derived from the Moroccan Culture.
For art, African culture and history lovers, the African Heritage House is a haven of beauty. The house is filled from floor to ceiling with rich colorful fabrics, seats, paintings, photographs, sculptures, which were collected by Allan Donovan during his travels. He is the founder.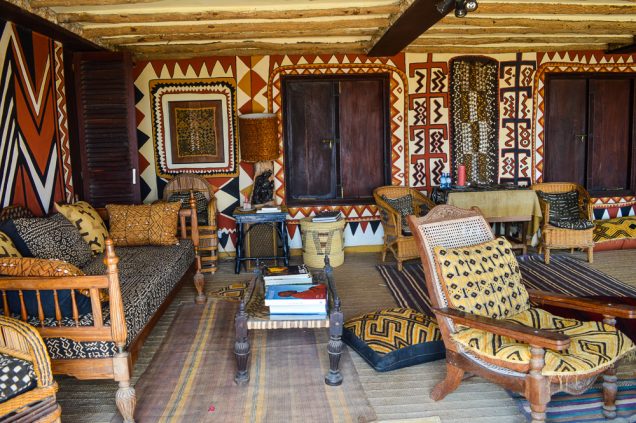 Access to the house is Kshs. 1,000 per person which is inclusive of the full house tour and coffee/tea afterwards and overnight stays are also available from kshs.10,000* per night. Meals are only available to guests residing in the house and so is access to the swimming pool.
Gp-Karting at Whistling Morans
One of the largest Gp-Karting tracks in Kenya is found at Whistling Morans in Athi River a few kilometers behind great wall Apartments phase 3. It is a perfect place to put your competitiveness to work. The charges for kids are Kshs.1,500 and Kshs. 2,500 for 15 minutes and 30 minutes respectively. For adults, they charge Kshs. 1,500 and Kshs. 2,500 for 10 minutes and 20 minutes respectively. The experience is worth every penny in your pocket and they also sell food and drinks. After the race you can cool down at their swimming pool.
I wrote an extensive article on affordable places to go for GP-karting in Kenya here.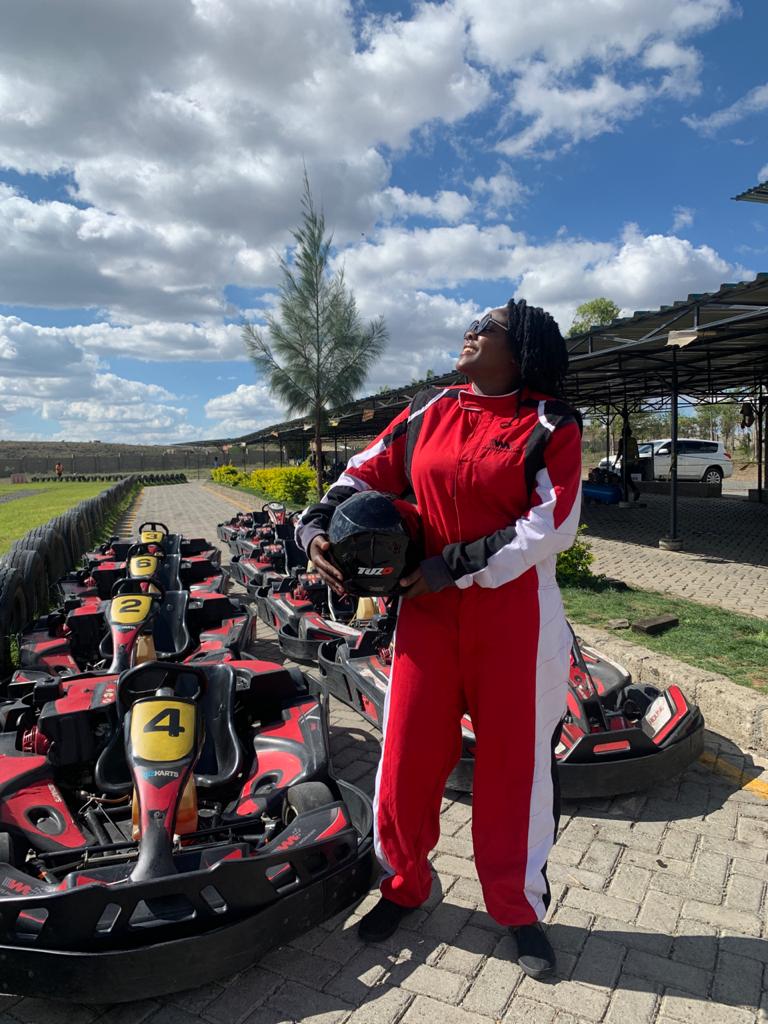 Ride Quad Bikes at Last Village Resort
The Last Village Resort is one of the better known resorts in Machakos County offering serene environment with spectacular views of the surrounding hills. It is located on Mutungoni Road, just past the Athi River bridge along the proposed greater Eastern By-Pass. The resort has a number of activities to indulge in such as archery, quad-bikes, swimming and zip lining. Their room rates start from Kshs. 8,000* and camping is Kshs. 4,000 for two for tent only.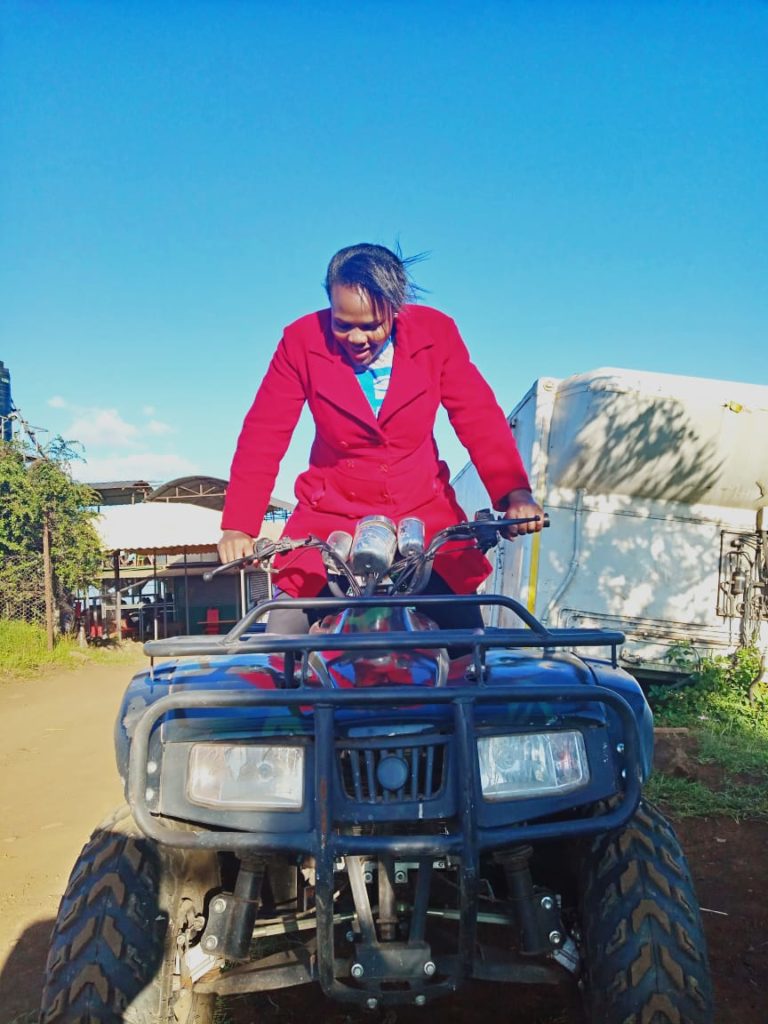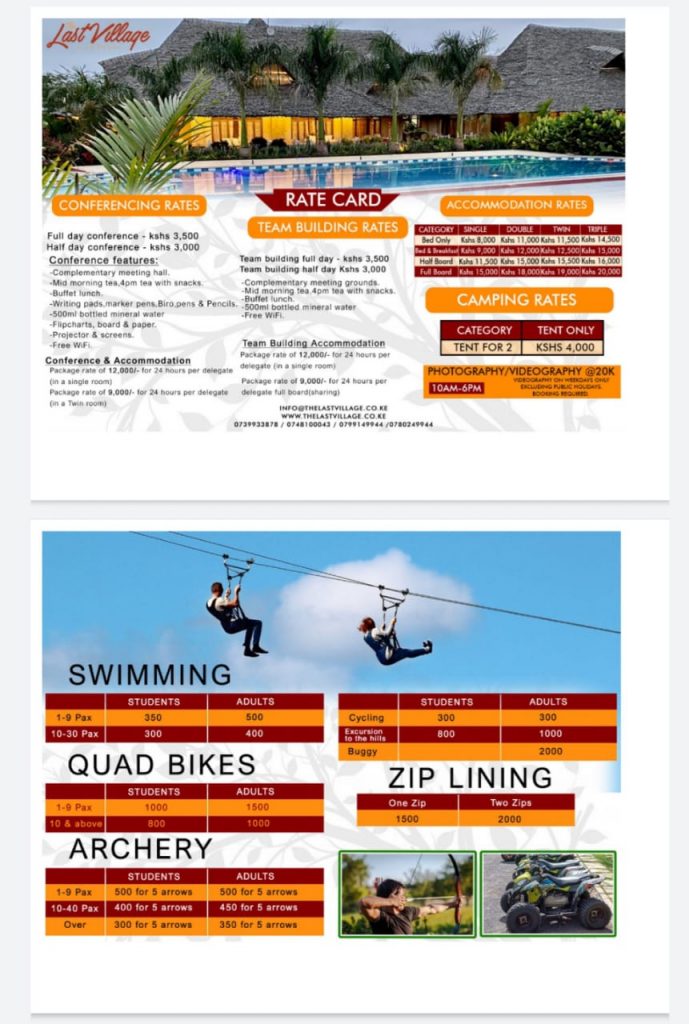 Visit Maanzoni Sanctuary
Set on a 10,000 acre ranch in Athi River, Maanzoni lodge is the destination of choice for leisure and is home to Maanzoni sanctuary. The sanctuary is home to a number of zebras, giraffes, elands, gazelles, wildebeests and some ostriches. It is accessible to all and there is no entry fee. From the lodge, they plan walking safaris for the guests to experience the beautiful wildlife and scenery. Their room rates start from Kshs.9,000* for bed and breakfast with free access to their swimming pool.
Visit Masinga Dam
Every time I hear about Masinga, I think of Subaru boys and Mainga TT. If you don't know what Masinga TT is, you must not have a very active social media account because this motor space event happens from time to time and creates a crazy buzz on the social media streets. It allows petrol heads to try out their car speeds in front of the enthusiastic crowds.
The dam is on the longest river in Africa- Tana River and serves as a water storage facility for the other dams and is used for hydroelectricity generation. The scenic dam has a capacity of 1.56 billion cubic meters of water. It offers a great sight seeing opportunity but I would not encourage anyone to go there during the heavy rains seasons because it may flood and overflow.
Hike Kiima Kimwe and Lukenya Hills
Hiking lovers are also not left out of what Machakos has to offer. Lukenya offers a variety of climbing routes including face climbs and some jamming cracks. It has excellent rocks and a camping site at the top of the hill so you can carry your own camping gear and camp. At Kiima Kimwe Mountain you get picturesque views of Machakos and Nairobi counties. Most people use this place as a shrine and prayer place as it is believed to have some religious and cultural significance to the Akamba community.
Eat samosas at T-Tot Restaurant
There is no way one can travel all the way to Machakos town and not have a stop-over at T-Tot restaurant. This restaurant has stood the test of time and their quality of food has never changed from about 8 years ago when I had my first there until this year. My all time favourite meal is their samosas. For only Kshs. 60, you will get to enjoy one of the best samosas you taste buds have ever tasted. They are big, meaty, juicy and also crunchy at the same time. You will have a mouthgasm!!! Also their kienyeji kitchen is finger licking good.
Zip-lining and Boat-Riding at Machakos People's Park
This park has really elevated the image of Machakos town to a must-visit place while touring Kenya. It is one of the cleanest parks in the country and is very well maintained. Due to the large numbers of visitors during the weekends, the park is usually closed on Monday through Wednesday and is only open from Thursday to Sunday.
There is no entry fee though you have to pay for the activities you undertake. Zip lining cost Kshs. 500, horse and camel riding is Kshs.200, Boat ride is kshs. 200 and archery is Kshs. 200. Another amazing thing about the park is the Maze and the open amphitheater which can accommodate up to 5,000 guests. Make sure you pass by and enjoy some fun activities. The kids play area is also full of kid activities such as trampoline and merry go rounds.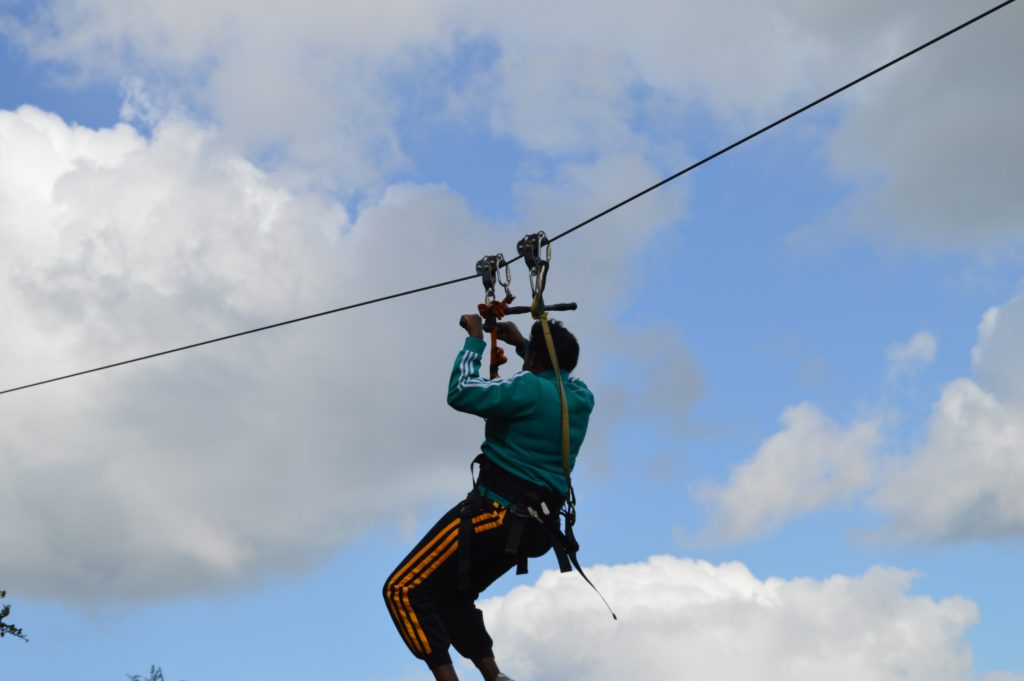 Visit the Anti-Gravity Hill (Kituluni/Kyamwilu Hill)
This place attracts quite a number of tourists who want to see and experience this miraculous experience first hand. The anti- gravity hill is exactly what the name says. It defies the force of gravity. If you switch off you car and park it a the side of the road with nobody inside, it will start moving up the hill slowly. It can go up to past 20 meters. This also happens when you pour water on the road. It starts to move up the hill hill instead of going downwards. I don't know if I should start saying that "Witchcraft is real haha".
There is a story behind the phenomenon which involves two twin brothers (Kyalo and Mwilu) who married the same woman against customary laws and she gave birth to a son. They could not ascertain who the father was and so they kept on fighting over the child it until their death. Mwilu was buried on the top side while Kyalo at the bottom side of the hill. Apparently they are still fighting and Mwilu keeps on winning and that's why the water flows upwards the hill. At least that's the story the locals tell.
Ol Donyo Sabuk National Park
To be honest I did not that Ol Donyo Sabuk National Park is part of Machakos County considering the first time I saw it, I was just a few minutes away from Thika Town. This is 18.5km South East of Thika town on the Thika-Garissa road. Later is when I realized it is part of Machakos county under Kyanzavi Division.
Ol Donyo Sabuk means Mountain of Buffaloes due to the large number of buffaloes found in the park.The park also has bush bucks, Olive baboons, leopards and over 45 bird species. Entry fee is jut Kshs. 250 per adult and Kshs. 200 per child. From Ol Donyo Sabuk National park it is also very easy to access Kenya's most spectacular landmark – the famous fourteen falls which is just 3km away. You can camp at any one of their three camping sites namely Turacco Public Campsite, Rock Hyrax and Summit campsite.
The next time you want a getaway, make sure you head down to Machakos County. Keep it here fro the next article about where you will get the best accommodation when in Machakos.