The thought of traditional camping in a tent on the ground and in a sleeping bag or even on the tiny mattresses does not really excite many people let alone me! And that's why avid travellers like me are more inclined to glamping. Glamping is basically luxury/glamorous camping. More travel destinations in Kenya are now shifting to luxury camps because it offers accommodation which is more comfortable, homely and wild at the same time. You get the comfort of a hotel room with a touch of nature.
With glamping, the accommodation is in a luxury tent which is self-contained and has all the amenities you would get in a hotel setup. That includes a fully fitted bed, toilet and bathroom, toiletries, some even have television sets and wardrobes.
Below are my top affordable luxury camps in Kenya:
Sieku Glamping
This is one of the most popular places for glamping in Kenya. Sieku glamping is bespoke, small, unique and offers rustic, luxury accommodation away from the traditional mainstream accommodation options in Kenya. Located in Laikipia county, 40 minutes away from Nanyuki town, Sieku is one of its kind in Kenya. The whole facility can accommodate a maximum of 20 people in their five tents.
Travelers have an option of hiring a chef, cooking their own meals or booking a full board package. Sieku is also Eco friendly. Be ready to carry your trash back home as they do not have any dustbins. All their lights are solar powered including their fridges and there structures are not permanent. Check them out here.
Fun activities to do in the area include a trip to Ngare Ndare forest, Mukogodo forest, Buffalo springs and Ol Pejeta Conservancy.
Read about Ngare Ndare forest here.
Naivasha West Beach Camp
One of the things I really look out for when I am planning to travel is if my preferred place of accommodation has a swimming pool and a restaurant. With Naivasha West Beach, you even get a view of Lake Oloiden. This premier beach camp offering accommodation in Naivasha has luxury tents which are big enough to accommodate even groups of 10 people. The tents are fully equipped with a bed, wardrobes, a table and chair for studies or work, a toilet, bathroom and a sink area. The charges are Kshs. 4,500 per night for bed and breakfast. Their born fire area is well equipped with seats and firewood so no worrying about the cold at night. It is a suitable place for the whole family setup. Check them out here.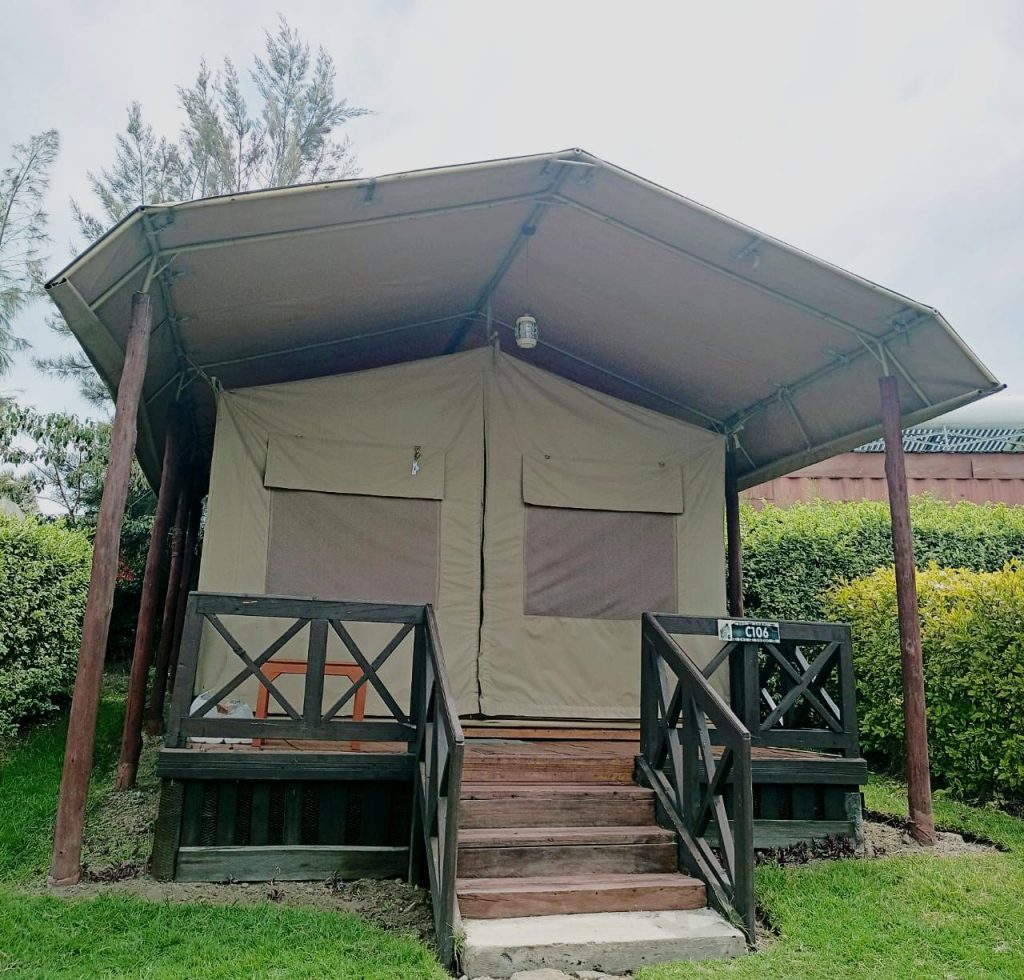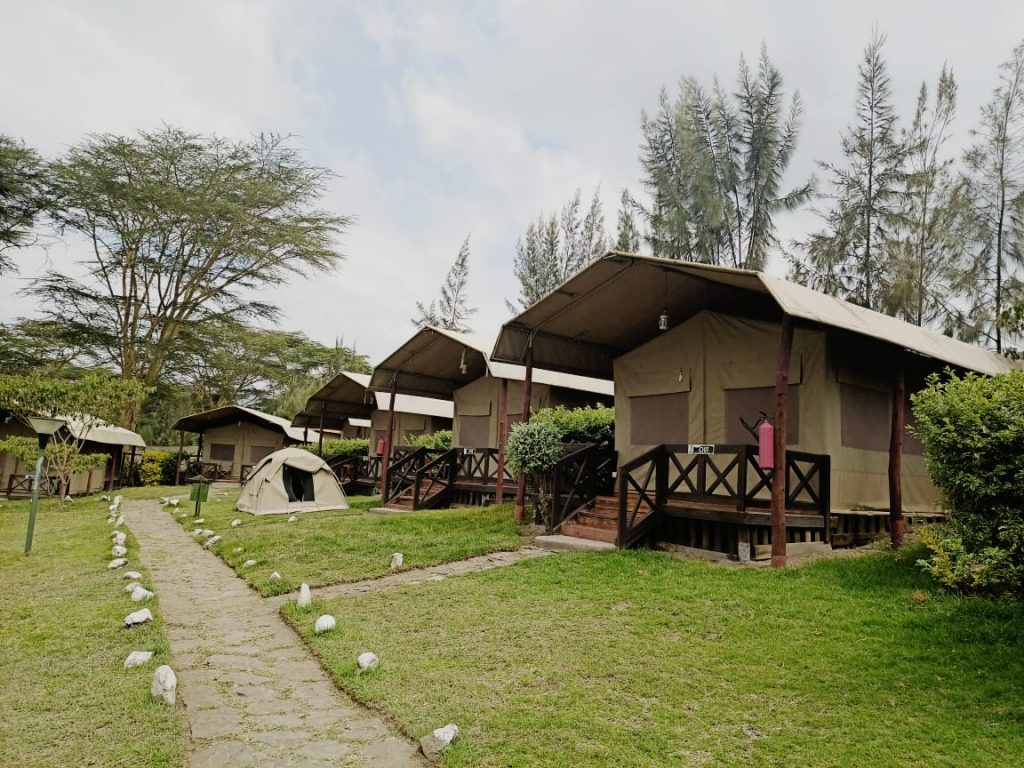 Nkasiri Adventure Park
Nkasiri is the newest kid on the block. It is located in Kitengela in Kajiado County off the Nairobi-Namanga Highway. A road trip from Nairobi town will take roughly one and half hours. The 30 minutes is because of the rough road leading to the destination which has not yet been tarmacked. It is about 12 kilometers from the main road.
Nkasiri is now known for its camping pods which can comfortably host 2 people at a time. The wooden pods come with basic amenities like toiletries, towel, slippers, wooden dustbin, toothbrushes and toothpaste. Rarely do you get toothbrushes and toothpaste in any hotel or camp.
There are quite a number of activities to do at Nkasiri Adventure Park which include cycling, darts, basketball, football, playing pool, checkers, trampoline, zip lining and the creme de la creme is the high rope challenges. Most of their activities are free with any booking except zip lining which is Kshs. 500 and the high rope challenge starts from Kshs. 1.500 for level one and Kshs. 2,500 for level 3 difficulty.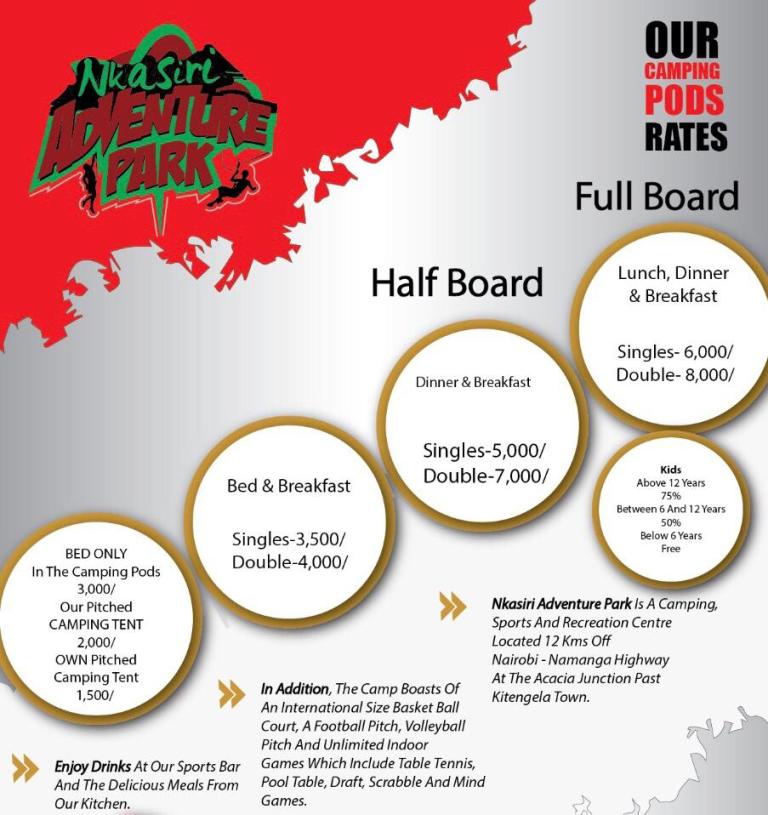 Oasis Eco Camp, Elmentaita
Before I even knew what glamping is, Oasis Eco Camp gave me my first experience. We had planned our trip to Lake Elmentaita and our accommodation option was camping in their tents. We arrived a bit late and the normal tents that were available, were not enough for all of us. Some of us, me included, got a free upgrade to the luxury tents. The luxury tents are fully equipped with a bed, towels, toilet and bathroom with toiletries. They charge Kshs. 4,000 per night.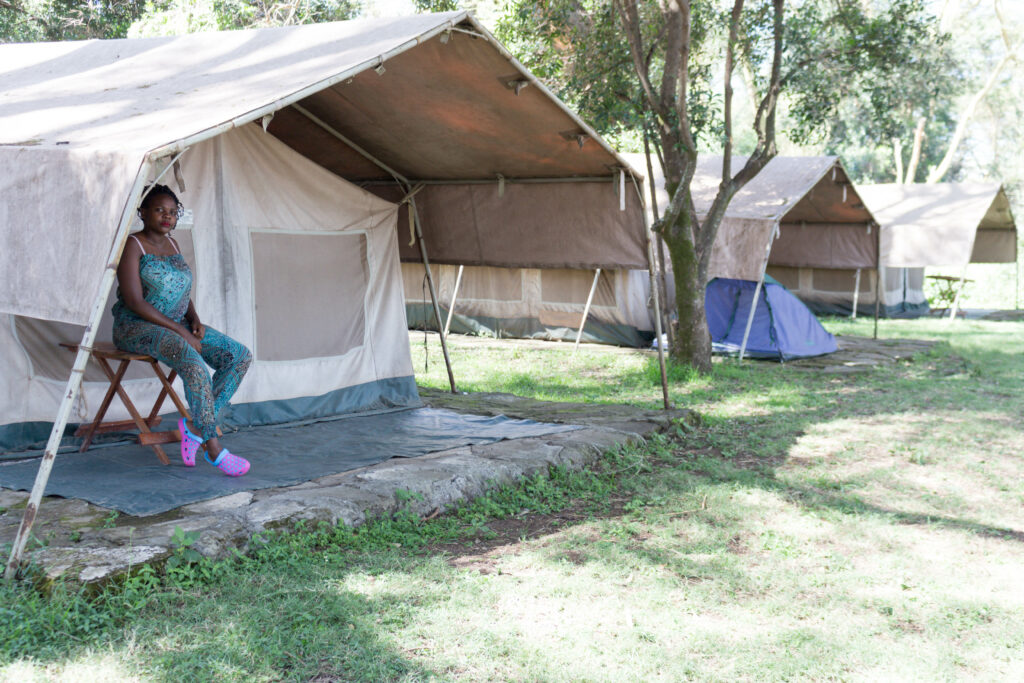 Nairobi Tented Camp
The luxury camp is located inside The Nairobi National Park and has only 9 tents which can accommodate two guests at a time. All the tents are all en-suite. The beauty about this place is that you get to enjoy early morning game drives or late evening drives in the park and you are most likely to spot animals with ease. Their rates start form Kshs. 5,500 per person sharing on bed and breakfast.
Anga Afrika Luxury Camp
With only 6 luxury tents, Anga Afrika's aim is to offer a serene and intimate environment with a touch of luxury and nature. All the 6 tents are all en-suite withe either a king, queen or twin size beds to fit each guest's preference. A masseuse is available on request and you get to enjoy the heated pool for free. The place is also open for day guests who do not want to spent the night.The restaurant can only accommodate a maximum of only 18 guests. Their camping rates start from Kshs. 15,000 per night for bed and breakfast.
Wildebeest Eco Camp
At Wildebeest Eco Camp, everyone can spoil themselves and afford a little luxury. Guests get to experience a uniquely African experience, and the distinctive comfort of a beautifully-appointed luxury tented camp – says the owner. It is located in Langata making it a great choice for a small getaway in Nairobi. Their accommodation options range from camping on the ground, glamping, sleeping in a dorm, cottage and even a family tent or cottage. It has something for everyone. Accommodation in normal tents starts from Kshs. 1,250, dorms Kshs.1,750. luxury tents Kshs, 4,000 and Kshs 6,500 for the cottages. Check out the rates here.