Over the past weekend, I had a chance to visit one of the most affordable craft beer making joint in Nairobi. I had discovered this place from one of my Instagram friends who was trying out the craft beers at 254 brewing co. From his Instagram stories, he was having so much and I wanted to find out more and have a taste of their beers.
After a thorough perusal on their Instagram page, I was fully sold that this is the content I want to share with my readers. I reached out to them and I was amazed when they replied in less than a day. After a few talks with one of the managers, a date for the visit was set. I like how things work in the 21st century. We are no longer sending letters via postal offices or sending doves like Moses from the Big book nor do we have to see it other physically for business to happen.
Getting there
So, the D-day for visiting 254 brewing co was on Saturday afternoon. We had a 30 minutes drive from Nairobi CBD through the Southern Bypass to Kikuyu town which is also accessible through James Gichuru road or Ngong road. There are so many routes that can get you to Kikuyu town regardless of whether you are using private or public means.
Since we live in the digital era, finding the place was not problematic to us. Google maps came through for us. 254 brewing co is located at Levilla Gardens which is about 5 minutes from Kikuyu town. If you don't have google maps you can just around or get a motorbike for Kshs. 50.
The place
I have never seen such a charming place! To be really honest I was dazed. From the bamboo décor, the minimalist and classical look, the wooden table and metallic chairs, to their flower vases made of their used beer bottles. There is an option to either sit inside or outside for some fresh air. At the counter, they have a number of tall bar stools arranged to accommodate anyone who does not want to sit at any of the tables. They give the best view of the bartenders and the array of drinks in the bar.
The order of the day was to have a taste of the crafted beers. As soon as we sat, Raphael the Bartender was quick to introduce himself and take as through the menu. We ordered their signature beers as we waited for our honey glazed pork ribs and potato wedges to be prepared.
254 brewing co is Kenya's first line of naturally clarified small batch craft beers. They use premium, unfiltered, unpasteurized ingredients to make their full flavour small batch beers.
They have created 13 craft beers full of character. We had a chance to try out some of their signature crafted beers namely Cliff hanger, Karibrew, Ni how, Sand Trap, Golden Rump, Maxwell house and the signature 254 brewing co. Maxwell's house is their newest baby on the block. For more information on the content of each beer check out their website here.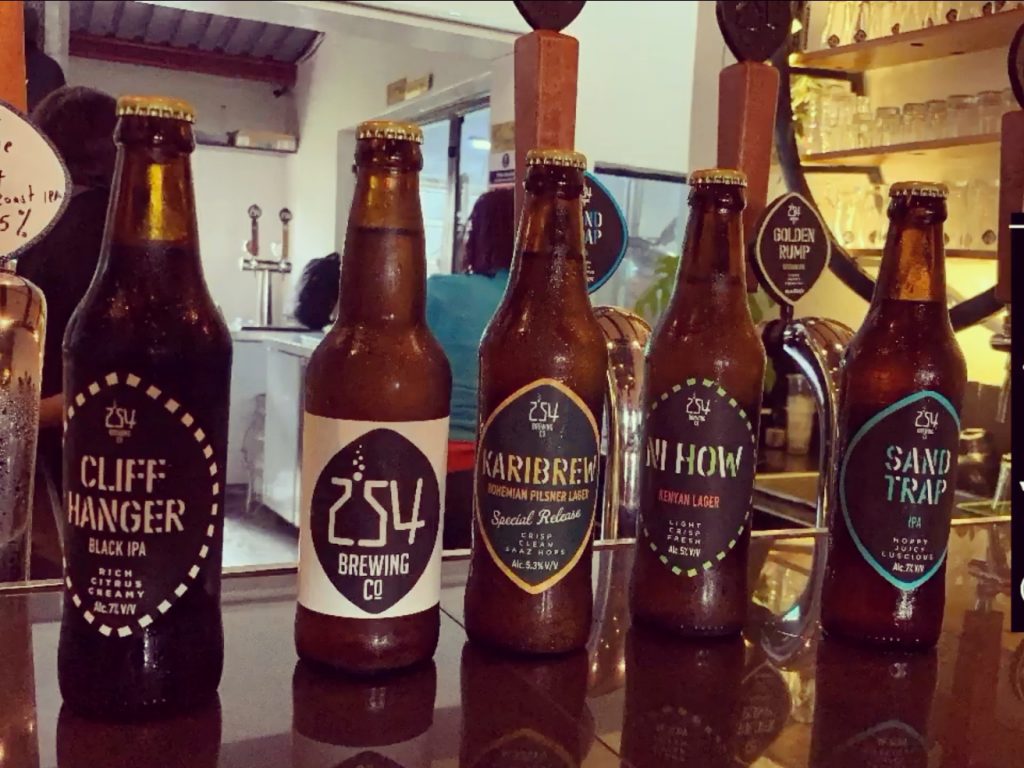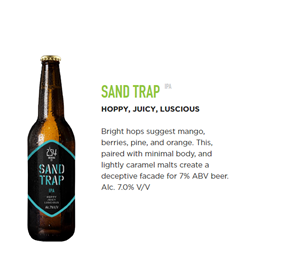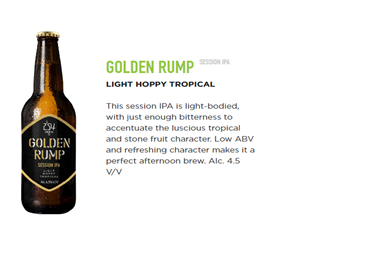 My favourite
Sand Trap was my favourite because of the mango, berry, pine and orange taste. It is a hoppy, juicy and luscious light caramel beer with a 7% alcohol concentration. I go for the sweet things. Next in line was Karibrew which I found out is what most people prefer. It is a Bohemian Style lager with the malty sweetness of a Pilsner.
The fresh craft beers served direct from the fermenter are a must try! The place sells the most affordable craft beer. All their beers go for a standard price of Kshs. 250 except the Muratatu which is a Belgian Tripel which a 9.99% alcohol. It is strong!!!!
Happy Hour
During their happy hour, the price drops to Kshs. 200 for all beers, Ksh.700 for Cocktails and Kshs. 500 for all flights. This is not the kind of flight you board to Diani or Eldoret. A flight in 254 brewing co means that you get to sample any five beers at a fixed rate of Kshs 650 on normal hours and Kshs. 500 during happy hour. This is especially for new customers who want to have a taste of each beer before they settle on "the one".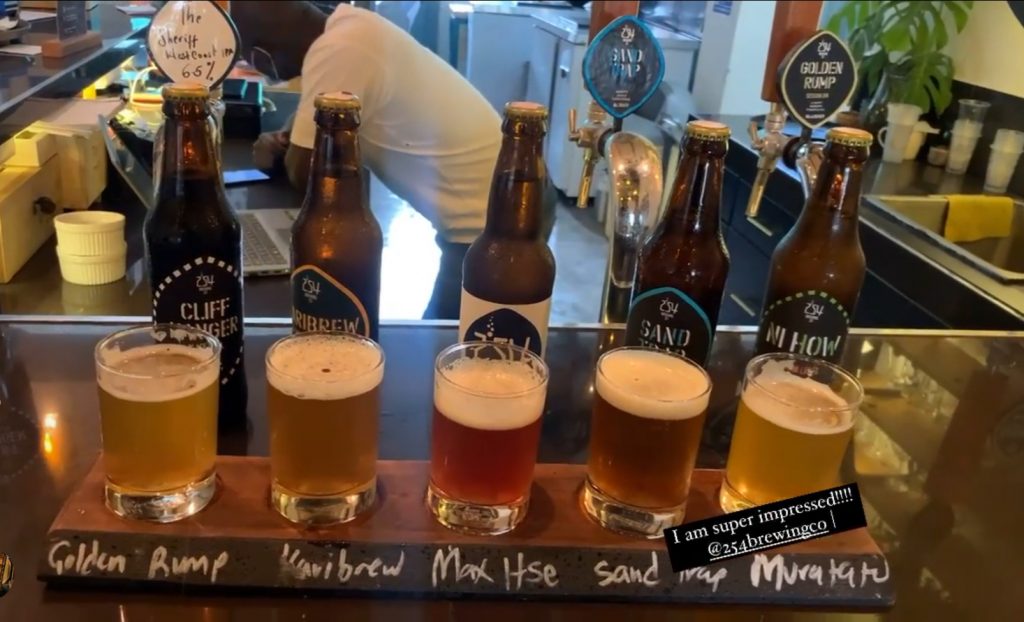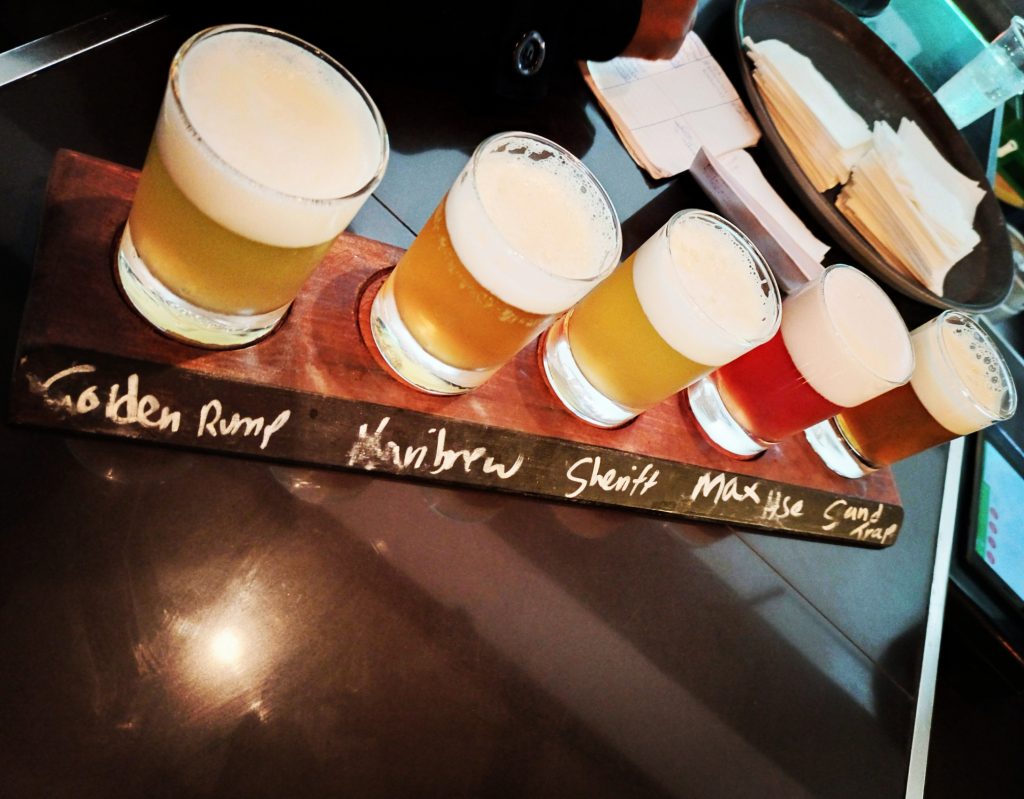 Food Menu
For food items, we tried out the Sambrubru pork ribs with a side of the spicy potato wedges which come with a tomato booch chutney and homemade aioli mayo. They were delicious. The pork ribs were for Ksh. 400 while the large wedges were Kshs. 500.
For kshs. 2,700 you get their party latter which contains basically everything in their menu; cliff hanger beef mshikaki, Sambrubru smoked pork baby ribs, BBQ Sandtrap Chicken mshikaki, beef sliders and beetroot sliders and potato wedges. It is a whole feast!
Membership
One more interesting thing about this place is that they have a brew club which is a membership program to reward their loyal walk in customers. Does your favourite bar appreciate you? Thought not. 254 brewing co is setting the pace. The membership benefits include free beer and merchandise with repeat purchases, free beer for referrals, access to exclusive brews not in the market and even exclusive access to the brewery events. You can bet I got my membership card.
Overall Verdict
My overall verdict is "this is the place to try out". For a fun chilled out weekend, this should be your next destination. I loved the decor, the service, the food and the ambience was just perfect. The prices are also really affordable making it the most affordable craft beer making joint in Nairobi! Mention my name when you go there and you might get a discount or free beer! Check out my Instagram highlights to see how much fun we had.