I have always wanted to go to Diani beach in South Coast Mombasa for a holiday. The dream finally came true this week when my mum and I travelled to Diani to celebrate our birthdays which are one week apart. The planning took roughly about four weeks as I was trying to look for the perfect place with the best deals for us to stay.
The four weeks involved a lot of research on best hotels to stay in while in Diani, what to do, safety measure, how much it will cost, how to get there, checking tour company pages to see which ones had offers and even making phone calls to the hotels to ask for their prices.
Read more: How to budget for travel.
Planning a trip for my mum and a child is not as easy as planning a trip with friends. With my friends, we could have probably got into the SGR and booked a nice Airbnb or a hotel that offers bed and breakfast and we are good to go. But with the change in dynamics, I had to look for a place that offers at least half or full board. Luck for me, I discovered Neptune Hotels and I was sold!
The chain of hotels prides themselves in giving their guests African memories. All their 7 hotels in Mombasa, Diani, Zanzibar and Maasai Mara offer all inclusive deals. They have 3 properties in Diani namely Neptune Village Beach Resort & Spa, Neptune Paradise Beach Resort & Spa, and Neptune Palm Beach Boutique Resort & Spa. I opted for the Neptune Paradise Beach Resort and Spa because currently the Neptune Palm is closed for renovations. The price on their website is $90 per night which is roughly Kshs. 9,000 per person sharing so for a double it will cost you Kshs. 18,000 per night.
With my few years in travel blogging and research on the best deals, the best option is always to call the hotels and negotiate the prices. Especially now with the covid-19 pandemic and decrease in tour and travel business. Direct booking is the best though you can also use a travel agent if you don't want all these hassles of calling different hotels to negotiate the prices.
Also read: My trip to Lamu Island.
So, I got a deal for Kshs.12, 500 per night for a double occupancy and FREE accommodation for a child below 12 years and FREE airport transfers!! You pay a 50% deposit to guarantee your booking within one week and clear the rest below your arrival date. This price includes a welcome cocktail, buffet breakfast, lunch and dinner, unlimited tea/coffee/soft drinks, selected wines and alcoholic drinks, unlimited beer and snacks throughout the day until midnight. The word is here is unlimited! How could I not choose this place?
We choose the flight option because it was convenient and also because why not?? Normalize luxury ha-ha. Jokes! It is because my mum is over 55, Michelle is 10 and none of them could sustain a 6 hour SGR ride then the transfers on a ferry plus another transfer to Diani all in one day.
Read more: SGR to Mombasa.
Always book your flights way earlier before you travel. On my article on how to get cheap flights, I have mentioned all you need to do. Our preferred airline is Jambojet because they offer great services, there is enough leg room, and also because JKIA is nearer and better. The flight tickets were Kshs. 12,000 per person for return tickets. The best time to travel is on Tuesday because most times, the prices are lower. Sometimes it rises up to even Kshs. 15,000 one way especially during peak season like Christmas. One week before our travel date, everything was paid for and we were for travel.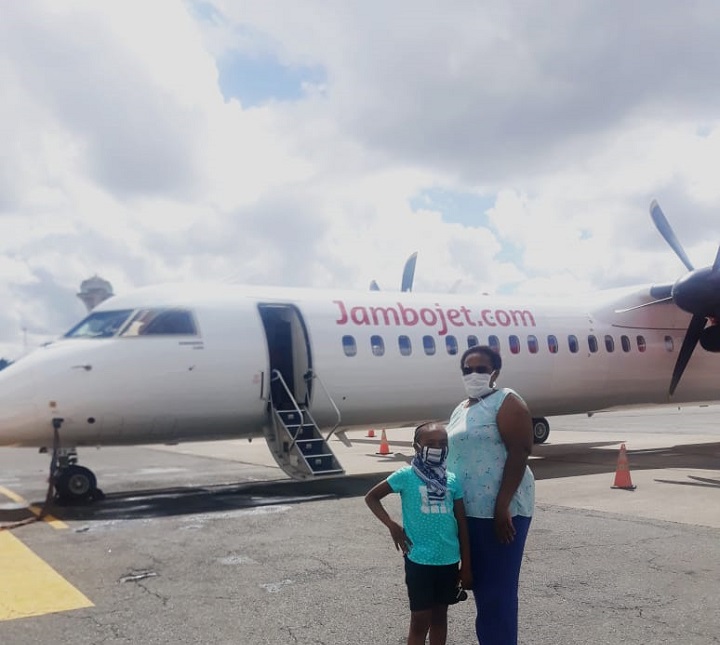 On the travel date, we checked in at JKIA where our temperature was taken as we sanitized our hands and had our luggage scanned. The check in process is quite short and seamless. You are then given a contact tracing form to fill and hand in at your final destination. 1 hour and 15 minutes later we landed at Ukunda Airstrip where our temperature was once again taken and then we were picked by the Neptune Hotel Chauffeur.
The hotel is located 8 kilometers from the Ukunda Airstrip which will take you roughly 15 minutes by road. Once we arrived, we once again had to sanitize and have our temperature taken before check in at the reception where we were welcomed with very colorful "Neptune Special" cocktails. We were then issued with a "Neptune Hotels" wrist band to be worn at all times.
We were then escorted to our room which was in the nicely Swahili styled cottages with makuti roofs. They have 92 rooms, 4 on each cottage. The Superior garden view room which we got is well equipped with a terrace, a king size bed and a side bed for the child, a TV set, coffee/tea maker, a safe and the bathroom with a hairdryer.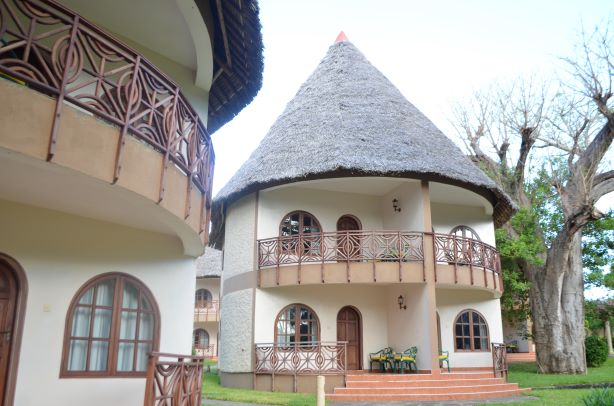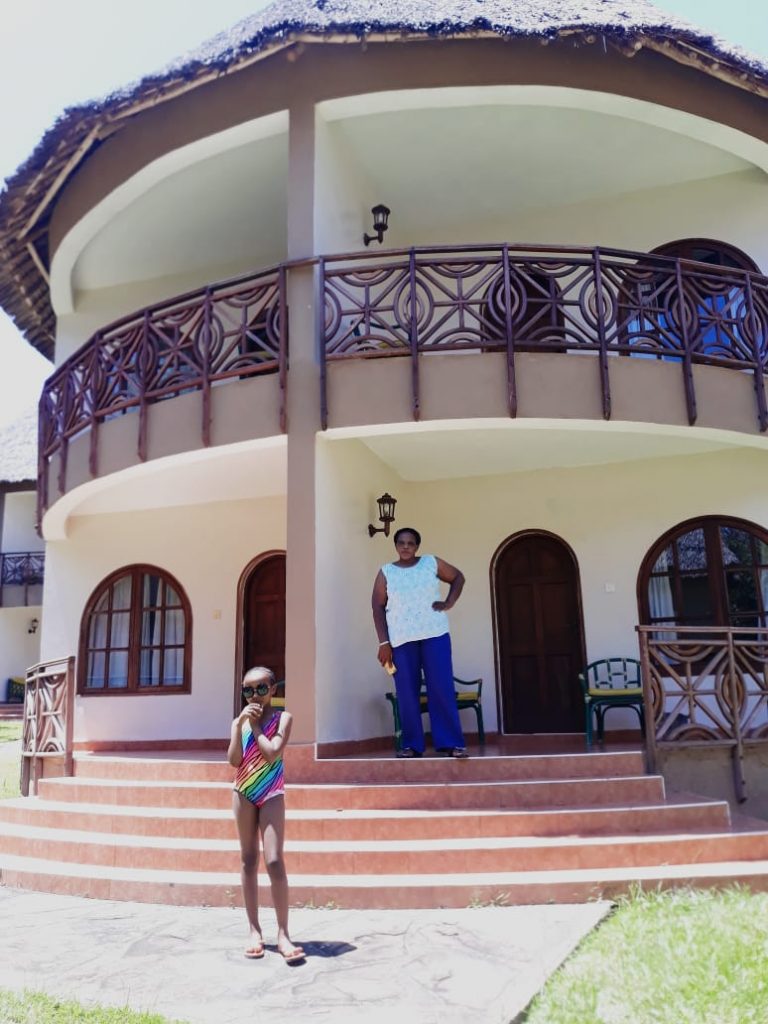 Our next stop was the Peponi restaurant for lunch before we dipped ourselves in one of their four the swimming pools.
They have the Olive Kitchen for a la carte menu and this is where you order your unlimited snacks from and the Deck restaurant facing the ocean which serves tea and coffee throughout the day. If you get thirsty while swimming, one of their bars is in the middle of the pool and it serves both alcoholic and non-alcoholic drinks. Feel free to try out the other boat bar overlooking the ocean for a refreshing cold drink. So, in total they have 3 restaurants and 2 bars.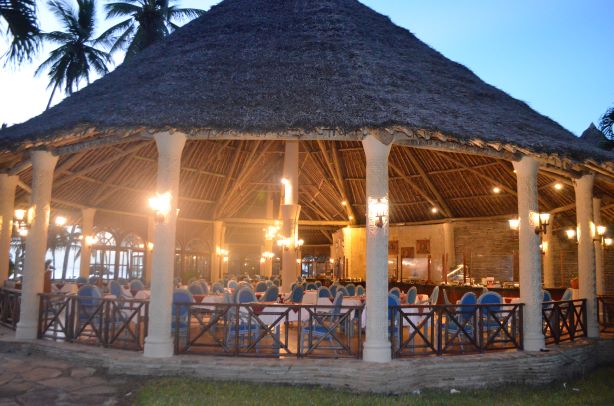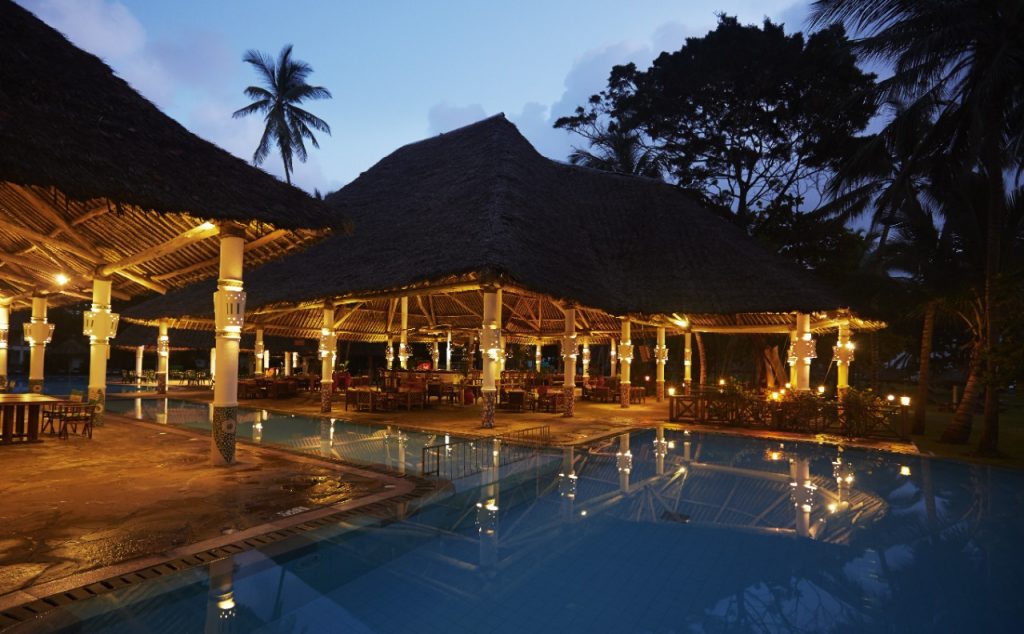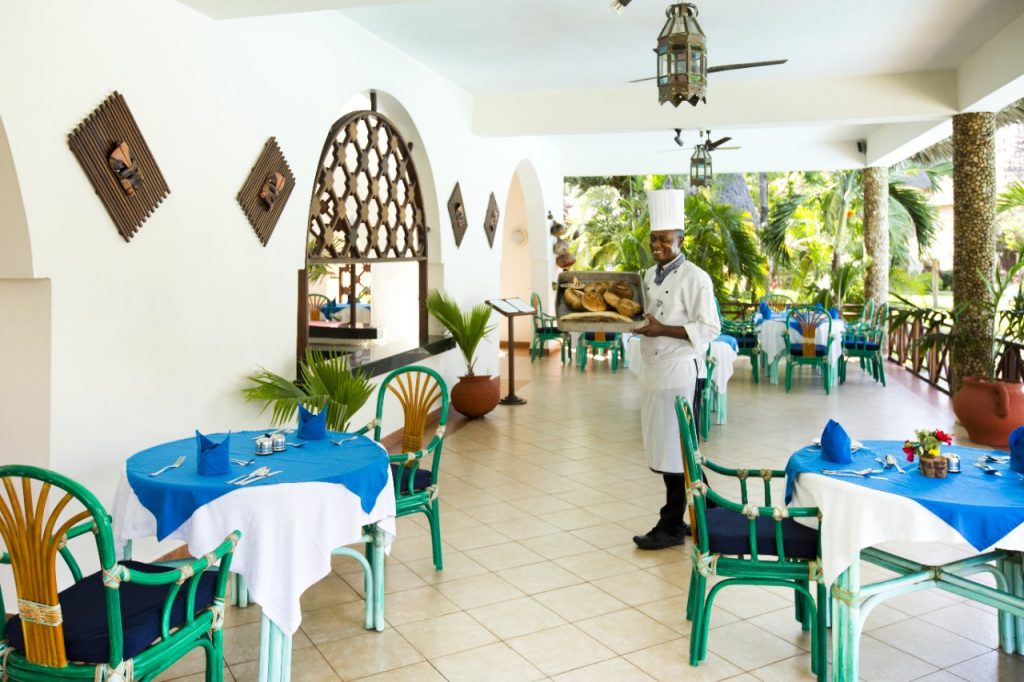 Another added advantage to this hotel is its close proximity to the beach. The hotel shares its fence with the white sandy Diani beach. The "Neptune Hotels" wrist band comes in handy here as it is your ticket back to the hotel from the beach. This is to prevent strangers from just walking into the hotel compound as there is no permanent gate. The sunrise and sunsets here are truly spectacular and jaw dropping.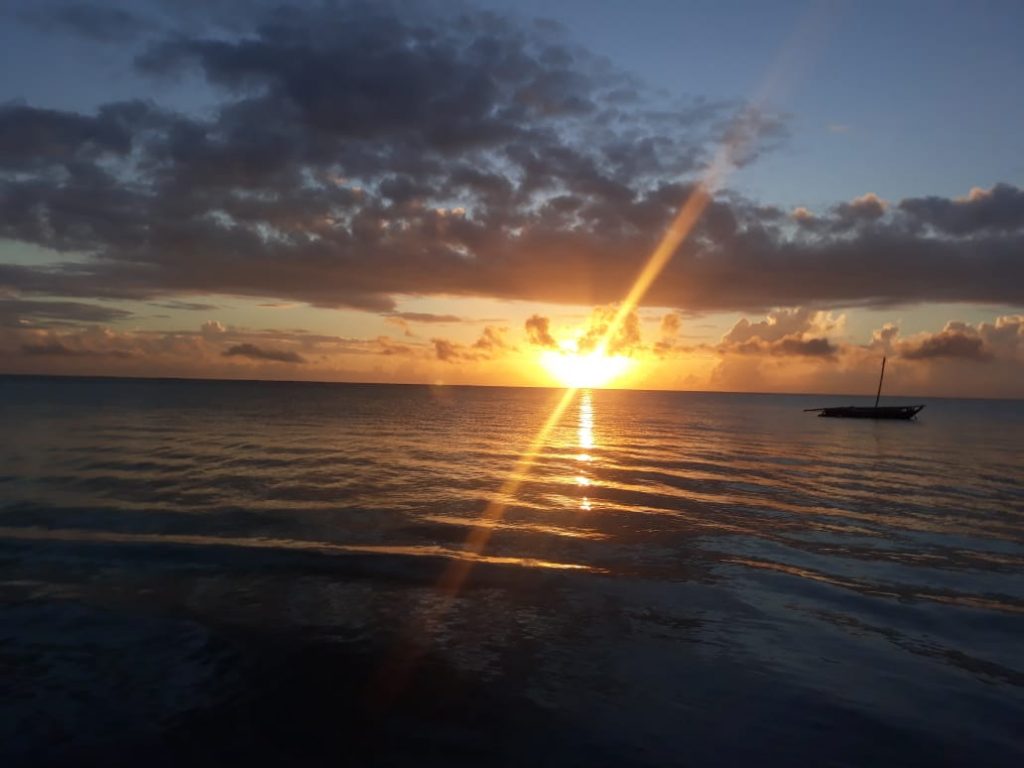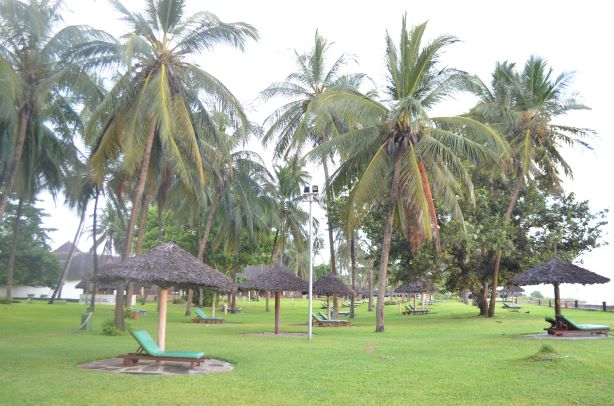 The hotel has free fun activities for the guests such as table tennis, darts, a kid's playing area,pool table, animation centers, an aqua gym,water and beach volleyball. Their Earth & Rain Spa has its own independent swimming pool with 2 jacuzzis, steam and Sauna though it is currently closed for renovations.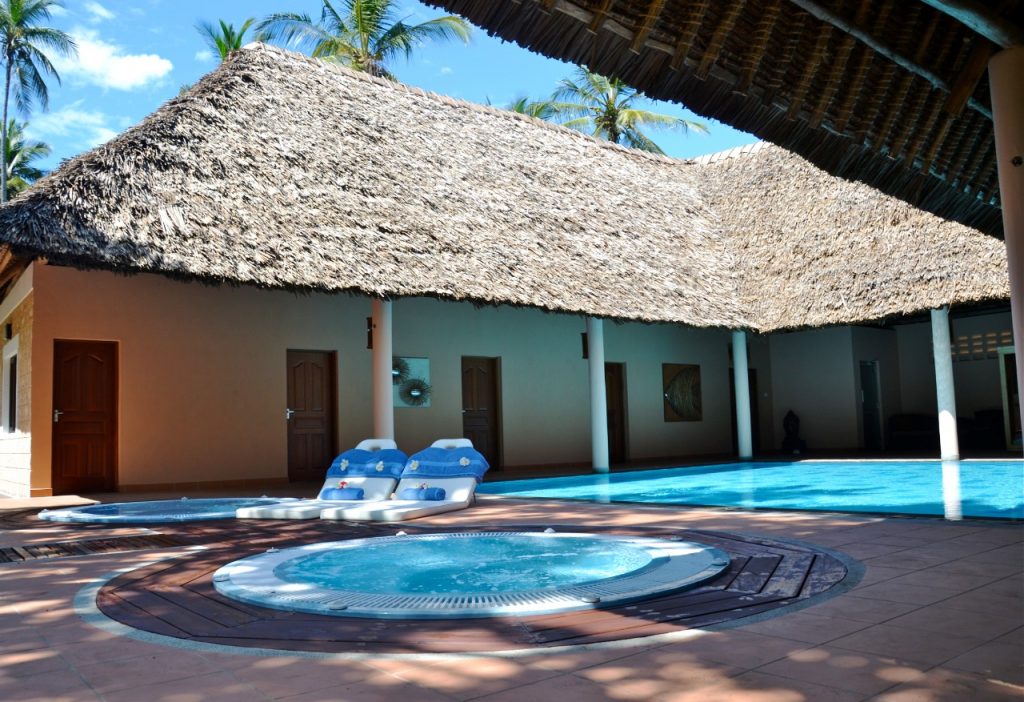 To sum it up, all I can say is that I highly recommend the hotel to anyone planning for a trip to Diani. The service was top notch, the staff were friendly and helpful, the food was amazing and everything was totally worth it.
Also read: Where to stay in Mombasa.