Regardless of all our differences, food is what unites us Kenyans the most. Over the weekend when most of us are free, we meet up with our family and friends to enjoy some nice time together and catch up. The best place to do all these, is most probably at a joint that sells Nyama choma which is basically barbecued or grilled meat. It can be goat meat, beef, chicken or Lamb. It is a local delicacy which forms part of our culture as Kenyans.
Also read: Kid friendly restaurants in Nairobi
With the rise of nyama choma joints in Nairobi, it is hard to identify where the get the best, softest, juiciest, and most affordable nyama choma. But worry no more as the list below outlines all the best and most affordable nyama choma joints in Nairobi and also near you. All these joints sell a kilogram of goat meat or beef at a price range of between Kshs. 700 to Kshs.1,300.
Spinners and Kitindo
I definitely have to start with this two locals. Spinners and Kitindo in Embakasi are as old as Methuselah. They have stood the test of time. They have a wide variety of vendors who are always ready to serve you and give you a taste of their nyama choma. These two places are a walking distance from the Taj Mall round about. Call Jacky at +254-722-312-154 to order.
Harry's Tavern
For the people near Kayole, Umoja, Donholm and Komarock, you should definitely try the nyama Choma here. Harry's as popularly known by the revelers here is also a sports bar. It is on the junction of Kayole Spine road and Manyanja road-Bee Centre. It find it more suitable for adults only than a family friendly hangout joint. A kilogram of nyama choma is Kshs. 800. Contact Steve Ukunda on +254-722-464-085.
Kaginas/ Horn Bill Buruburu
My first time in this place was in 2013 and from the quality of meat I got, I keep going back. What I loved most about the place is their cleanliness and their efficient service. I would also recommend that you try out their Kienyeji chicken with managu and ugali. It is finger-licking good!!! Kaginas is located in Buruburu phase three just opposite Mutindwa Market and is also known as Horn bill. Their contacts are +254-721-271-304.
Rib Racks at Hunters, Karen
I can't praise this place enough. Located at Hunters one stop centre in Karen area, Rib Racks offers the best honey glazed pork ribs I have eaten in a while. It is owned by the Pit masters who also have three more locations in Pelican Village on Kiambu road, Ngong soko, and Naivasha opposite Buffalo Mall. A kilogram of pork goes for Kshs.1,000.
Kamaki's
If you have not been to Kamaki's or heard about it, then you are not a Nyama choma fan. The place came and hit like a wave. Everyone who really loves Nyama choma has been here. Located on the Eastern Bypass-Ruiru, Kamaki's belongs to one Mugui wa Kamaki who named the place after himself. Though the place is known as Kamaki's, it has different vendors with different names selling different types of meat. Kamaki's is just a general term for the whole place though there is a restaurant also called Kamaki's.
Greenspot
Green spot is also found at the Eastern Bypass – Ruiru. It is one of the places at Kamaki's also popular for their well done nyama choma and Pork. It is ideal for a family friendly outing. Contact them on +254-724-397-245.
Njuguna's
Moving closer to town, Njuguna's is one of the most popular place to get quality nyama choma in Westlands. Located on Waiyaki Way opposite Abc place, Njugunas serves high quality nyama choma in the area. A kg of goat meat is Kshs. 700. Contact them at +254-722-738-364. They are also available on Glovo.
Roadhouse Grill, Kilimani
Roadhouse is more of the office crowd kinda place or where you want to go for "one for the road" as you wait for traffic on road to clear up. It is also popular for rhumba music. Located in Kilimani-Dennis Pritt road a few meters from Citizen TV station, it is basically surrounded by offices, so most people go there for lunch or an evening catch up. It is the best place for Nyama choma when you are in Kilimani.The parking gets full by around 5:30pm so always get there early to secure a a better parking space than parking by the road side. Contact them on +254-720-768-663 or on Uber Eats. A kg of goat meat is Kshs.1,100. They have three other branches located in Karen, Upper hill and Hurlingham.
Coco Jambo, Kilimani
Another excellent joint in Kilimani is Coco Jambo. This place is a bit family friendly so you can tag along your kids. A kg of nyama choma goes for around Kshs. 1,300. Contact them on +254712-307-861 or on Uber eats.
Nerkwo, South B
Nerkwo is arguably the most common nyama choma joint in South B. Having been there and enjoyed their nyama choma and wet fry, I can clearly see why is popular. They specialize purely on goat meat and a kg goes for Kshs. 1,000 regardless of whether is fried, boiled or grilled. On weekends, the place gets full by around 2pm so if you want to secure a table and a parking slot, be there by 1pm. It is worth the hype. They always have offers on meat when you buy a bottle of whisky. Their contacts are +254-716-110-373.
Kifaru Place
Another popular joint near South B is Kifaru place which is just opposite Next-Gen Mall. It is a new pub, lounge and grill. I love their service and the place is spacious with ample parking space. All their meat is Kshs. 1,000 per kg. Reach them on +254-706-796-674.
Pit stop, Langata
Pit stop is right on the junction to Carnivore restaurant. I have never seen a place get so full before midday on a Sunday! Don't even bother going there past 2pm unless you know people who know people who can get you a sitting space. This is the place where people go to "toa lock" and nurse hangovers with soup on a weekend. It is opposite club 1824 . If you miss a seat, you can just head down to Carnivore or 1824. They serve equally good quality meat.
Jiweke Tavern, Ngong Road
People from Ngong road and its environs can attest to Jiweke Tavern being a household name. Actually any person who has been there can testify and say that they have amazing nyama choma. Their chilled out cosy ambience and garden seats makes it a family friendly place during the day. At night, the place gets a bit crowded with revelers and would not be recommended for kids. One kg of grilled goat meat is Kshs. 1,000.
The office, Ngong
The local with the most. Ngong residents can agree with me or anybody who has stopped here on their way to hike or zip-line at Ngong Hills. The office has different vendors, selling different types of meat from pork, beef, chicken and goat. For the best mbuzi choma call Karani on +254-727-354-241 and don't forget to ask for Kachumbari ya Avocado. You can also head down to Kiserian and try the meat at Ole-Tepes and Ole-Polos.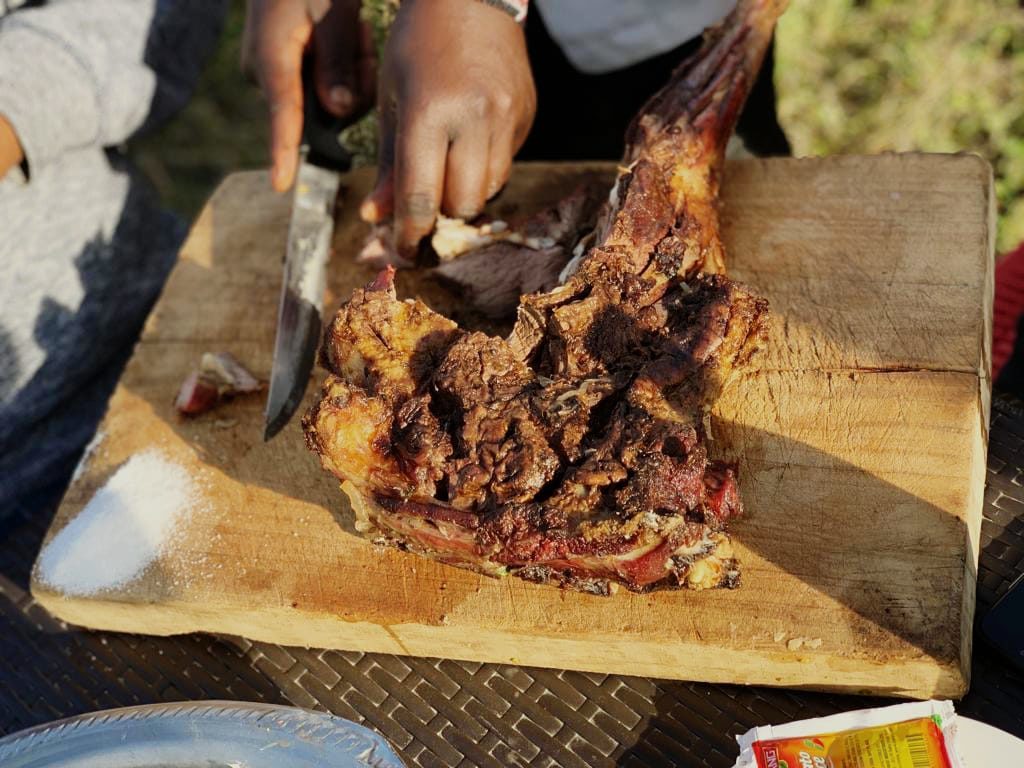 GMC, Kitengela
The perfect place for a family outing is GMC Funplace in Kitengela. It is like Disneyland in Kenya. Fully equipped with kids' games, a swimming pool, meeting rooms, fun activities and delicious Nyama Choma, this should definitely be in you bucket list. Their "normal" nyama choma is Kshs. 750 per kg and the marinated one is Kshs. 850.They are located on Namanga road, just after the Acacia Junction. Reach them on +254-700-750-750.
Club 034, Kitengela
One of the most iconic places in Kitengela has to be club 034 – The pride of Kajiado. The plane turned into a restaurant has left many people in disbelief. It was meant to start its operations around March 2020, but due to Covid-19 it is yet to start its operations in the plane. Though, don't let that disappoint you as they have a whole fully fitted field with sitting areas, a bar and a restaurant which are all operational and serving guests. It is only the plane that is not operational.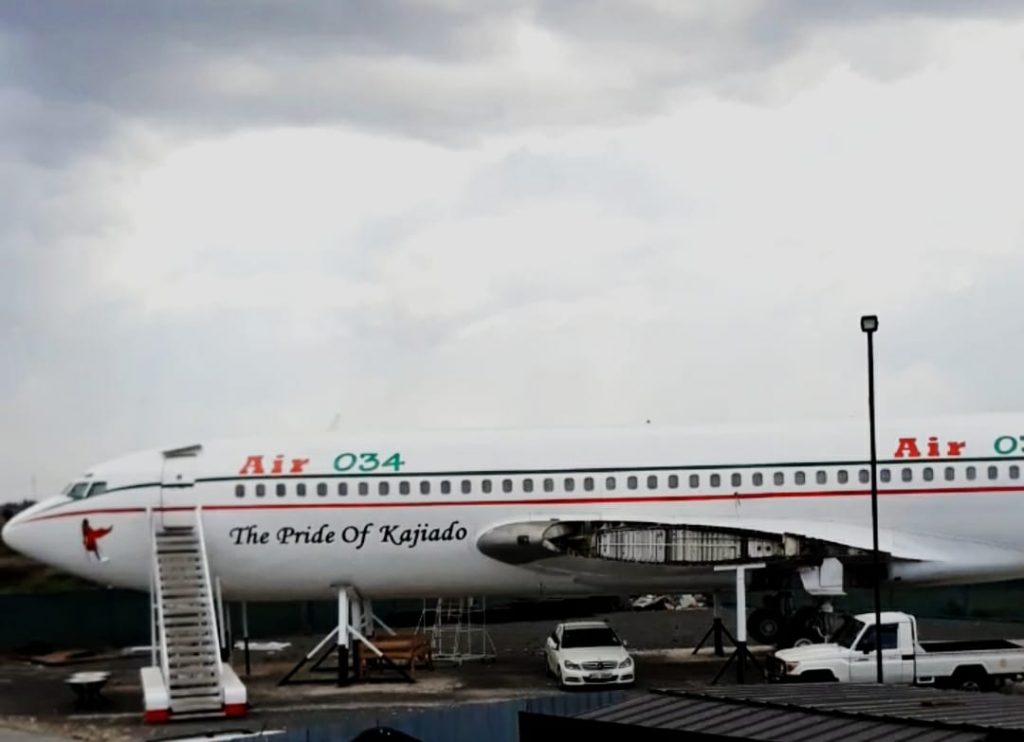 The above is a summary of my go to Nyama Choma joints. Where do you get your best Nyama Choma from?
Also read: Affordable picnic sites in Nairobi