One of the most exhilarating experiences I have heard in my travels, is zip lining. Apart from the heart-racing adrenaline rush, you just let go and scream your fears and troubles away. Zip lining helps improve long-distance vision and gives flyers a sharper vision. It also reduces blood pressure thus keeping the heart on the check.
A very important point to note is that this activity requires you to be fearless and dress appropriately. It is encouraged that any person planning to go zip lining be in trousers and wear comfy shoes. Trousers are encouraged so as to make the harness strapping process easier.
Zip lining has slowly picked up the pace and the locations have now increased making it easy for people to choose locations that better suit their pockets. There are quite a number of several places in Kenya where one can go for affordable zip lining in Kenya as listed below.
Kompass – Ngong Hills
This was my very first location to do Zip-lining in Nairobi. Kompass is located inside the famous Ngong Hills in Ngong. It is just an hour away from Nairobi through Ngong town and can be accessed by public or private means. There is an entrance fee of Kshs. 200 per adult to access Ngong Hills and they charge Kshs. 1,000 for zip lining. Their zipline is about 250metres long over the expansive Ngong forest.
My experience here was amazing and you can engage in other activities such as archery, quad biking, paintball hiking and cycling. Read about my experience: Most affordable zip lining location in Nairobi.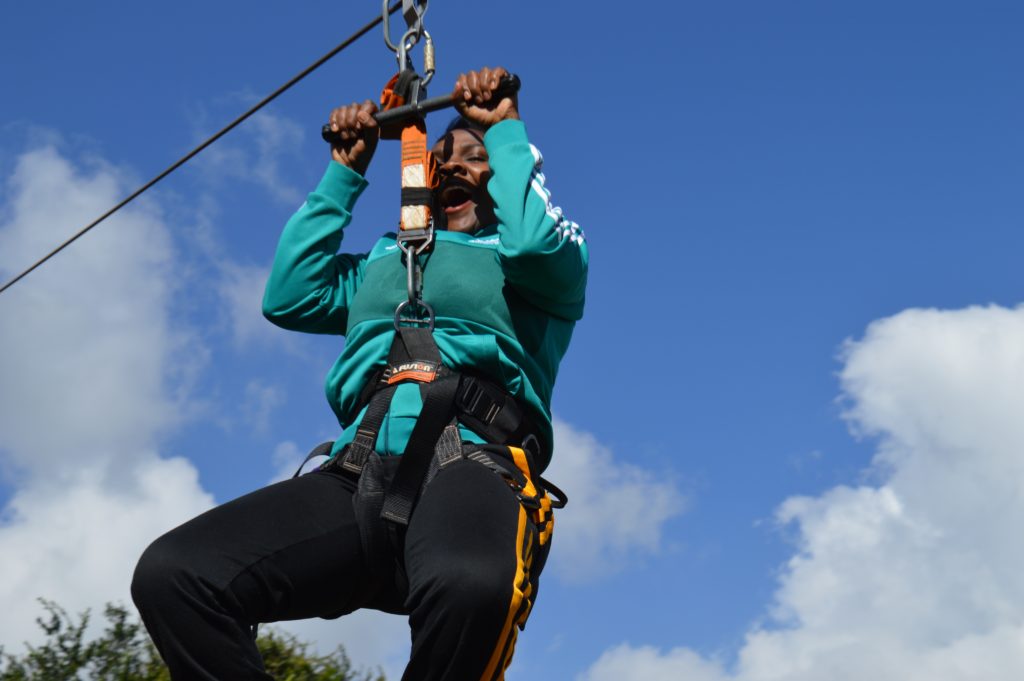 Paradise lost, Kiambu
Located in Kiambu Town just about 30 minutes from Nairobi CBD at the junction of Nairobi- Kiambu Road, Paradise Lost is a well known location for picnics and nature walks. The caves and the magnificent waterfalls are breathtaking and a great way to relax. They charge an entry fee of Kshs. 500 per adult and Kshs. 300 per child at the gate.
For Kshs. 1500 per person, you will enjoy zip lining across the man-made dam on their two ziplines which are about 650metres long. They also have a number of other activities to do such as boat riding, fishing, birdwatching, horse/camel rides and grounds for picnics and camping.
Read more: Affordable Picnic sites in Nairobi
The Forest – Kimende
The forest is located in the heart of Aberdare ranges at Kereita forest. It is easily accessed through the Nairobi-Nakuru highway at Kimende town which is about an hours drive from Nairobi CBD. The zip line here is the longest in Kenya covering over 2.2Kilometres and spread through their 6 lines. The zip lining is done 80metres above the indigenous forest thus giving a great view for nature lovers. This is arguably the best location to go for the ultimate zip lining experience.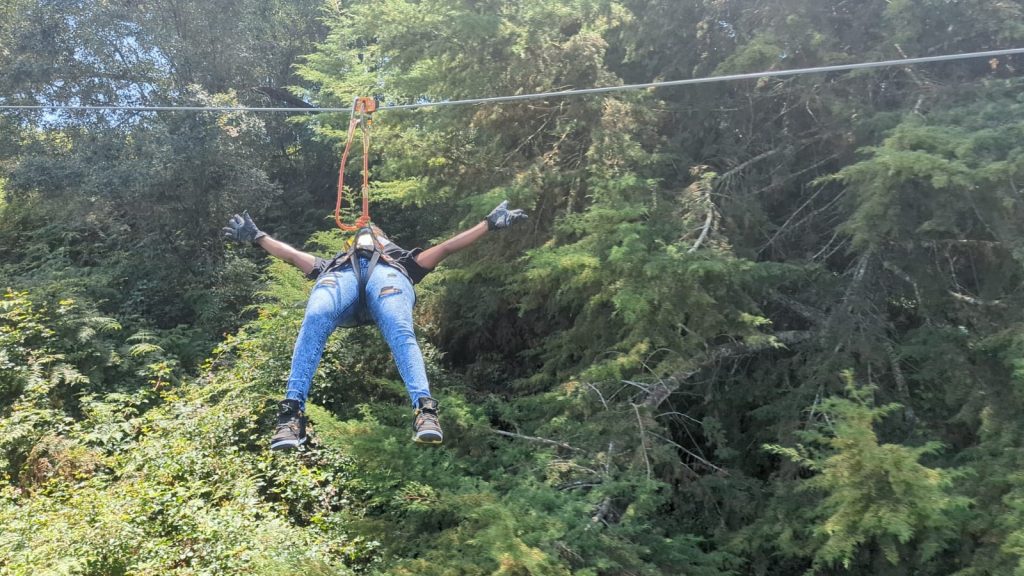 There is a carrying capacity of a maximum of 115 kilograms and a minimum height requirement of 1.4metres. The charges are Kshs.1,800 for 2 lines and Kshs.2,300 for the 6 lines as attached below.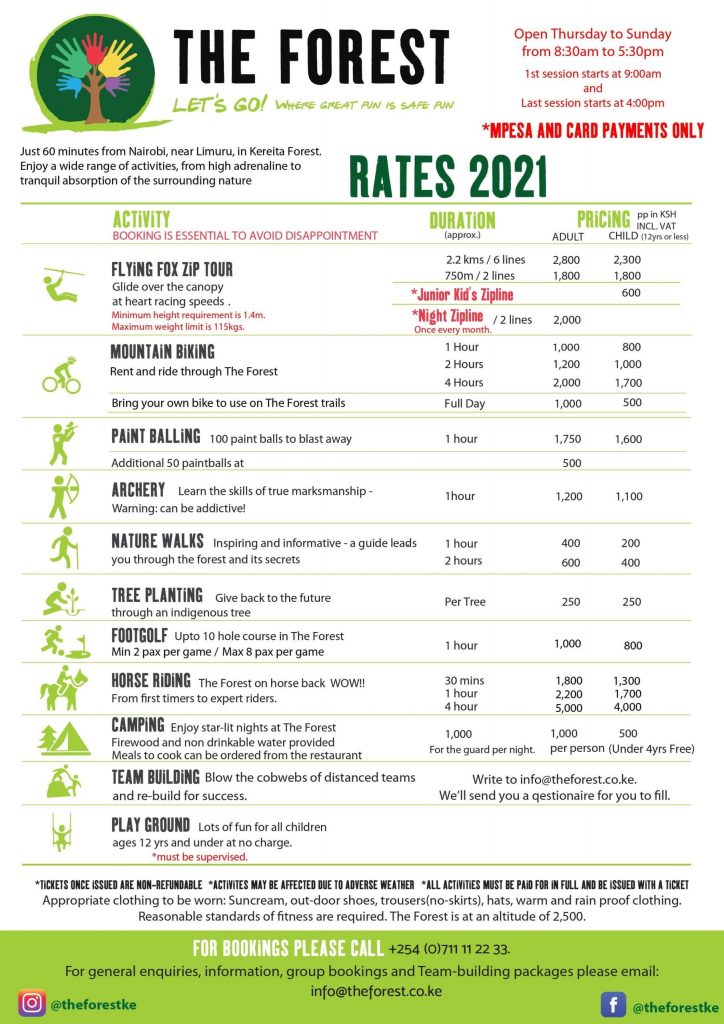 Machakos People's Park
Just an hour's drive from Nairobi to Machakos through the Makutano-Kitui Road, is the newly built Machakos people's park. The zip lining cables are suspended 30ft above the ground, giving a perfect view of Machakos People's Park and its environs. Their two zip lines are 200 meters and 300 meters long and they charge Kshs. 500 per person and the entrance to the park is free.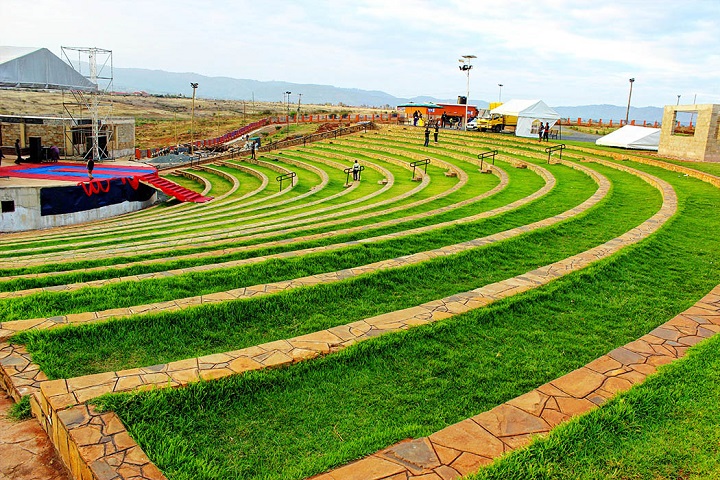 Bofa Beach Resort, Kilifi
Nestled in the tranquil holiday zone of Bofa Beach – Kilifi, Bofa Beach Resort is a dreamy getaway at the magical Kenyan coast. The resort stands out as one of the most unique resorts along Kilifi's Bofa Beach located in a lush 7 acre patch. It is a safari style hotel that is built in the concept of a tented safari camp. They are the first to offer zip lining in the coastal region and they charge Kshs. 700 per person. They also offer rope challenges same as the ones found at Nkasiri Adventure park.
Rapids Camp, Sagana
This is the ultimate centre for adrenaline junkies. From bungee jumping, white water rafting, Kayaking, plunging, abseiling, rock climbing and nature walks. The zip lining here costs Kshs. 3,000 per person and is just 250 meters long and 110 meters above the waterfalls. The pricing is way too expensive for the length of the zip line. A better option would be choosing a package that covers zip lining, kayaking/gliding, the bridge plunge and a shorter white water rafting at a cost of Kshs. 5,600. This will also be inclusive of lunch. Check them out here.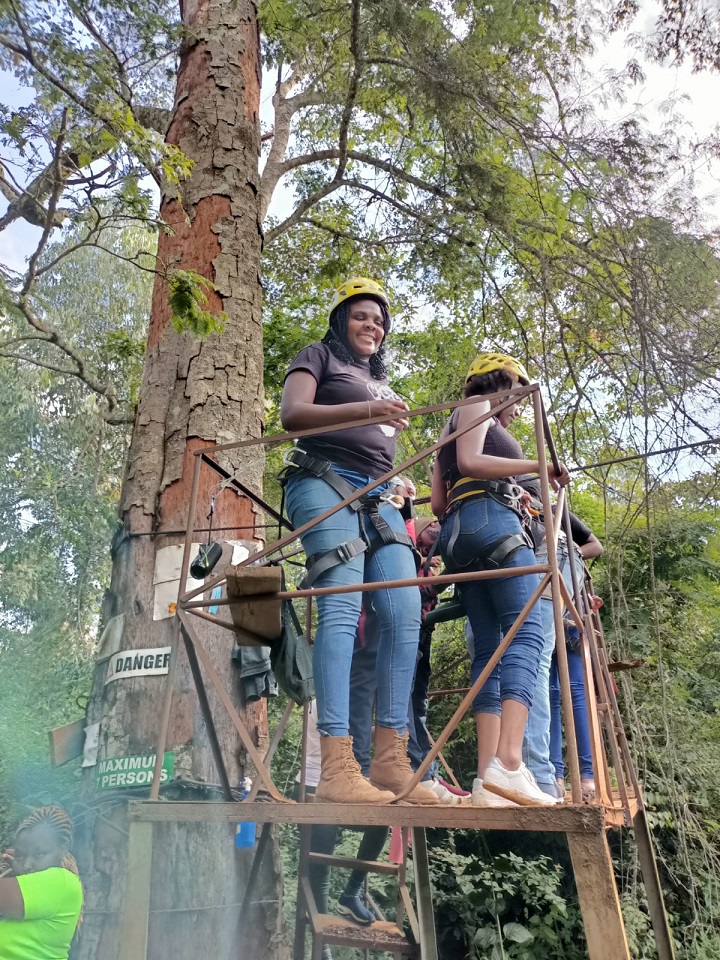 Nkasiri Adventure Park
Tucked away deep in Kitengela, Nkasiri Adventure park is famous for its high rope challenge and the sleeping pods. The high rope challenge ends with a round of zip lining on their 150metres cable. If you prefer to do zip lining only, the charges are kshs.500 per person. While in the facility, you can also engage in other activities such as playing darts, pool table, board games, volleyball, table tennis and even football. Their sleeping pods are such a cool glamping concept.
Also read: Most affordable luxury camps in Kenya.
Last Village Resort – Athi River
It seems all the good vibes are found along Mombasa road. The last Village resort is found on Mutungoni Road in Athi River. Google maps comes in handy when locating the resort. It is well known for quad biking, its beautiful swimming pool and sumptuous meals. A new addition to their fun activities is zip lining which costs kshs.1,500 for one line and Kshs. 2,000 for two lines. The resort also offers great accommodation facilities to the guests and is a great mini-getaway destination.
Camp Dunda falls
Camp Dunda Falls in Embu is a must visit for adrenaline junkies. They have two zip lines each 250Metres long and they charge Kshs. 1,000. The ziplining is across the river and the forest and is a great experience especially for beginners. The camp also has a number of fun activities to indulge in such as the canopy walk, wild swing, mud fun, archery and cycling. Read about my experience here. Read more: Camp Dunda Falls.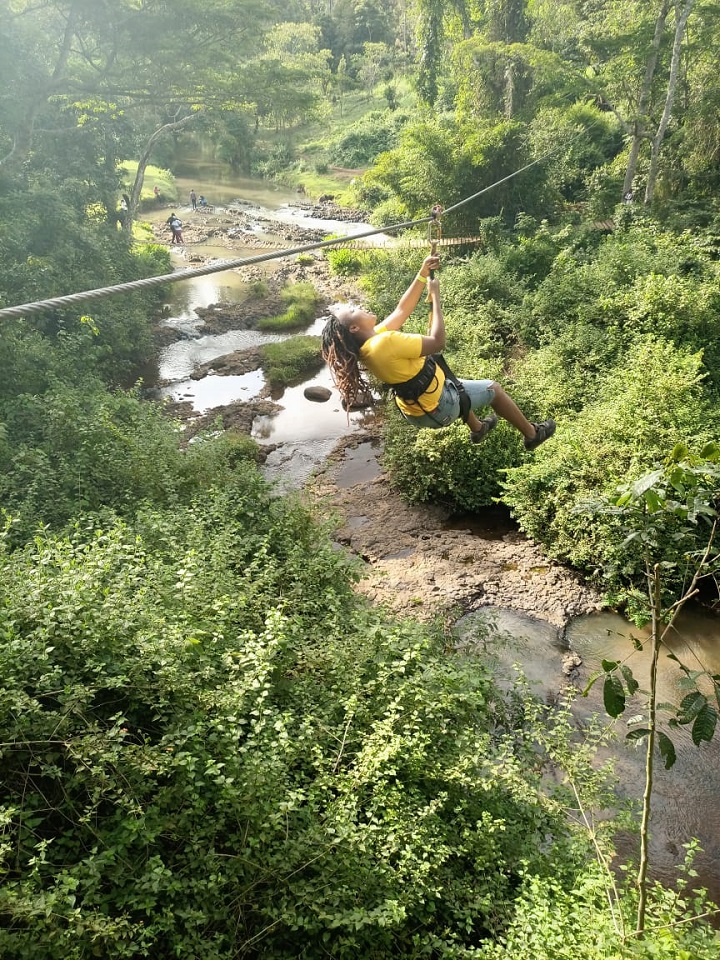 Also read: Affordable GP-Karting in Nairobi
Lobaran Shrine, Kabarnet
One of the best-kept ziplining locations in Kenya is the Lobaran Zipline found at Lobaran Shrine in Kabarnet town along the Kabarnet-Eldoret route. The zipline is across the man-made Kirandich (Kirr) Dam, which was created for conservation purposes and gives majestic views of the great rift valley.
With the above recommendations, you now have several choices to choose from to fit your budget and preference.