The beauty of travelling is that you always have the first hand experience. No matter how many times a place is recommended to you or how many stories you hear, you will never have the full feel unless you go there. It is like Game of Thrones. You can't understand by listening to other people's stories. You have to watch it to understand. So with travel, you have to be there to feel the full impact.
What would you do with 3,500 shillings on a weekend? Let me tell you what I did with mine. I had one amazing road trip courtesy of Mtalii Travel. This tours and travel company had approached me like a month ago so that we can work together on some projects. See God. They had gone through my blog and instagram feed and found that I was the perfect fit for what they were looking for. So after a month of talking and planning, the D-Day was finally here. Early Saturday morning at around 8 we all met at Kencom in town. Our final destination was an all inclusive trip to Camp Dunda Falls in Embu.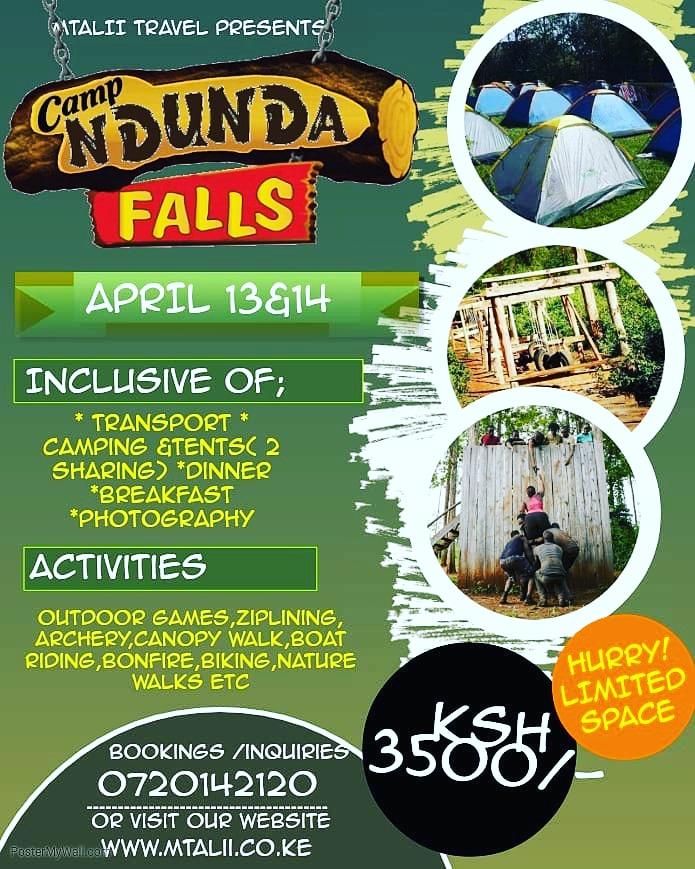 The whole bus had 24 people. It was like 3 hours away from Nairobi but we were in no hurry to get there before 2 o'clock. We had a few stopovers at the famous kenol, Nice city Mwea, Embu town and then our final destination which we arrived at around 3pm.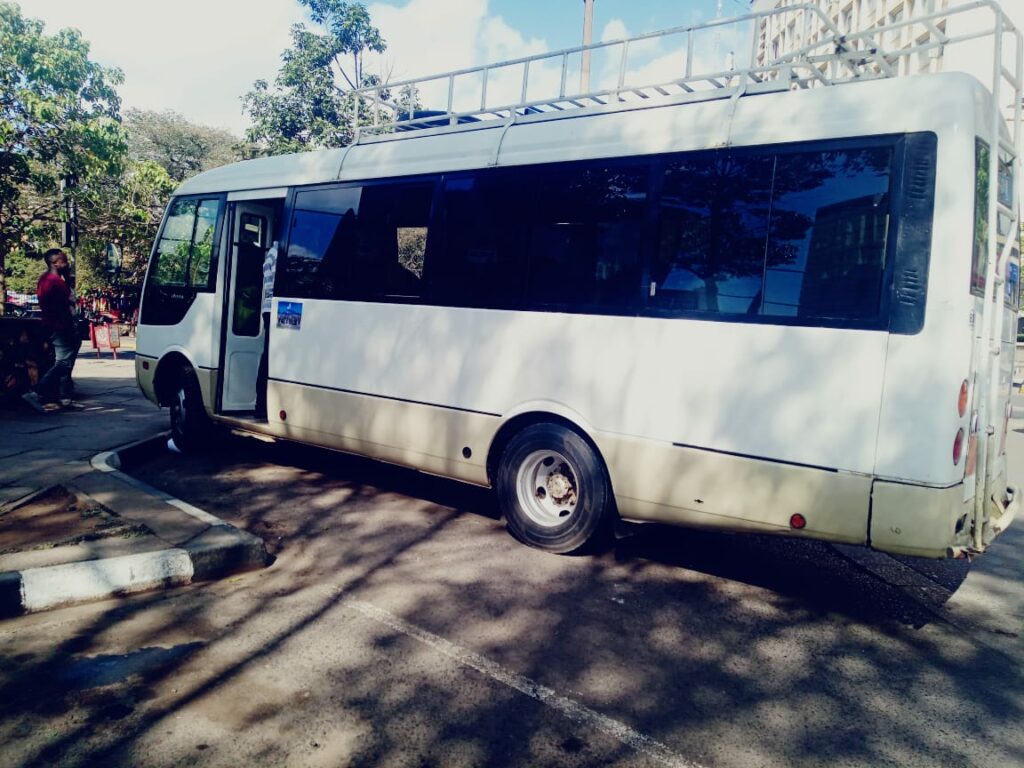 We alighted from our beautiful bus to have a tour of our new home for the weekend.The place was really mind blowing. It was super clean and green. Old School Lanterns all over the place fitted with bulbs. They even had a restaurant area which was super colourful. I felt like I was in nursery school with all those coloured chairs but in a nice way. They have a kitchen where you can pre-order your meals from as they do not cook in advance. So you are assured of fresh food.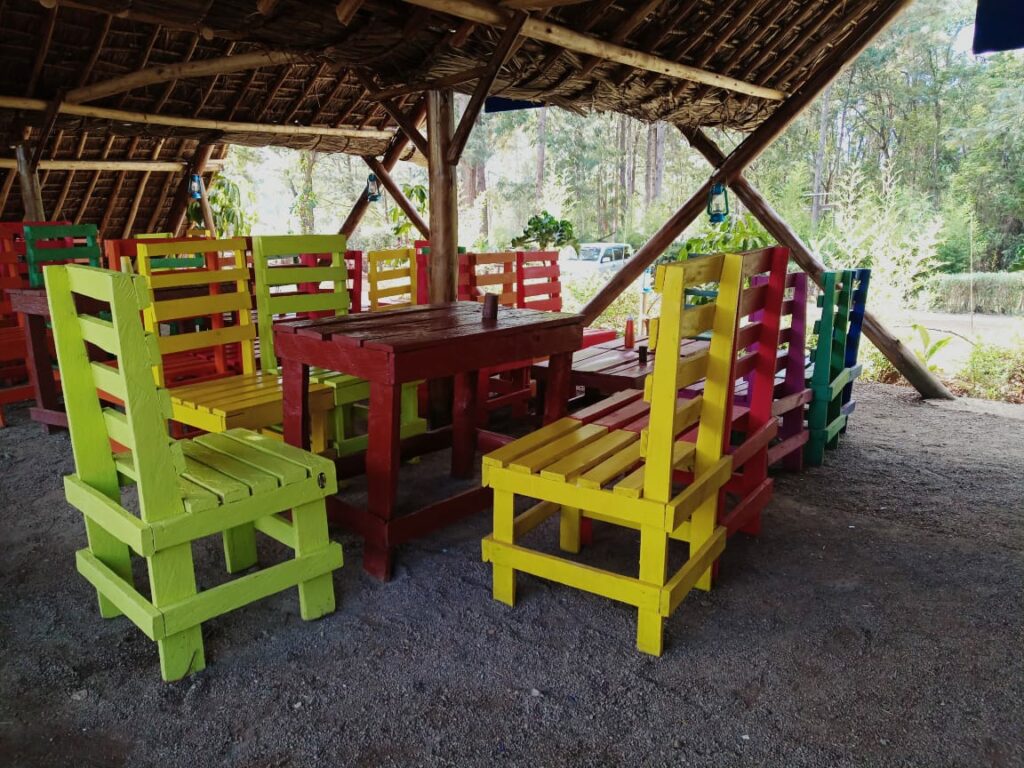 We were then welcomed by our tour guide Sam who briefed us about the place, the rules and the activities that were available.We had a small team building session before we headed out to do more activities in the camp. There was rope jumping, trampolines, climbing trees, walking on ropes,, walking on hanging tyres etc etc.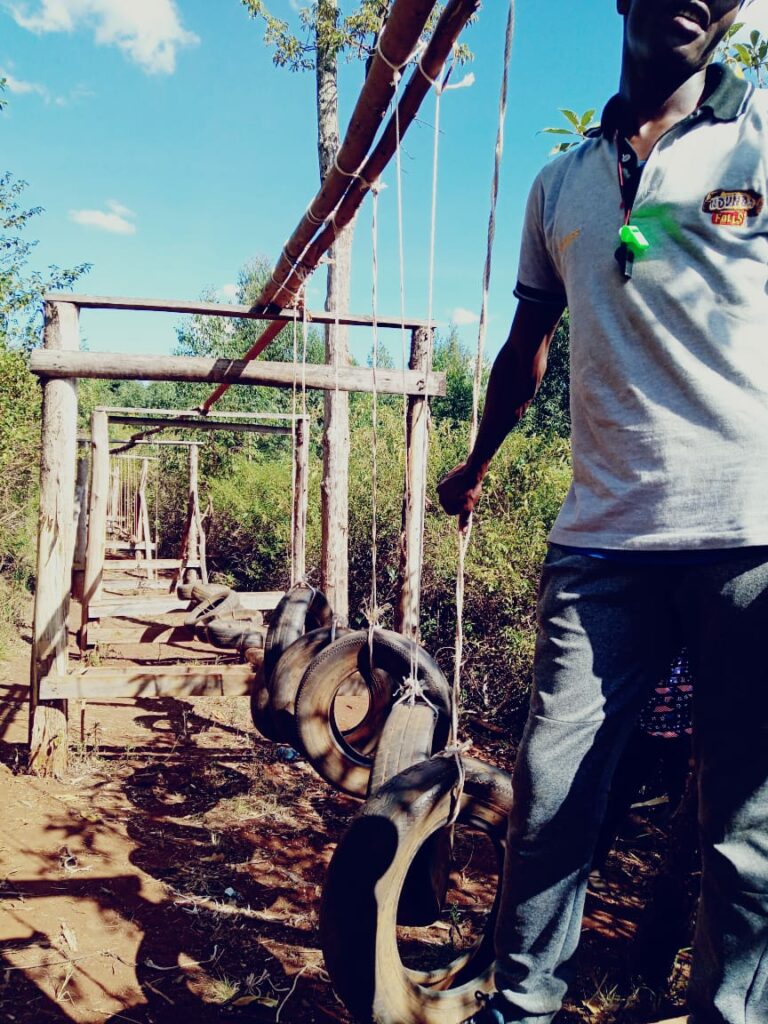 Then we went for a walk down to the waterfalls. I have never been that scared in my entire life!!! They have a wooden canopy walk on top of the waterfall that is super shaky. Some people even cried!! My adrenaline junkies were having a blast though. The bridge is really high and I was even scared of looking down to see the people who were swimming near the waterfall. Fortunately it had ropes and a wall like net to hold on to when you are walking.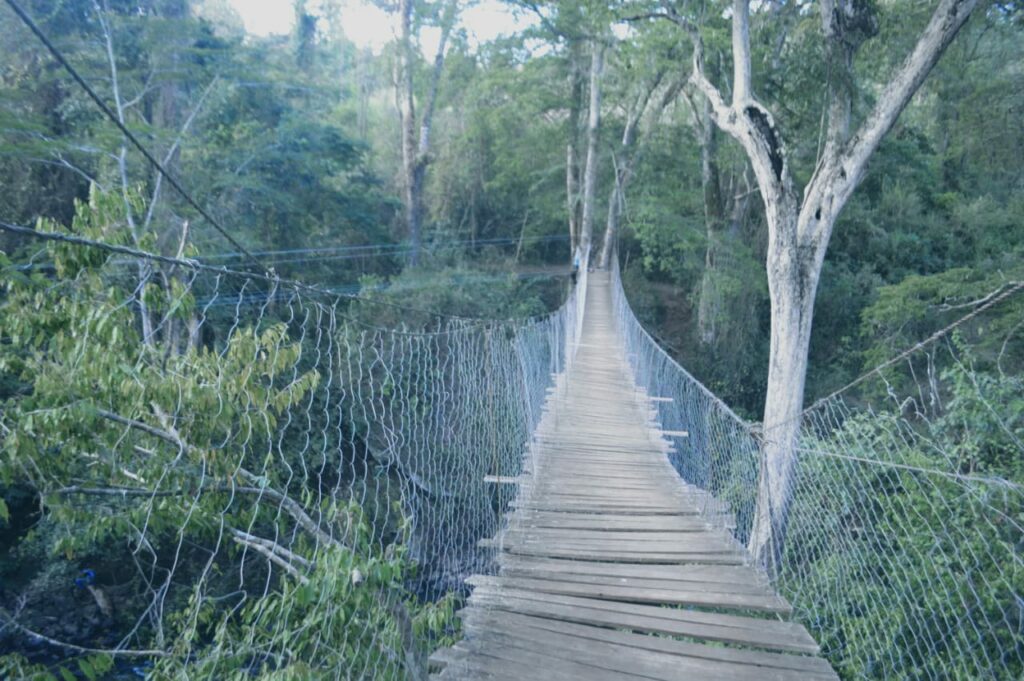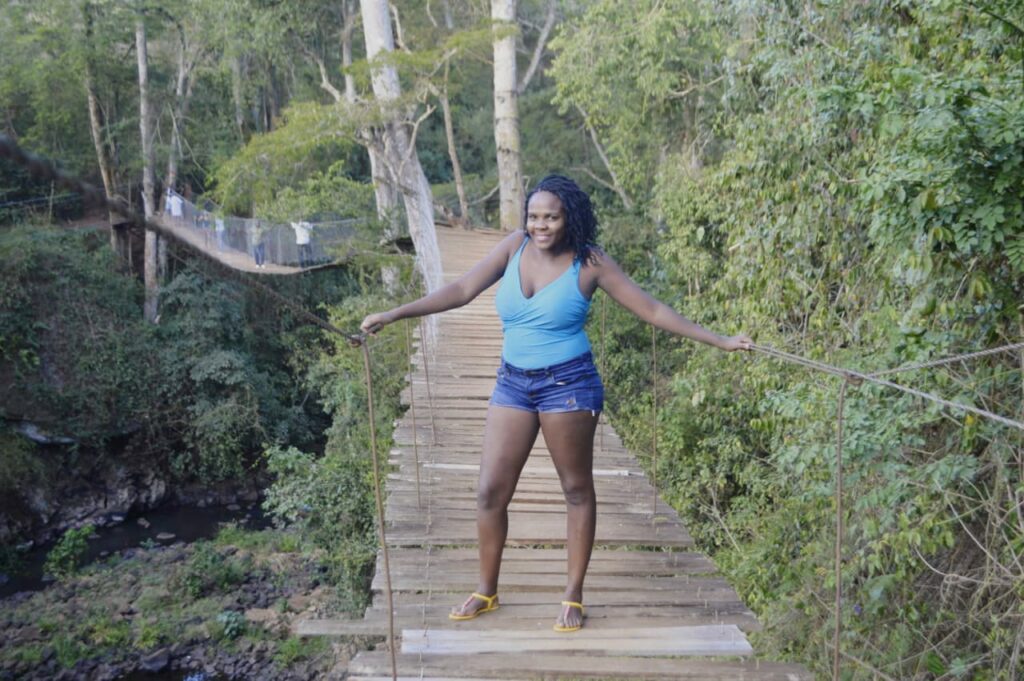 As if that was not scary enough, there was this other "bridge" which was not really a bridge but just three ropes. Three ropes on the bottom and three on the top. So you step on the bottom ropes and hold on to the top ropes for you to move. I was not about to do such monkey business. Remember this ropes are on top of the waterfall. The waterfall that has rocks!! So if you slip and fall, that is it. There is nothing that is holding you back from falling.. It is not like zip lining or bungee jumping where you are tied to a safe anchor. Nothing holds you!! If you fall, you die!! None of the people we were with tried it. Sam, out tour guide walked on it for a while and I could not even keep my eyes open. It was too scary. I was there just imagining what if he felt like sneezing? what if he gets a muscle pull?? eeh what then??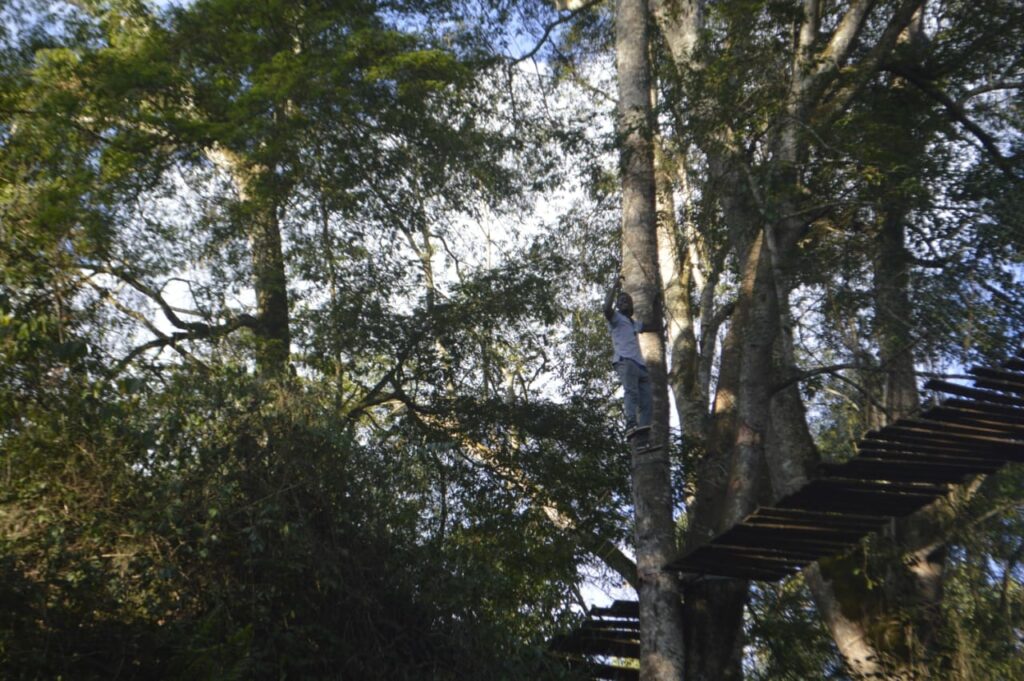 So after all that scary shenanigans, we decided to go drown our fears at the waterfalls. The rocks were super slippery but the water was surprisingly not too cold. It was also pretty deep like 23 feet. For people who still can't swim at the deep end like me, we were given floaters. You can also dive if you got guts for that.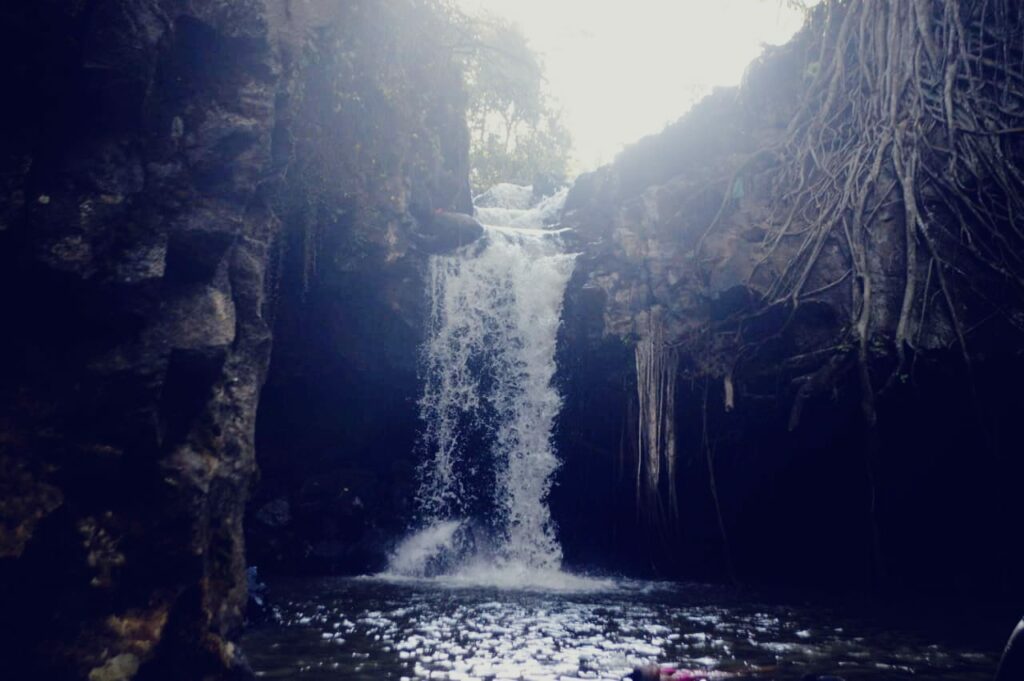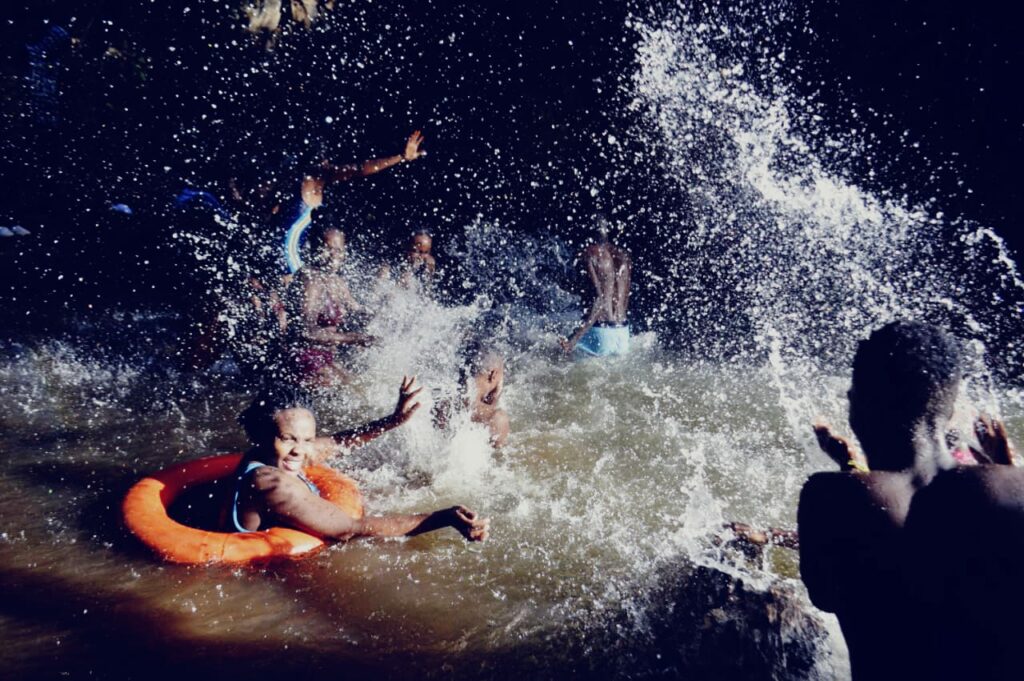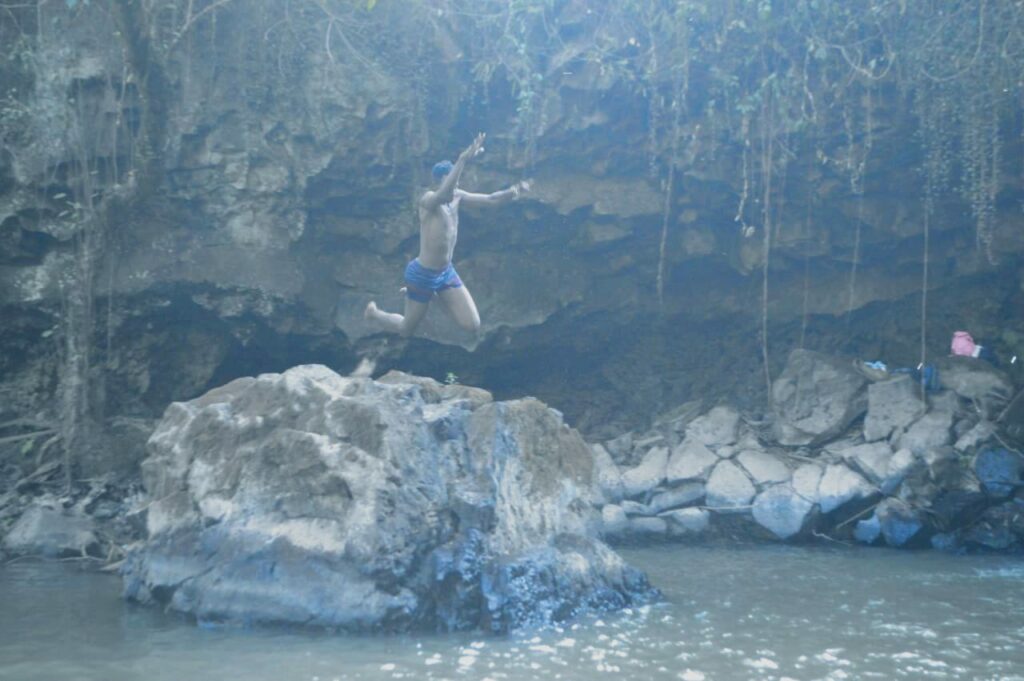 After the swim we headed back to the camping site for dinner. The journey back was like three kilometres of hiking or climbing a hill. My unfit thighs were burning you guy!!!We got back to the camp, we were shown our sleeping area, took a shower then headed for dinner. Our dinner was kuku bahati. If you don't know kuku bahati and you live in Nairobi, you really need to explore your food joints. Kuku bahati is kienyeji kitchen, mixed with fries, nduma, boiled maize (mtungo) and boiled eggs.It is normally found on kiambu road at Sidai Oleng. It is heaven in your mouth.
What is camping without a bonfire? Our next activity was sitting around the bonfire and get to know each other better and enjoy the rest of the night.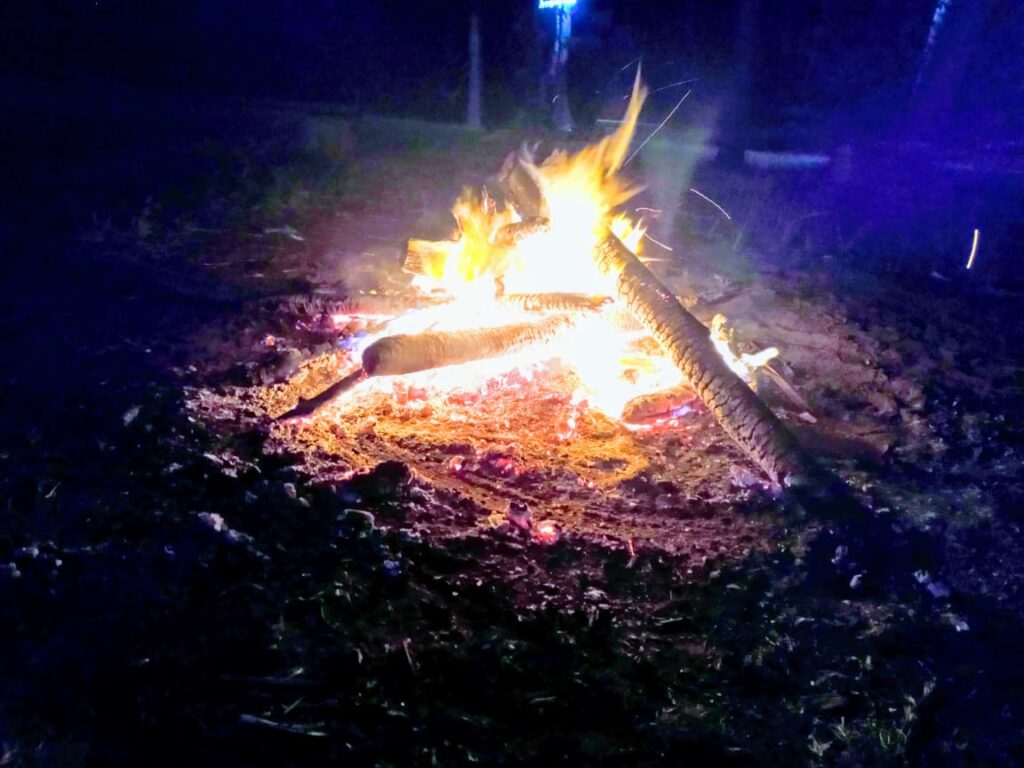 The next day was the climax of it all. After breakfast we had to repeat all the activities we did the previous day but with more intensity and appropriate attire. There were other new activities that were introduced which we had not done like taking the wild swing and the mud run.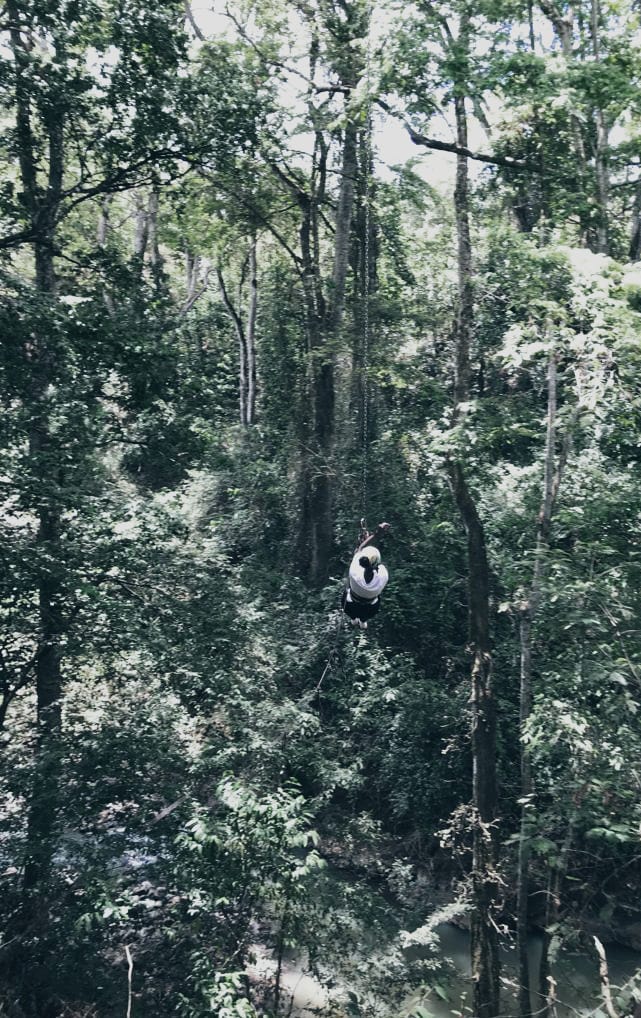 hThe camp was also getting full as other people were arriving there for team building and just relaxing. By around 12 noon, the camp was fully packed but that did not stop us from having fun. We finished all our activities by around 4pm and we were ready to leave by 6pm. The journey back took around 4 and half hours considering it was at night and we also had to make a lot of stop overs to drop people on their way home.
My overall rating for the experience was a 9 out of ten. The one is because their ziplining was too short to be charged 500 shillings so we did not get to zipline. They should charge 100 shillings. But my overall experience was really amazing and I would recommend the place to anyone who wants a short vacation in Embu County. For the full videos check out the instagram highlights labelled Camp Dunda Falls. My instagram handle is @kemzykemzy