I had been hearing about Ngare Ndare Forest for quite some time and my curiosity to see the place with my own eyes was almost killing me. I reached out my tour planner who is Mtalii Travels to get more information on planning and executing a trip to the place. This guy always knows how to get the best deals at the most affordable rates available in the market. We met, sat down, came up with a budget, the itinerary, marketing strategy and settled on the date to do this road trip.
Ngare Ndare is a lush indigenous forest at the foothills of Mt. Kenya which is a vital corridor that links the Famous Lewa Wildlife Conservancy to Mt. Kenya which elephants have been using for ages. The forest is home to a variety of wildlife and birds. It is the only indigenous forest in Kenya with an expanding canopy cover, and some of the ancient African Olive and Red Cedar trees within it that are thought to be around 200 years old. All the big 5 live here, and are frequently seen as they make their way from Lewa Wildlife Conservancy towards the Mount Kenya forest.
After four weeks of planning, the D-day was finally here. On Saturday morning we all met in Nairobi CBD at 5:30 am for our departure to Ngare Ndare. We left Nairobi at around 6:30 am. The journey was to take 4 and half hours with a few stopovers. Our first stopover was at Karatina Town for breakfast before we headed down to Nanyuki.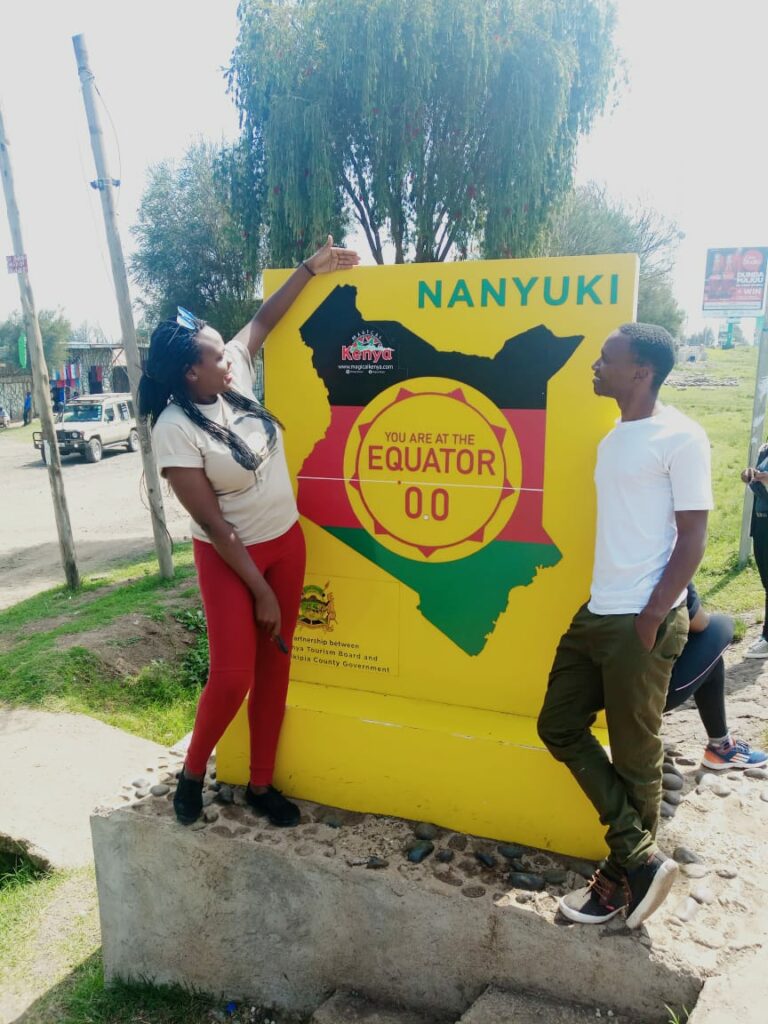 Kenya is one of the 7 African countries which lie on both sides of the equator. The equator line practically cuts through Nanyuki town, which is the headquarter of Laikipia County and the current main airbase for the Kenya Air Force. We had to stop and do the equator marker experiment and understand the Coriolis effect and of cos take photos to commemorate this day.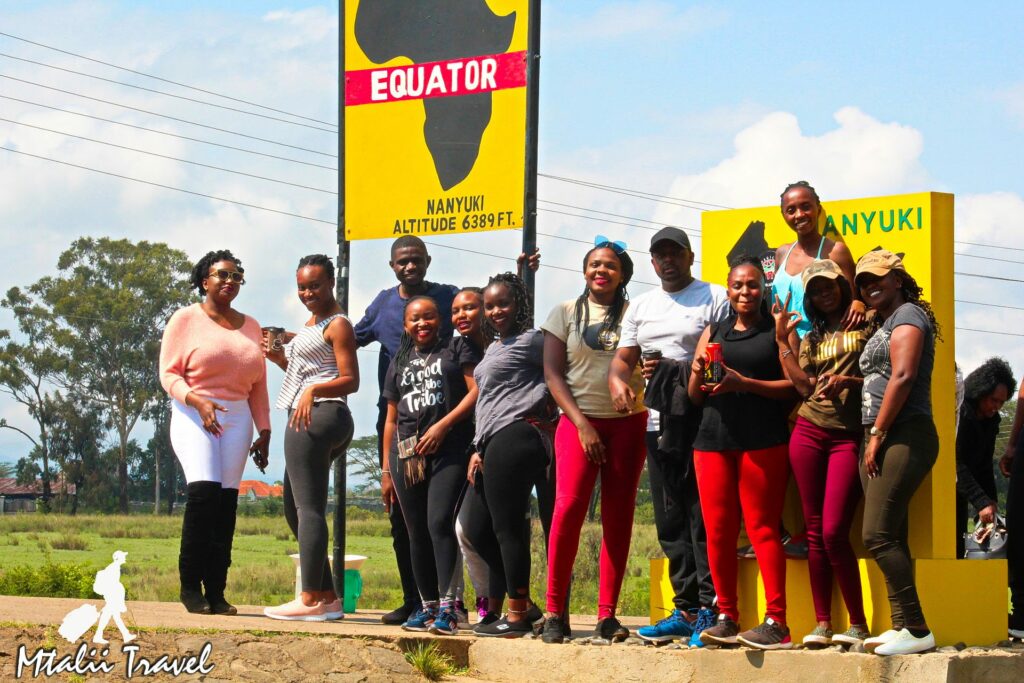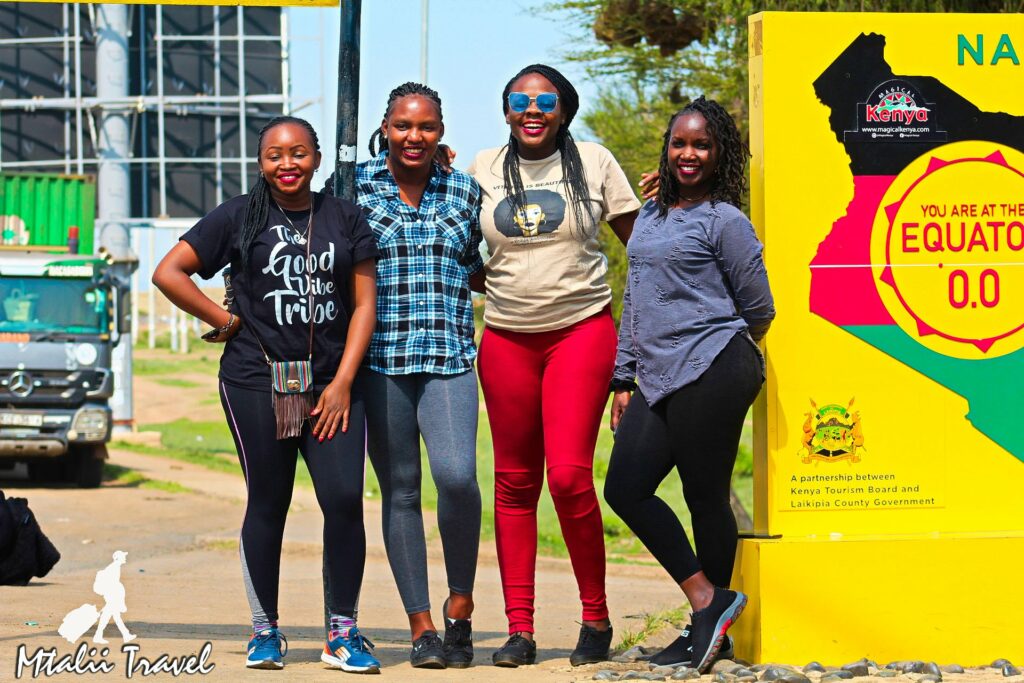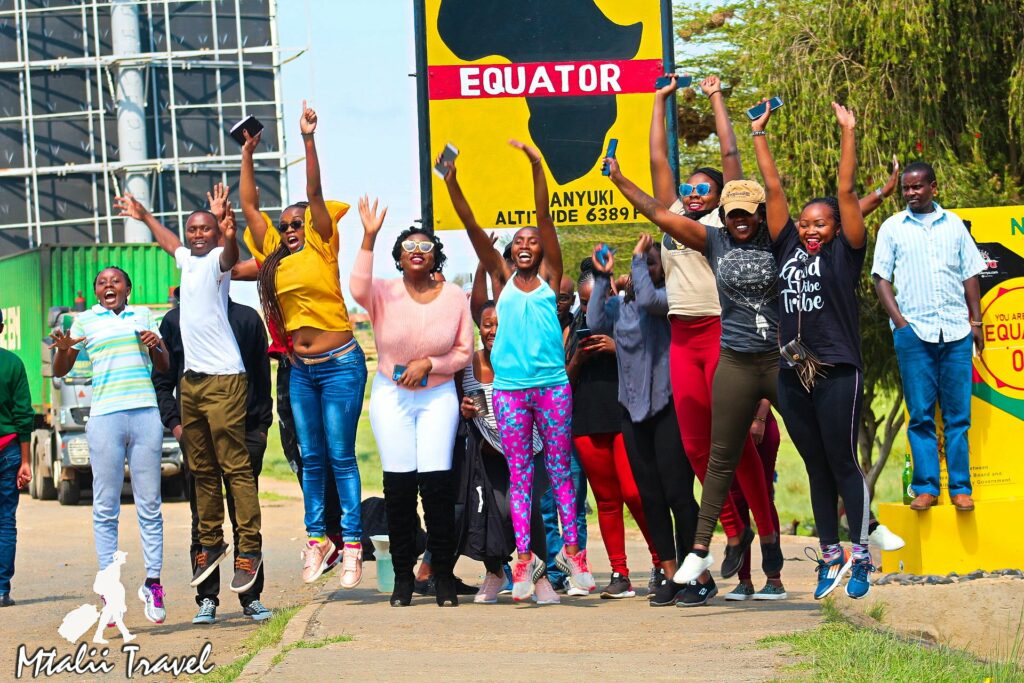 We then headed down to Ngare Ndare Forest which was like an hour's drive away.The road was pretty okay as it had not rained so we had no difficulty getting there. There are a lot of stop checks on this road with policemen who I felt were just looking to make some extra money from tourists and any person who looked like an outsider.
We reached the forest at around midday and we were given a tour guide/armed ranger for our group. Surprisingly, there were other groups from Nairobi who had come to do the same activities like us. So the place is actually picking its pace. Our armed ranger Jeremy, briefed us about the place and all the safety precautions to be taken and then we were off to go see this blue waterfalls. The Ngare Ndare waterfalls are about 3.5km from where we parked our bus but they can be accessible by a 4 by 4 wheel drive car at a nearer distance.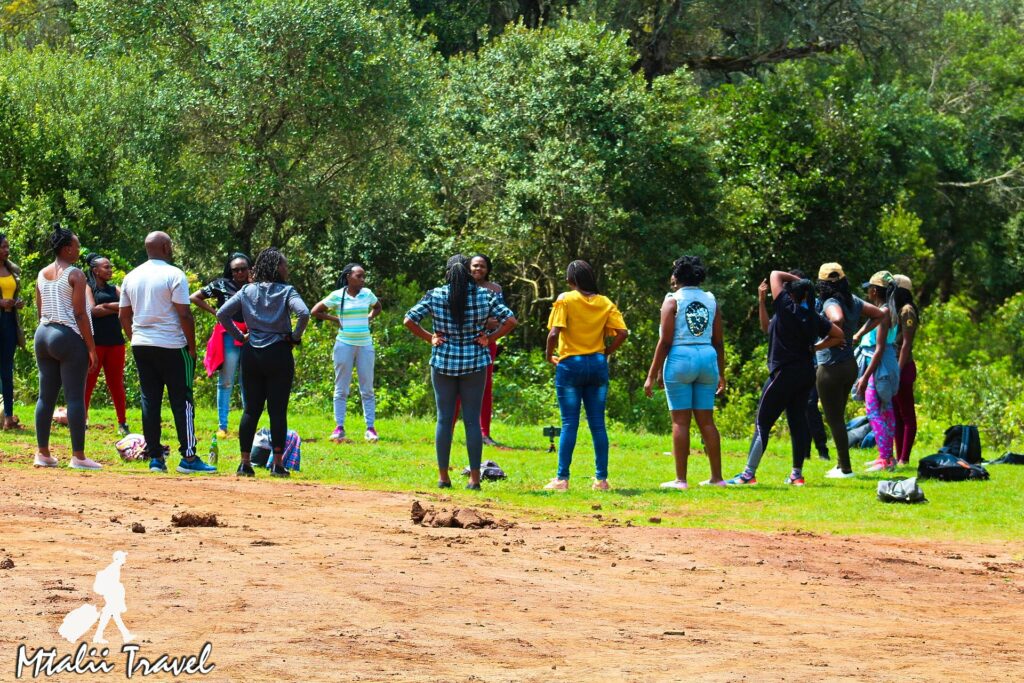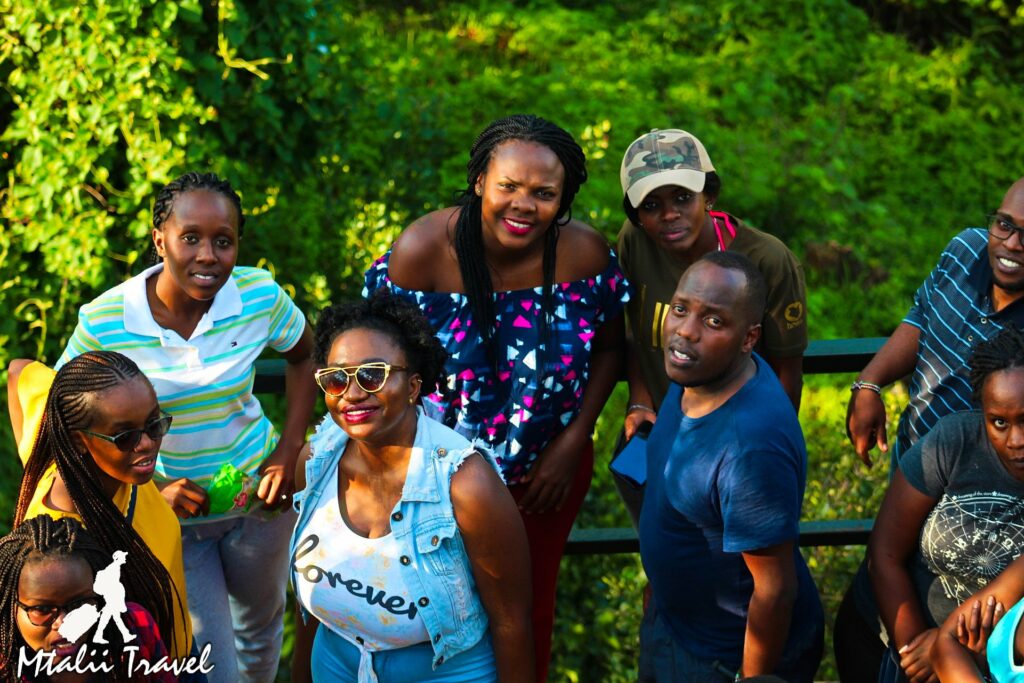 This hike almost killed me. I was very psyched to see the waterfalls but I was not prepared to hike for almost two hours!!! I was running out of breath while Jeremy was having a walk in the park literally!! At some point I had to sit down and catch my breath because my chest was not having any of my shenanigans. My legs literally refused to move and I knew it was over for me. My chest was so hot, I was sweating, I could not breath well and that's when I knew I was not made for that kind of life!! I don't even know how backpackers do it. You are hiking for almost a whole day with bags on your backs carrying almost 20kgs and you don't die?? how?? isn't that witchcraft?? and here I was, carrying nothing but just my body and I was almost dying. Kudos to backpackers and mountain climbers. You are the real OG's.
The hike takes you through the forest and through some rocks and a small river before you finally come to the waterfalls. They have this spiral staircase-like route which was my worst. It was very steep and long. If you have been to Karura Forest you will understand this "stairs".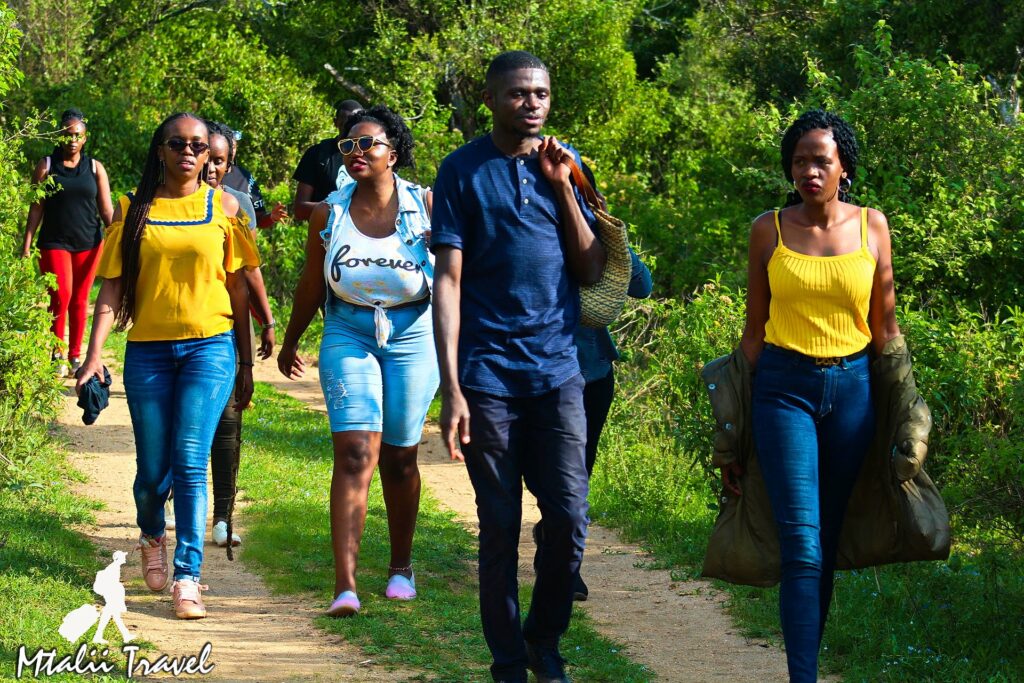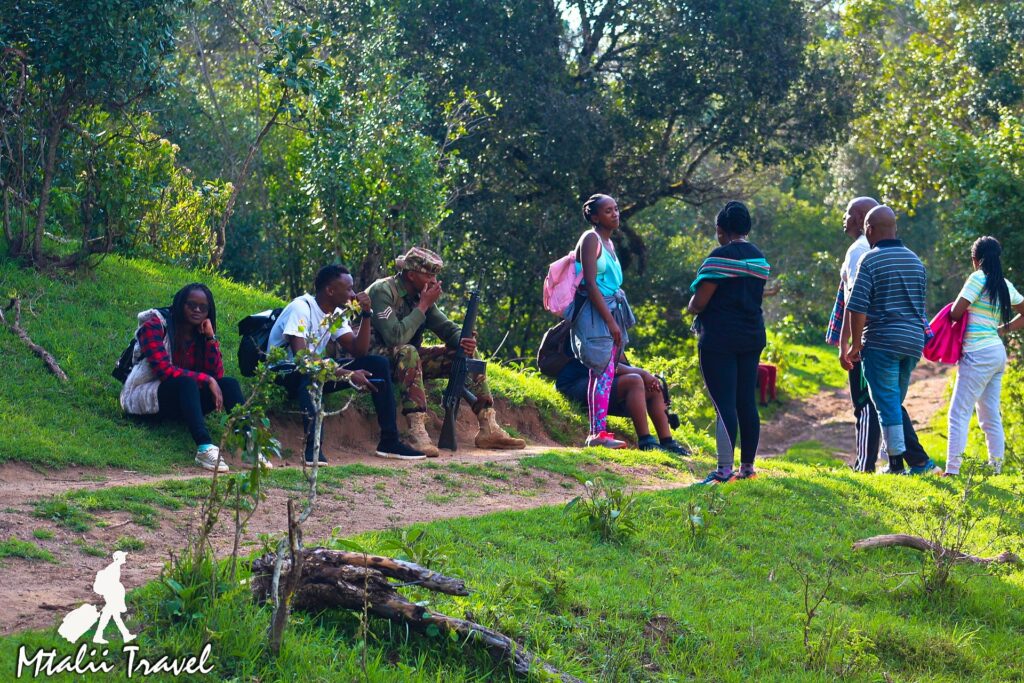 We finally got to the waterfalls. It looked spectacular though not as blue as we had expected. It had rained heavily the past few days so the water was not so blue. We still wanted to dive in and cool off from the hike. You guy my guy!! The water was freezing!! It was about 4 degrees!! It was like swimming in ice cubes but we had come too far not to have a swim. After an hour or so, our guide told us that we needed to head back and visit the canopy walk before it was too late. So another one hour of hiking back was waiting for us but at least this time the journey was not too bad.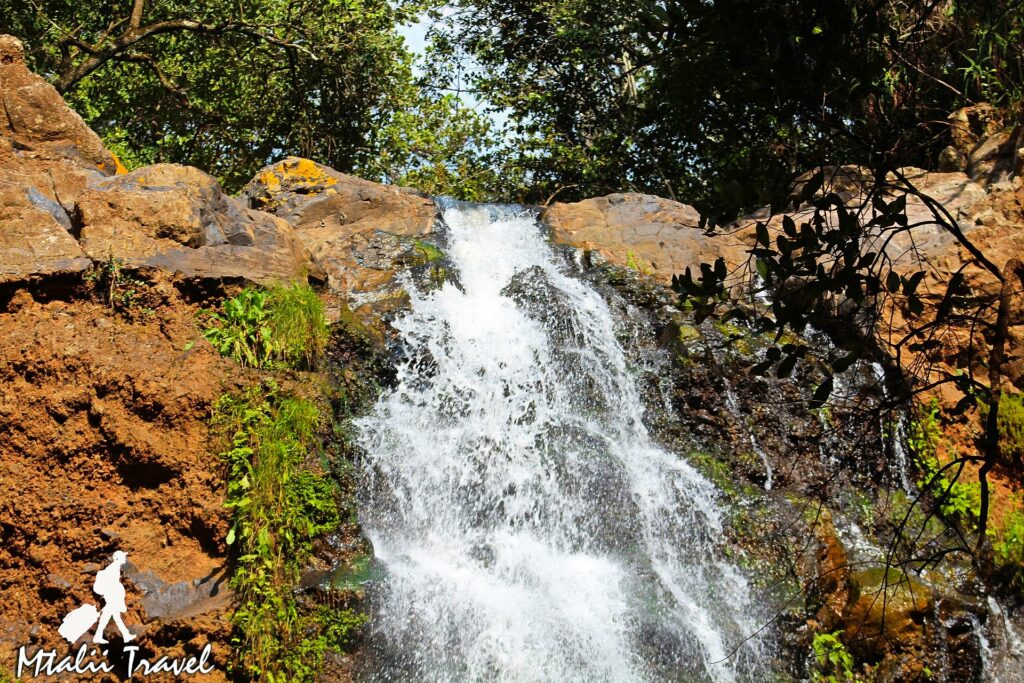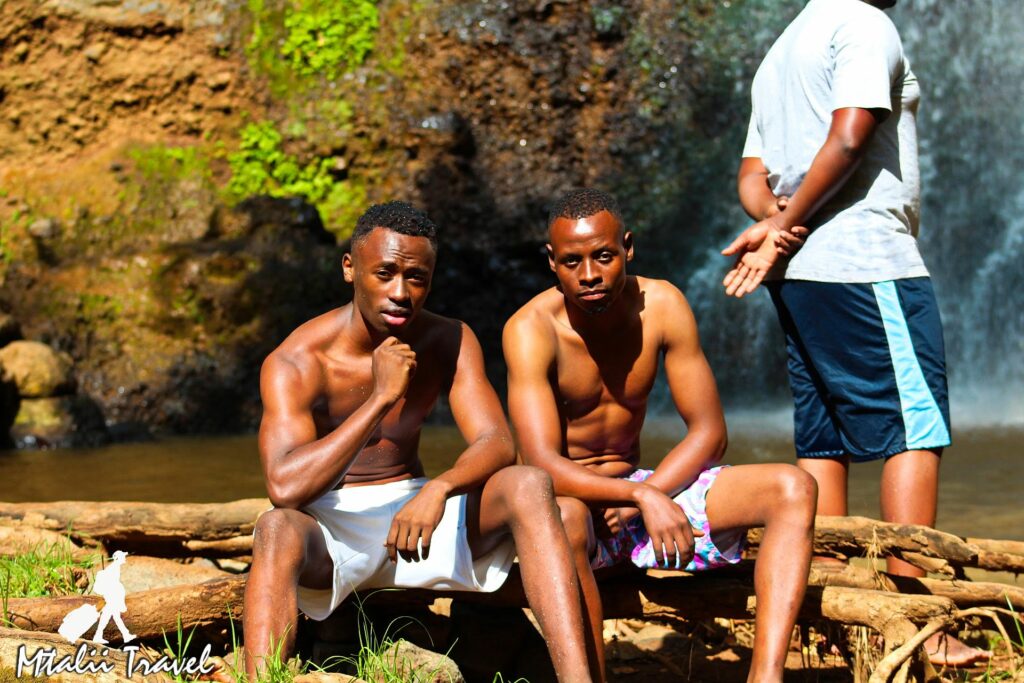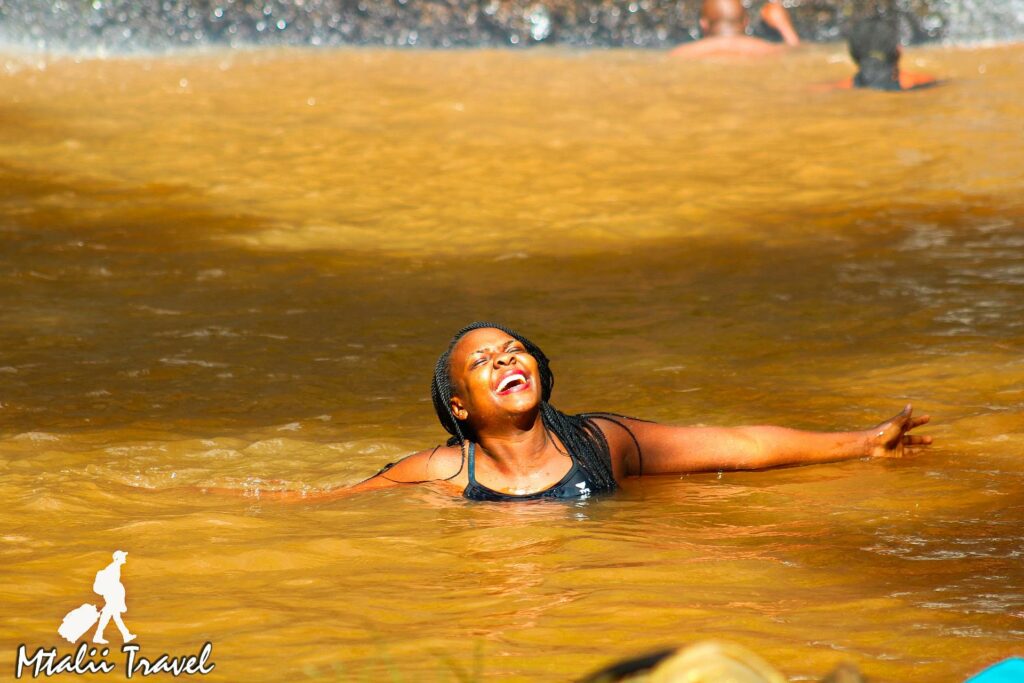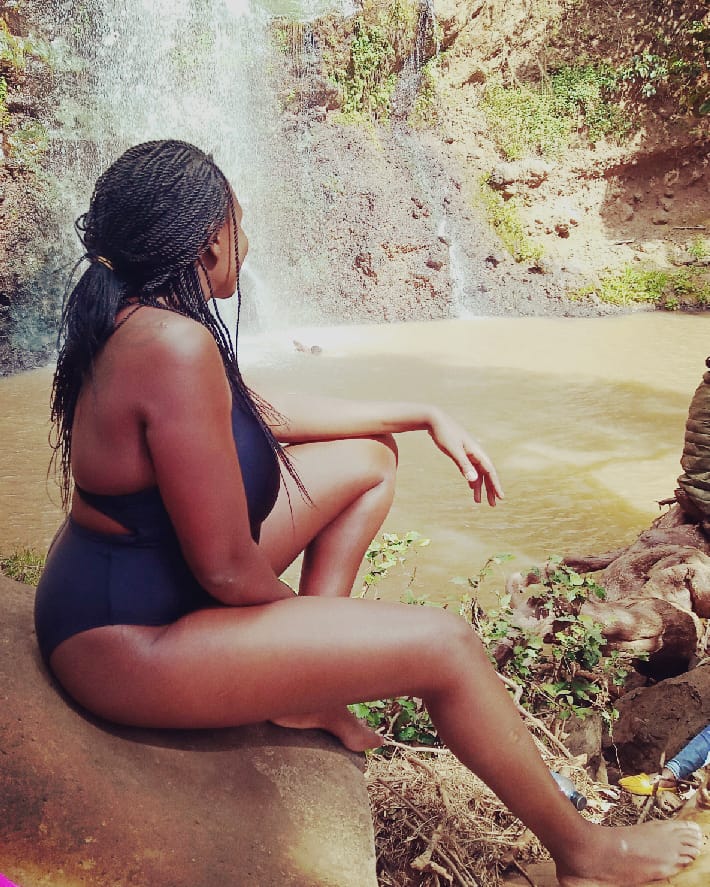 The canopy walk was the longest one I have seen when I compare it to the one at Rolfs Place Rongai and Camp Dunda falls in Embu. It is 40 feet high and it extends to about 450 metres long. If you are lucky enough you can be able to spot elephants and buffaloes at the river drinking water or just passing by. There are a number of beautiful birds too that can be spotted from the canopy walk. At the end of the canopy walk there is a small wild swing where you can sit and rest for a while before you head back.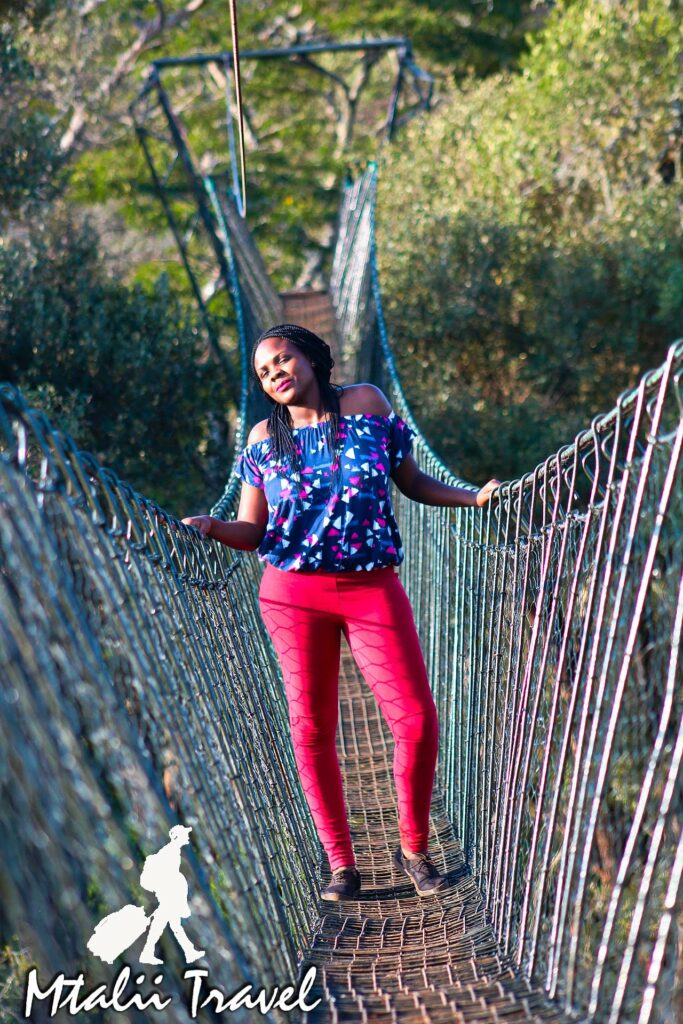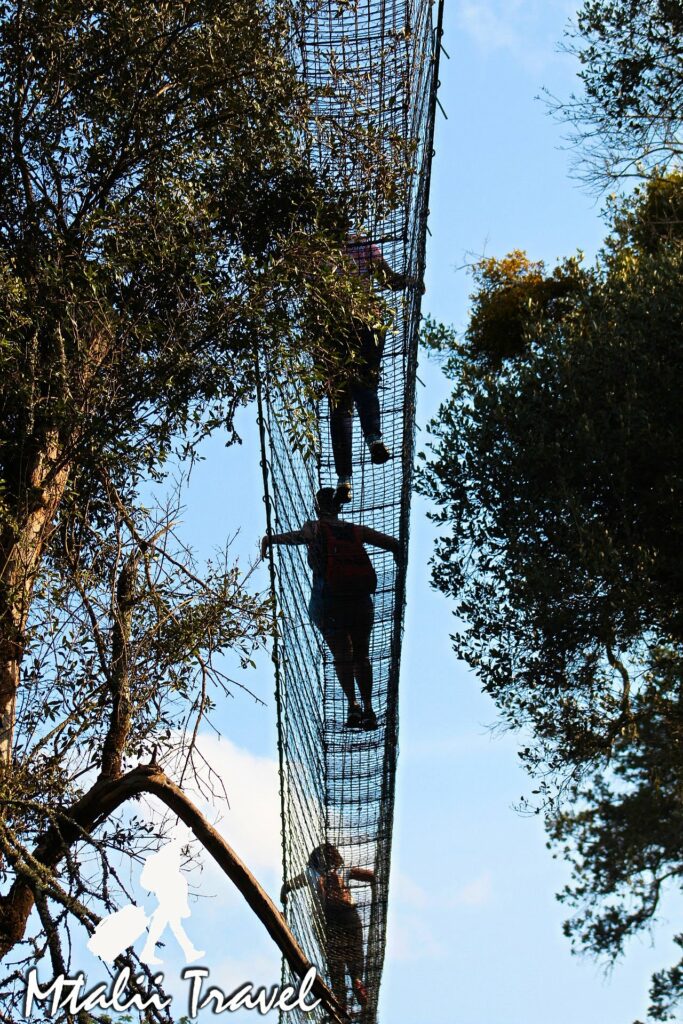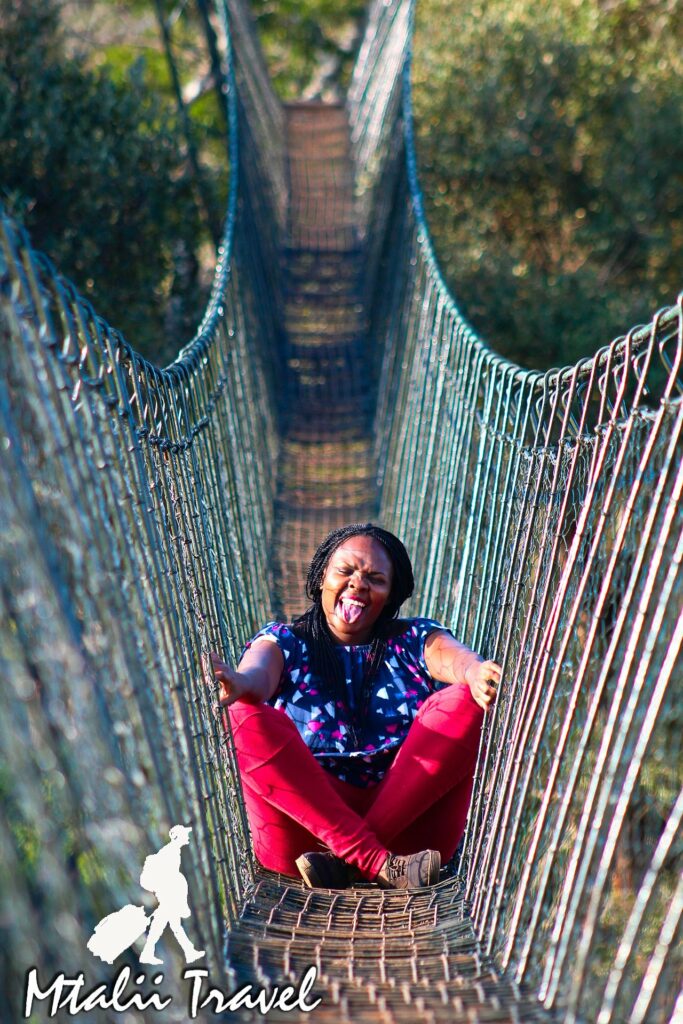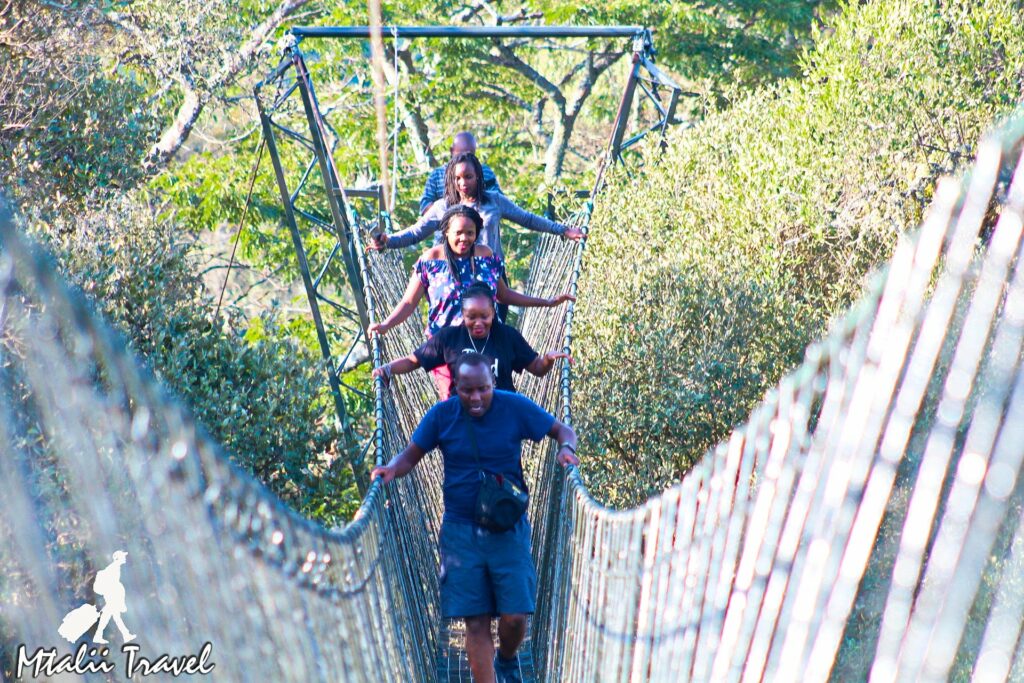 Those interested in camping can do so as the place has two campsites in the forest near the flowing water. The camps are fully equipped with clean running water, a bathroom and a toilet. You are also provided with the wood for the fireplace, which means you can do some cooking over the fire. You will also be provided with an armed ranger all through your camping period.The Ngare Ndare forest also has some minor grade rock climbing sites and abseiling walls for the experienced adventurer.
By around 6 pm we were all exhausted and all we wanted was to have some dinner and rest. We drove to Randall Camp where we had booked for our dinner. The food was sumptuous and people could go for second servings. The place is also ideal for camping. By around 9 pm we were on our way back to Nairobi. I slept all the way back because my body had literally shut down from all the hiking, rock climbing and the canopy walk. We arrived in Nairobi at 1.00am on Sunday.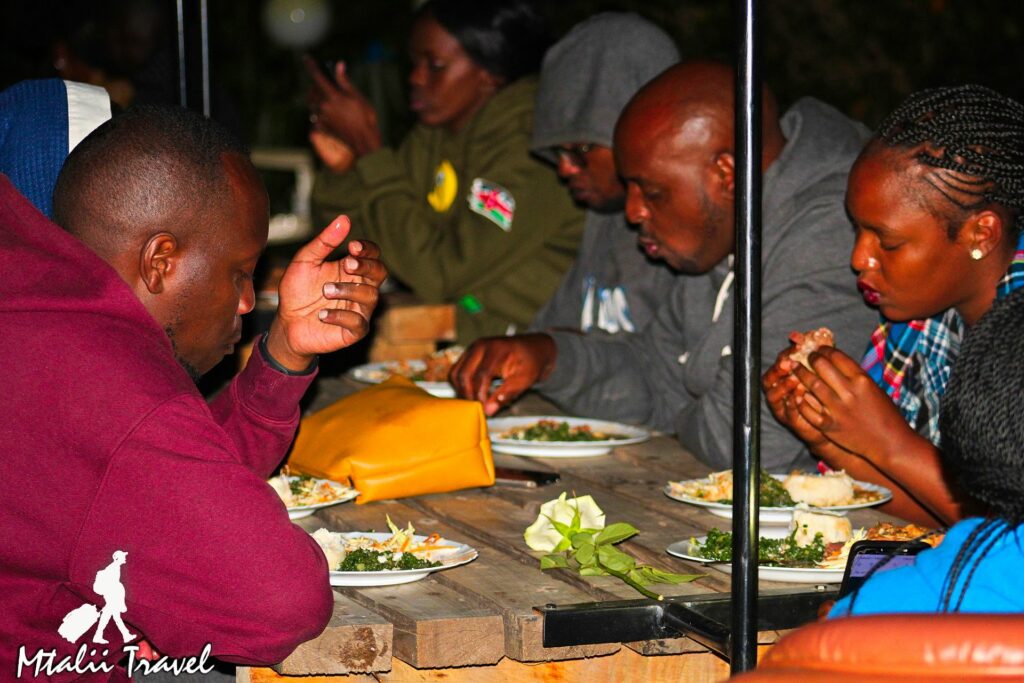 N/B Our total cost for the trip was just Ksh.3,000. Inclusive of transport to and from Nairobi, a bottle of water, lunch, conservation fee, swimming at the waterfalls, canopy walk and guide fee. The more you are the cheaper it becomes. We were 26 people. Group rates are always cheaper than individual rates.The group rates per day for more than 10 people is ksh. 1,000 and ksh. 1,500 for camping. All payments have to be done via MPESA as they do not accept cash or credit card payments. If you are less than 10 people, you will pay ksh. 2,000 per person for the activities only and ksh 3,000 for camping. Which is a bit expensive as this does not include food nor transport.
My verdict for this roadtrip was a 9.5 out 10. Reason being I almost died due to my unfitness lol and that the water was not blue as I expected. But generally the trip was worth every shilling. It is a place I would recommend to anyone who loves nature and adventure. We are having another trip next month to Camp Oasis in Lake Elementaita and if you would like to join feel free to DM me on Instagram or Facebook.