On 13th June, 2019 I published an article regarding my top five dream destinations which were South Africa, Zanzibar, Dubai, Thailand, Zambia and Zimbabwe. In 2020, Covid-19 happened and most of my plans were cancelled indefinitely due to travel restrictions until late 2021. In 2022, I visited Zanzibar for a weekend and ticked it off the bucket list. In 2023, South Africa was the dream destination. I had a whole itinerary on what to do and the only thing remaining was to get my finances right, get a squad and take the trip. It finally happened this year!!
Cape Town is arguably one of the most popular tourist attraction cities in Africa owing to its beautiful landscapes, wildlife, beaches, and vibrant city life. For Kenyan passport holders, we are lucky in that effective January 2023 we were exempted from getting Visas in order to visit South Africa. We can visit South Africa for up to three (3) months Visa-free. So, all you need is your return ticket, passport, yellow fever vaccination and covid-19 certificate.
For better rates, book your flights well in advance. You can opt to fly with Kenya Airways or Ethiopian Airlines. For us, we opted for Ethiopian Airlines as it was within our budget range and we got a return ticket for about Kshs. 80,000 which was fair and came with a one hour layover at Addis Ababa, Ethiopia. The flight was comfy, well organized and had friendly staff and fairly good food. It took two hours from Nairobi to Addis Ababa and six hours from Addis to Cape Town. In the second flight from Addis, we got breakfast and lunch served on the plane and the complimentary wine was the best idea! It knocked us down and in no time we were in Cape Town for our one week vacation.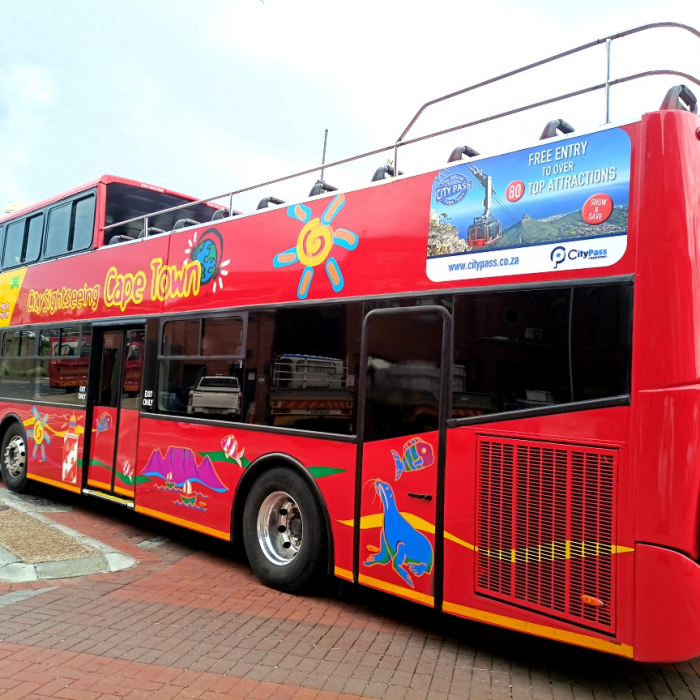 On arrival in Cape Town, we visited City Pass company who planned our itinerary for the next five days and I highly recommend using them if you want to fully explore the city. They tailor make activities for you and take away the heavy burden of planning, allowing you to enjoy your trip. You can get a day ticket, a 3-day, or a 5-day unlimited access like we did. It cost us 1,995 Rands which is an equivalent of roughly Kshs. 18,000. You can also opt to add your own activities that are not included in the unlimited access ticket.
Below are some of the fun and affordable activities you can do in Cape Town, South Africa. I have also indicated what each activity will cost if you do not have the city pass ticket.
1. Table Mountain Cable Cars
Adult – R395 | Child – R195
Table Mountain is the most iconic feature in Cape Town. We took the red hop on hop off sightseeing bus from the city center to Table mountain stop. You can opt to hike up the mountain or take the revolving cable cars which we found as the better option. The cable cars give an aerial view of the Atlantic Ocean, Cape Town and Robben Island. At the top, there are several restaurants where you can purchase a meal as you enjoy the beautiful surroundings. This activity is weather dependent and is only doable when the sky is clear.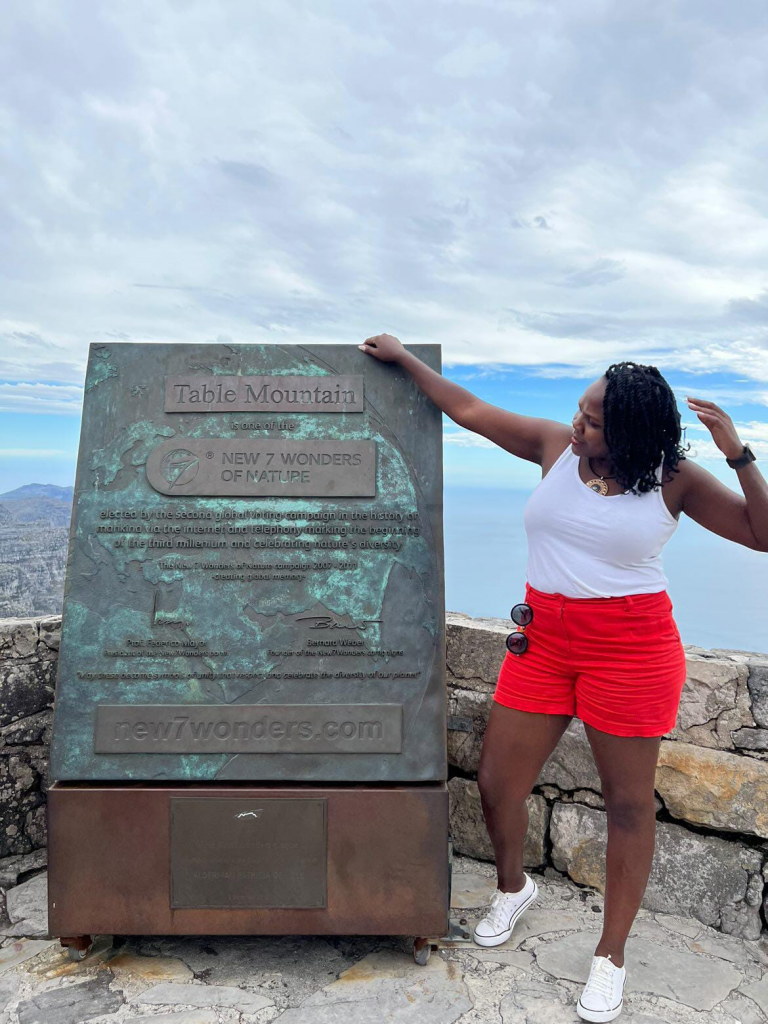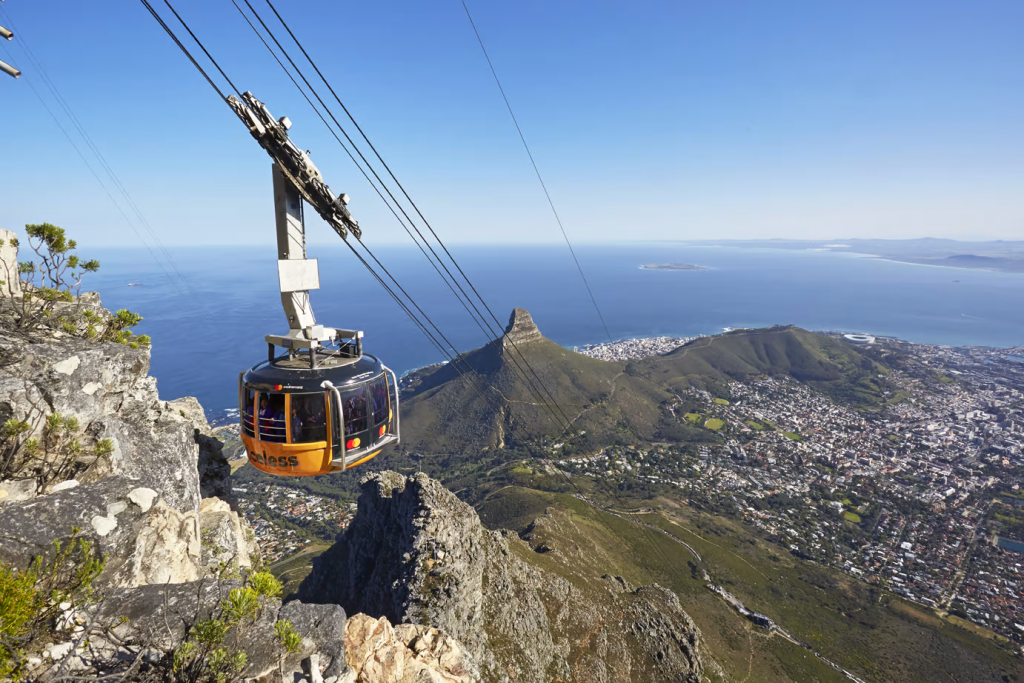 2. Sky-Hi ride
Adult – R200
Sky-Hi Ride is a 35-meter thrill ride that takes you up in a chair lift for an awe-inspiring view of Cape Town. We did it on the 28th floor of Hotel Sky in the middle of the city. Sky High Ride extends 146 meters above the city bowl and give exhilarating, gravity-defying and a breath-taking drop, reaching a free fall speed of up to 100km per hour and almost 4G's. The activity can be done in groups of ten and they are open from Wednesday to Sunday. Without the city pass ticket, they will charge R200 per person.
Did you know that the original Table Mountain Cable way opened for business on 4 October 1929, transporting millions of visitors to its smooth summit and one noteworthy visitor was HRM Queen Elizabeth II?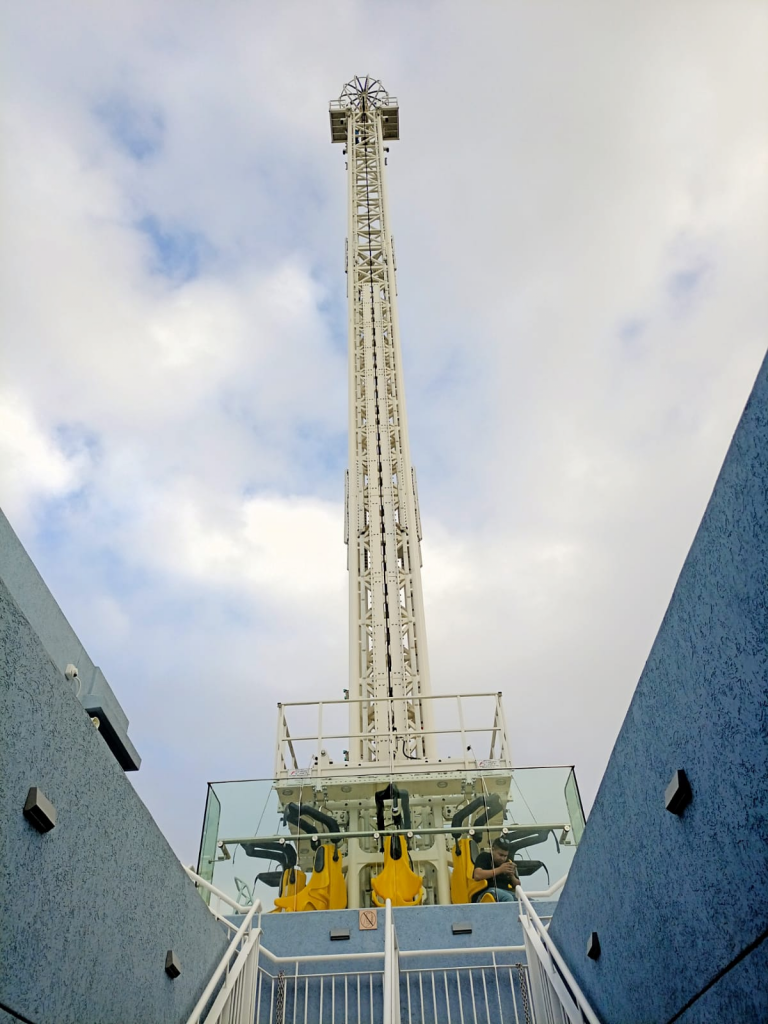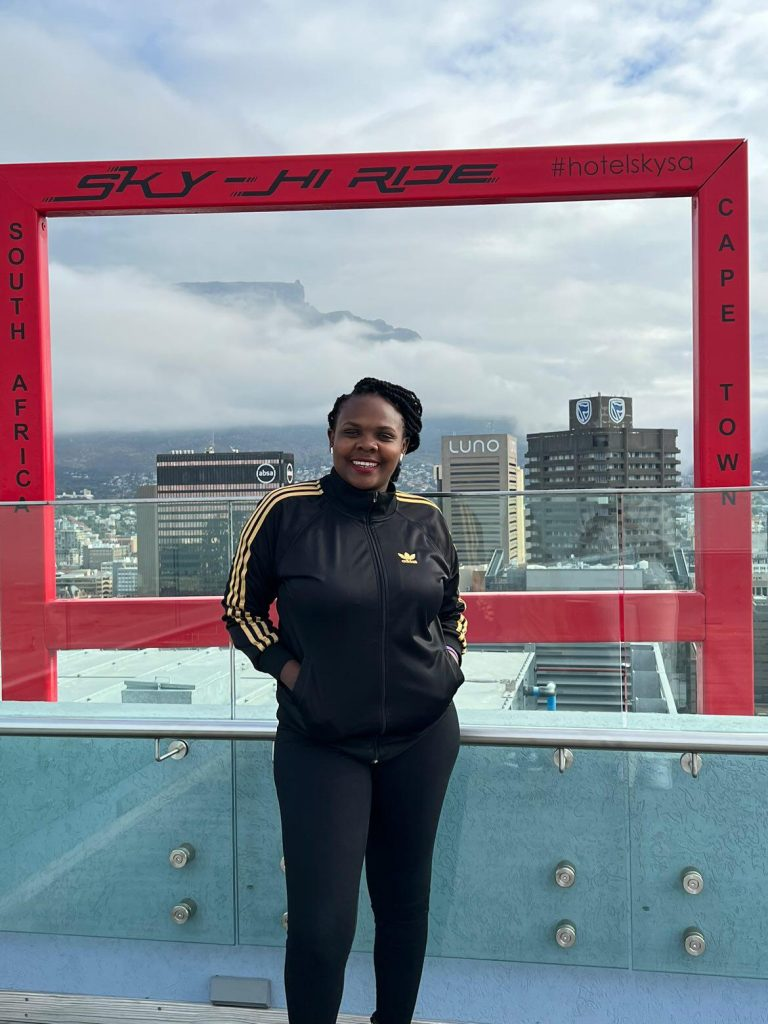 3. Paragliding
Adult – R1,800
Experience Cape Town in a unique way. The tandem paragliding experience comes highly recommended as a premium activity and gives you a birds eye view of Table Mountain, Lions Head, the V&A Waterfront and Sea Point. It is recommended that you wear comfy shoes and trousers for a better experience. You don't need to have prior paragliding experience for you try it out and it is a very safe activity to engage in. Another point to note is that this activity is weather dependent.
4. Two Oceans Aquarium
Adult – R220 | Child – R165
This Aquarium in the middle of the city is one of the first places we visited. It has over 3,000 creatures are on show, from microscopical to tiny fish and large sharks. Over 3,000 creatures are on show, from microscopical to tiny fish and large sharks. Two Oceans Aquarium provides a diverse showcase of Atlantic and Indian Ocean marine life. For extra R930 you can enjoy diving in the underwater wonderland and swim with many creatures including fish, turtles, rays, guitar-fish, brindle bass and even yellow-fin tuna.
5. Cape of Good Hope & Penguins Explorer Tour
Boulders Beach is one of the most famous beaches in Cape Town, thanks to its resident African penguins. It is part of Table Mountain National Park and one of the few places in the world where you can get up close to the endangered penguins.
The full-day Cape Point Explorer Tour takes you through the most scenic routes of the Cape Peninsula, with stops at Boulders Beach penguins' colony close to Simon's Town, and the Cape Point Nature Reserve. You will pass through Muizenberg and Fish Hoek and Ride up with the Funicular to the Cape Point lighthouse.
6. Bo-kaap tour
Adult and Children: Free
The most colorful houses on the slopes of Signal Hill, overlooking Cape Town. Bokaap was formerly inhabited by slaves and known as Malay Quarter. The now brightly colored houses make it the most instagrammable place in Cape Town where tourist flock in every day to get their photos. Bokaap is well enjoyed through a walking tour so that you can immerse yourself in the deep history of its origin. Make sure to try out the Cape Malay food on offer. It is a free tour but you can tip your guide.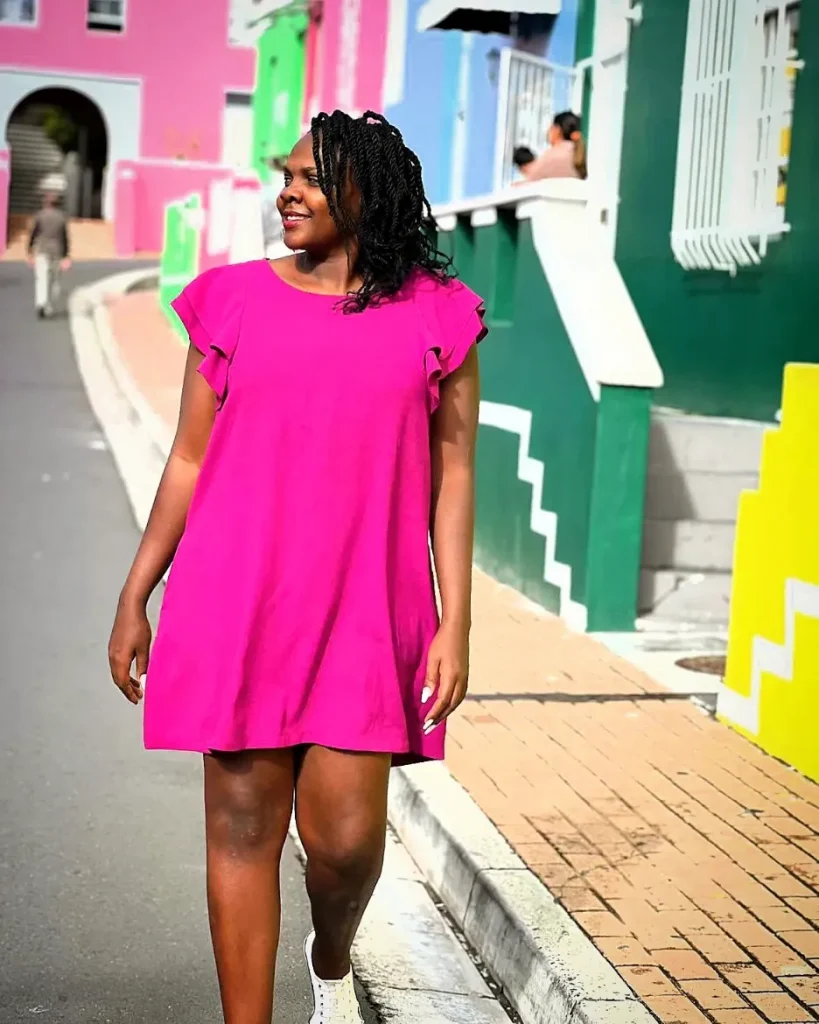 6. Chocolate Tasting
Adult – R85 | Child – R85
Honest Chocolate is a small, artisanal Bean-to-Bar chocolate company based in Cape Town. The company is famous for dark chocolate made from organically grown and ethically sourced Tanzanian cacao beans. We were excited to try them out expecting a fountain of chocolate and marshmallows but the experience was underwhelming. We got to taste a few samples of very bitter chocolates and we were on our way out. It was a free activity included in our pass.
7. Beer Tasting
R180 per adult
Journey into the beer land and the new brew food area, where you'll experience the iconic "99 bottles" on the wall and over 25 taps serving the best local and international beer at the one and only Beer house on Long Street. This was the highlight of our day one after we got disappointed at "Honest Chocolate". The service here was amazing, interactive and very welcoming. We got to taste over 12 different kinds of beers both local and international. This is a must do activity!!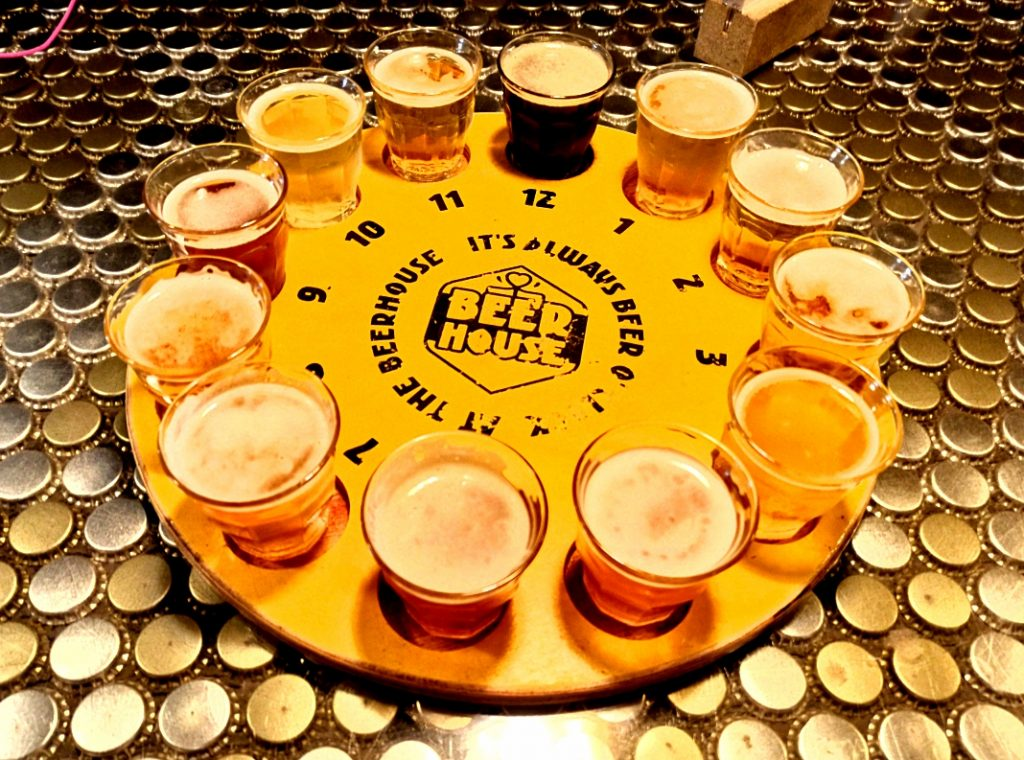 8. Tobogganing at Toboggan Family Park
R75 per child and R85 per adult per ride
Toboggan Family park also known as Cool Runnings is the first downhill tobogganing track in Africa. It boasts of an intricate course of steel tracks and top-notch, wheeled bobsleds stretching through its 1.25km track. Cruise through the 17 corners, S-bends and even a tunnel, before the sled automatically slows down at the bottom of the course, safe and sound. It is a one stop destination for a whole family fun with a cafe and a bar. The rides start at R75 but the more rides you book the cheaper it becomes. We got the family combo at R750 for 18 rides.
9. Wine Tour and tasting
Adult – R125
You can't go to South Africa and miss out on a wine tasting adventure. We visited Groot Constantia which is the oldest wine estate in South Africa for an estate, cellar tour & wine tasting. We got to experience the new visitor's route, and have an all-in-one experience of the Manor House Museum including tasting of five wines. We also got a genuine crystal Spiegelau wine glass as a souvenir.
10. Scratch Patch
Adult – R85 | Child – R85
The Scratch Patch and Mineral World outlet at the V&A Waterfront is one of the most popular places for visitors to see and buy gemstones. There are a wide variety of tumble-polished gemstones in the Scratch Patch that quite literally cover the floor. You are given an opportunity to spend a delightful hour or two selecting a choice of semi-precious stones. The sweetest catch to this is you are gifted the stones that you pick. It was such a fun activity to experience.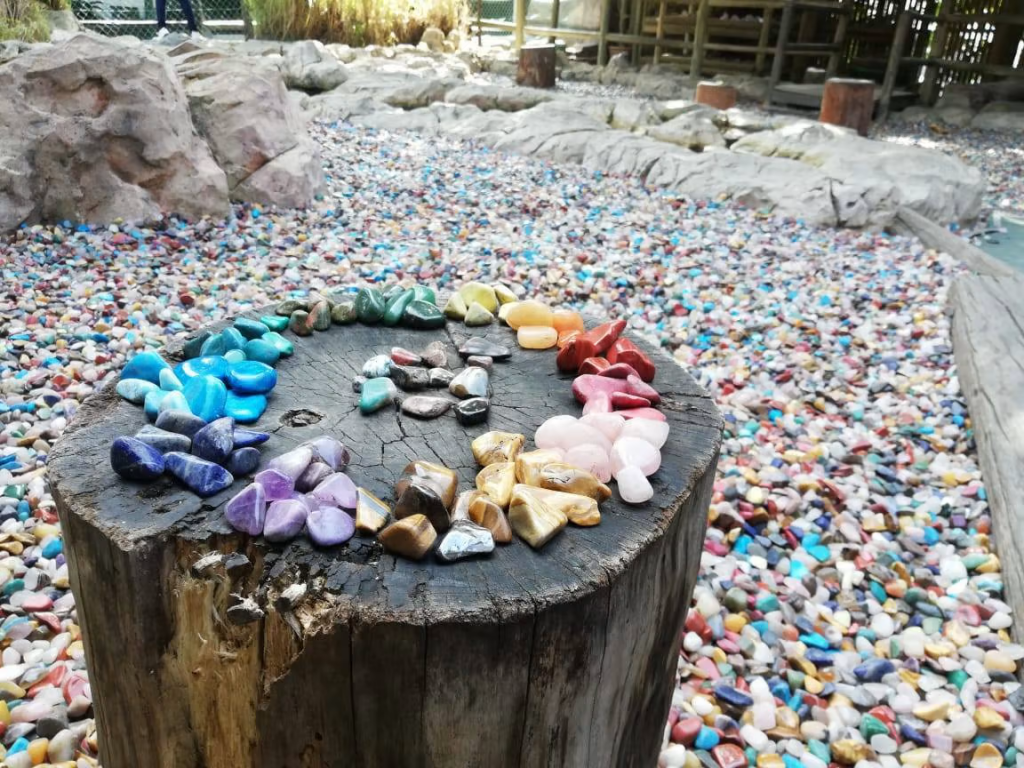 11. Cave Golf
Adult – R35 | Child – R35
Located in the same place as the Scratch Patch, Cave Golf is yet another activity you can indulge in while in Cape Town. It is a quick and enjoyable 18-holes of mini–Cave golf for all ages alike. The cave is man-made and is located indoors providing for an all weather experience. You do not have to be an experienced golfer to participate in the activity.
12. Stand Up Paddle Boarding
Normal Price: R250
With the ticket, you get a one hour access to do paddling at the Waterfront though there are two other locations at the CTICC and Intaka Island. No experience is needed as long as you can stand, you can paddle. It is done at the canals in the city centre where the water is flat without waves, so it is easy to learn but prepare to be wet. Professional instructors give you basic training instructions.
13. Canal Cruise
Adult – from R70 | Child – from R35
A great way to end a day is by taking a family-friendly cruise to visit the working harbor of Cape Town with City Sightseeing, departing from the jetty outside the Two Oceans Aquarium. You will be able to view the SAS Somerset boom defense vessel, the Bascule Bridge, and other intriguing attractions of the harbor. It is the oldest harbor in South Africa. The cruise also includes views of Table Mountain, the Nelson Mandela Gateway, Chavonnes Battery Museum, and the well-known Red Clock Tower.
14. Champagne Cruise
Adult – R520 | Child – R280
In the evening, we got to enjoy the famous African sunset on a champagne cruise as part of our activity. The cruise came with two complimentary glasses of bubbly for the guests and blankets to keep us warm as it was on an open deck. You are allowed to bring your own drinks although they also sell champagne on the cruise. We had an incredible DJ and host who kept us entertained all through the journey.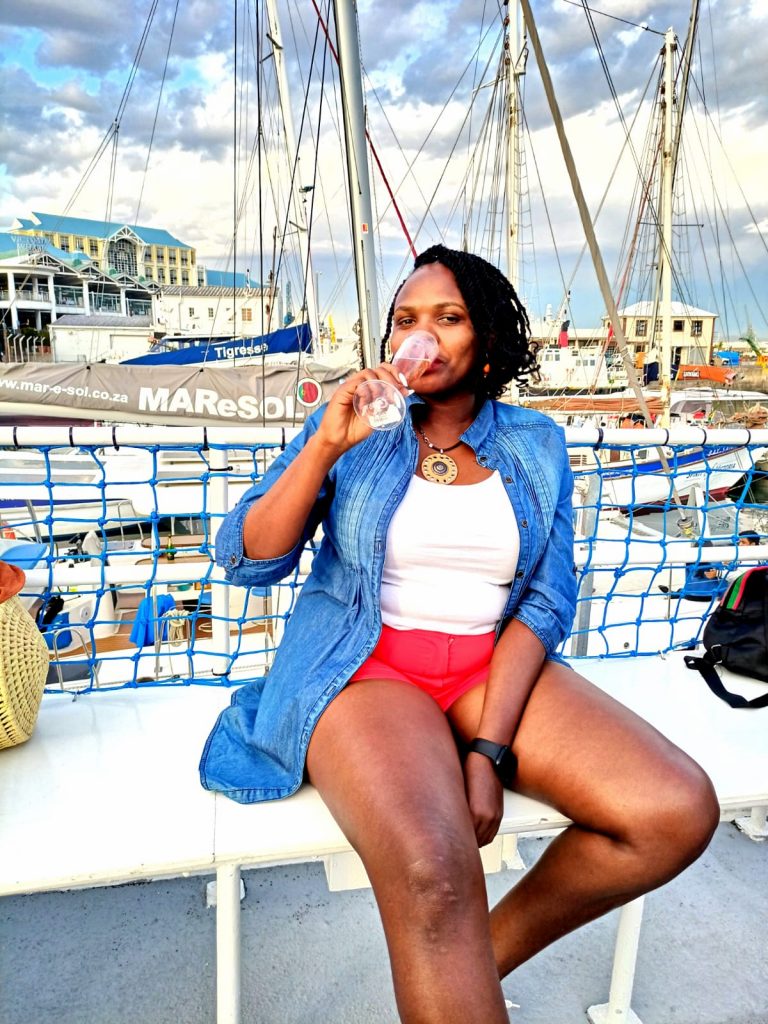 15. Dolphin and Whale Watching
This was an added advantage to taking on the champagne cruise. We got to see so many dolphins swim in the Atlantic Ocean and for the first time in my life I also saw whales! They are humongous to say the least and it was a sight to be hold. I understood how they could swallow a man like Jonah as if he was a tiny beef burger.
16. Camps Bay
Camps Bay is an affluent suburb in Cape town's Western Cape Province and is well know for its white sandy beaches, natural rock swimming pool and views of the Twelve Apostles mountains. Dotted with numerous restaurants, you will be spoilt for choice on where to eat. Theatre on the Bay is also a great spot for art and cultural history. The cost will vary depending on your spending and the places you will visit.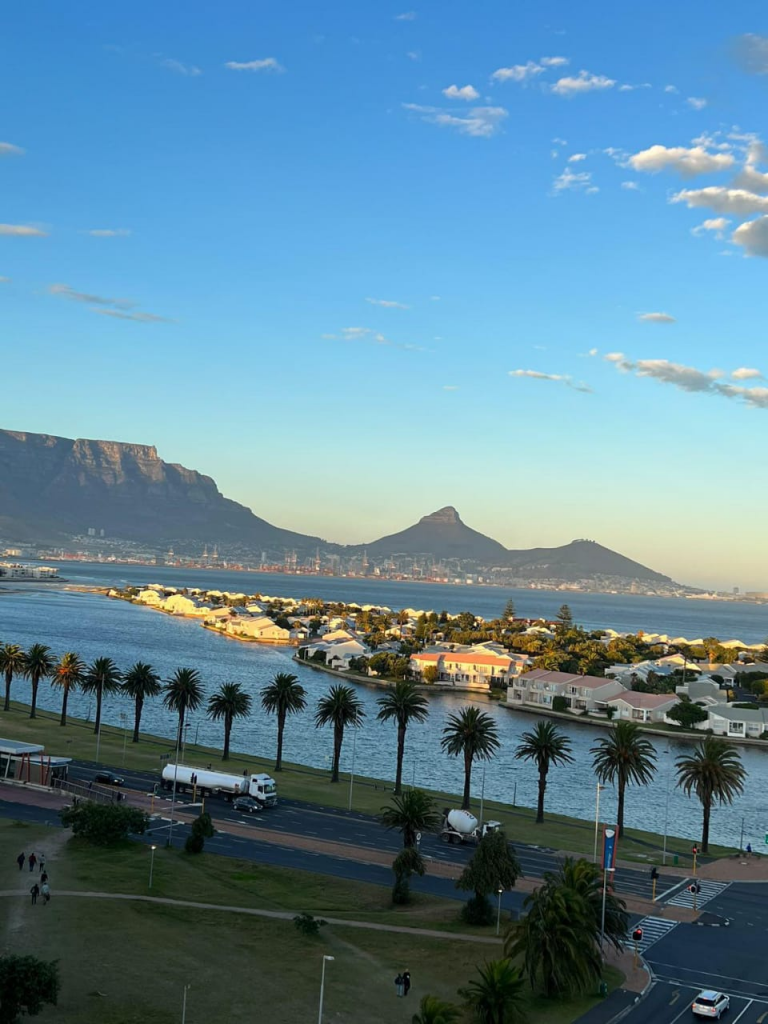 17. Zeitz MOCAA
Adult – R230 | Child – Free
Designed by architect Thomas Heatherwick and named after Jochen Zeitz, the former CEO of Puma, Zeitz Mocaa (Museum of Contemporary Art Africa) has over 100 galleries, spread across its nine floors in the towering 100,000-square-foot building. Its main focus is on 21st-century work from Africa and the diaspora and there is free entry for African citizens on Wednesdays from 10 am – 1 pm. Also visit the Iziko South African National Gallery to provide more context to the contemporary works exhibited in the Zeitz MOCAA.
18. Visit the Beach at Muizenberg
Muizenberg is known for Surfing and the brightly colored wooden beach huts. It resembles Bo-Kaap and offers an attractive scenery, cuisine, art galleries, boutiques and outdoor activities. A great spot for a chilled out afternoon by the beach soaking in the sun. It is one of the most Instagrammable places in Cape Town.
19. Sunset bus tour to Lion's Head & Signal Hill
Adult – from R185 | Child – from R95
With our city pass ticket, we got to enjoy a Sunset tour on the open deck bus from Waterfront to Signal Hill through the beautiful landscapes of Cape Town dotted along the Atlantic seaboard through Sea Point and Camps Bay. Watching the sunset over the Atlantic Ocean was the highlight of the trip. Bring some wine and a picnic basket for more fun.
20. Kirstenbosch National Botanical Gardens
With hundreds of acres boasting an impressive collection of indigenous plants and flowers, sprawling lawns, and a canopy bridge with views of the mountain forests and treetops, Kirstenbosch Botanical Gardens is a must visit. I recommend visiting it the same day when you visit the wine farms because it is on the same route. It has hiking trails to the mountains to reach the dams. It also has a few shops where you can buy a variety of plants, books and gifts. Moyo Kirstenbosch is well known for African Cuisine that caters for all tourists.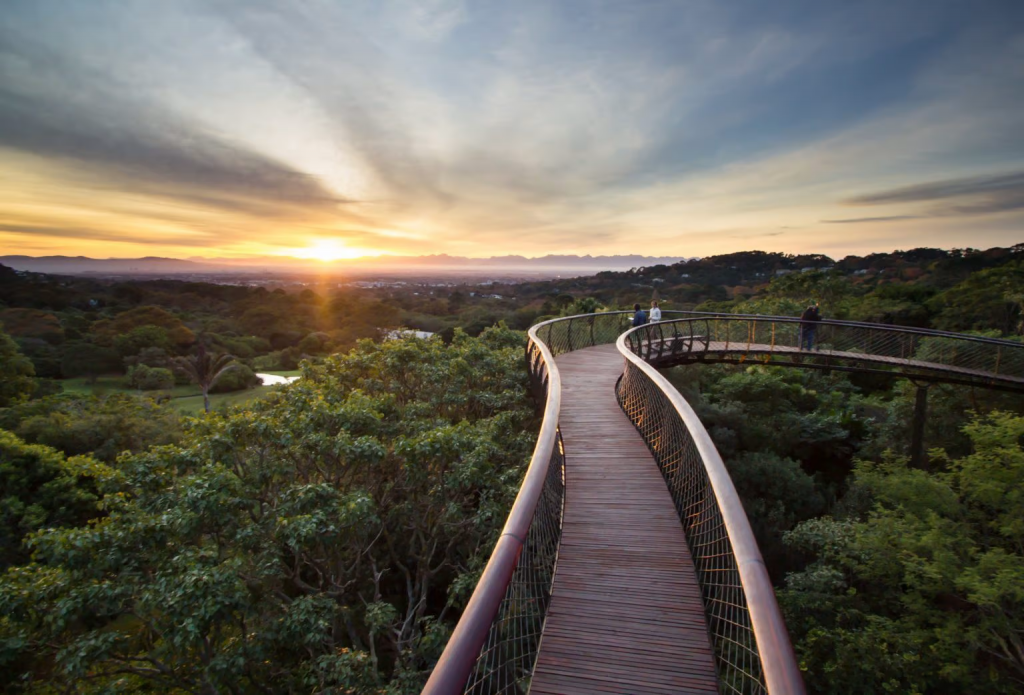 22. V&A Waterfront
This is the heart of Cape Town and the oldest harbor in the country. It is an all in one center. From clothing stores, sightseeing, entertainment, restaurants, beautiful ocean views, food markets, local South African shows, V&A makes a great spot for touring. It is also the place to book your water excursions, cruises and kayaks. Enjoy an evening watching the sun set over the Atlantic ocean as you enjoy a sun downer or dinner by the ocean. All your favourite brands are found her.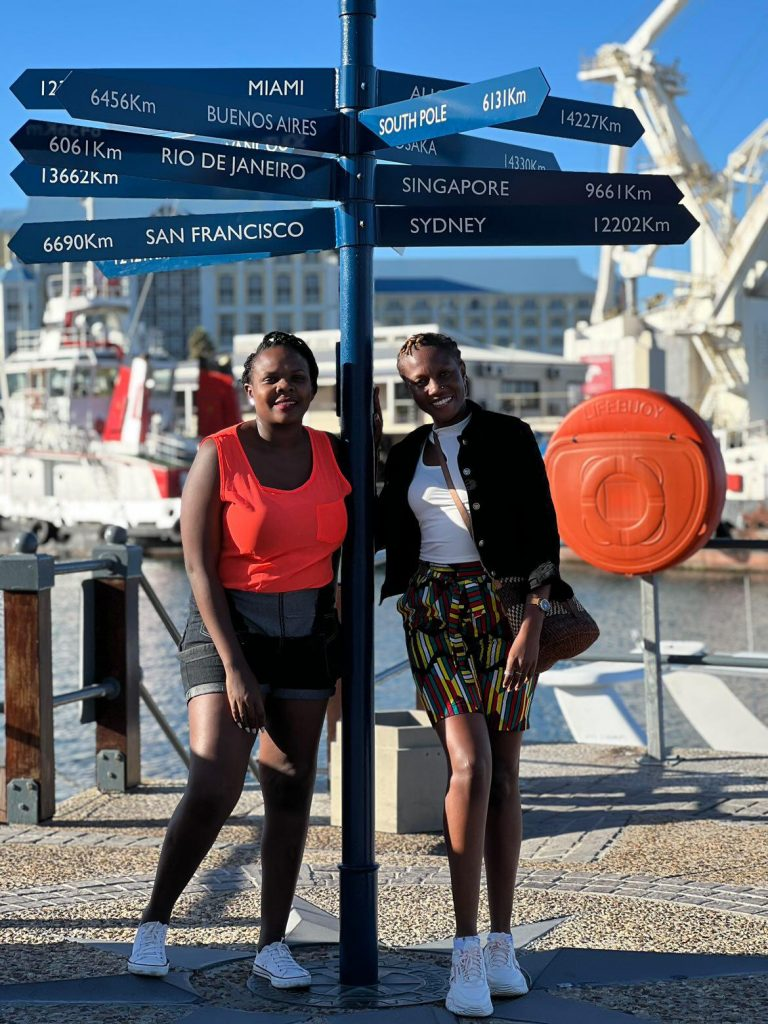 23. Eat, drink, party at Mojo Market
Mojo Market is a well known food and lifestyle market in Sea Point. It has over 30 stalls that provide delicious food, drinks, and artisan products. It is a leisure place with beautiful and several sitting areas for its customers. With our city pass ticket, we got a voucher for R100 that we could spend on drinks. A great place for evening drinks, karaoke and the best pork ribs and French fries we had. It is like the Kenyan Nairobi Street Market.
24. Party on Long Street
The night life in Cape Town is on another level!!! All the buzzing clubs are on one street – Long street so club hoping is very easy to do. The drinks are moderately priced in most clubs and the service is quite good. Surprising most of the big clubs close by 2am and revelers are left to try out the smaller clubs which are equally as fun.
In summary, Cape Town is an incredible place to visit and has a lot of activities for any kind of traveller. With proper arrangements, you can enjoy as many activities as you can within a week for about Kshs.160,000 on the lower side. I have seen Kenyan tour companies planning similar trips for about $1,600 which is roughly 200,000 depending on the dollar exchange rate. It is an option to explore if you can't plan the trip on your own.
If I get another chance to explore South Africa, I would definitely opt for a two-week stay for maximum exploration, rejuvenation and also tour Johannesburg. There are so many other activities I didn't get to do such as visiting the sand dunes, Aquila private game reserve safari, surf in Muizenberg, and even Zip lining in Elgin.
I am looking forward to see when I will actualize my trip to Thailand. If you want to join my friends and I in any of our upcoming trips, kindly leave a comment or reach out to me on [email protected].
See you soon ??.