Zanzibar is so far one of my favorite beach destinations in East Africa. Commonly known as Spice Island, Zanzibar is located on the shores of Tanzania and is ideal for any kind of traveler. Tanzania is home to Mt. Kilimanjaro which is the tallest mountain in Africa and Lake Tanganyika – the world's second-largest lake.
I visited Zanzibar Island a few days ago and below is a the perfect itinerary for your trip to the stunning, idyllic Zanzibar Island.
Visa requirements
Kenyan travelers don't need a visa to access the island. However, you will need to have your passport, yellow fever card, and your covid-19 certificate. The Kenyan temporary passport is acceptable too. For travellers from other countries, kindly check the travel requirements here.
Read: Visa free countries for Kenyan passport holders.
Getting there
Zanzibar is easily accessible by a short 20-minutes flight from Dar es Salaam International Airport. From Kenya, direct flights to Dar are available from Jomo Kenyatta International Airport and they cost about Kshs. 16,000/= one way depending on the time of booking and season. For a more adventurous journey, I would recommend a flight to Dar and then a 2-hour ferry ride to Zanzibar. It is also accessible by road from Nairobi. You can either take a direct bus to Dar or use the Standard Gauge Railway (SGR) to Mombasa then get a bus to Dar es Salaam then take a ferry to Zanzibar.
We used Azam Marine Division who are the owners of the Kilimanjaro ferries and the prices were Tshs. 25,000 for economy class, Tshs. 35,000 for business class, Tshs. 50,000 for VIPs and Tshs. 60,000 for the royal class. The ferry has kiosks selling snacks and refreshments but no alcohol is sold nor are passengers allowed to drink alcohol inside the ferry.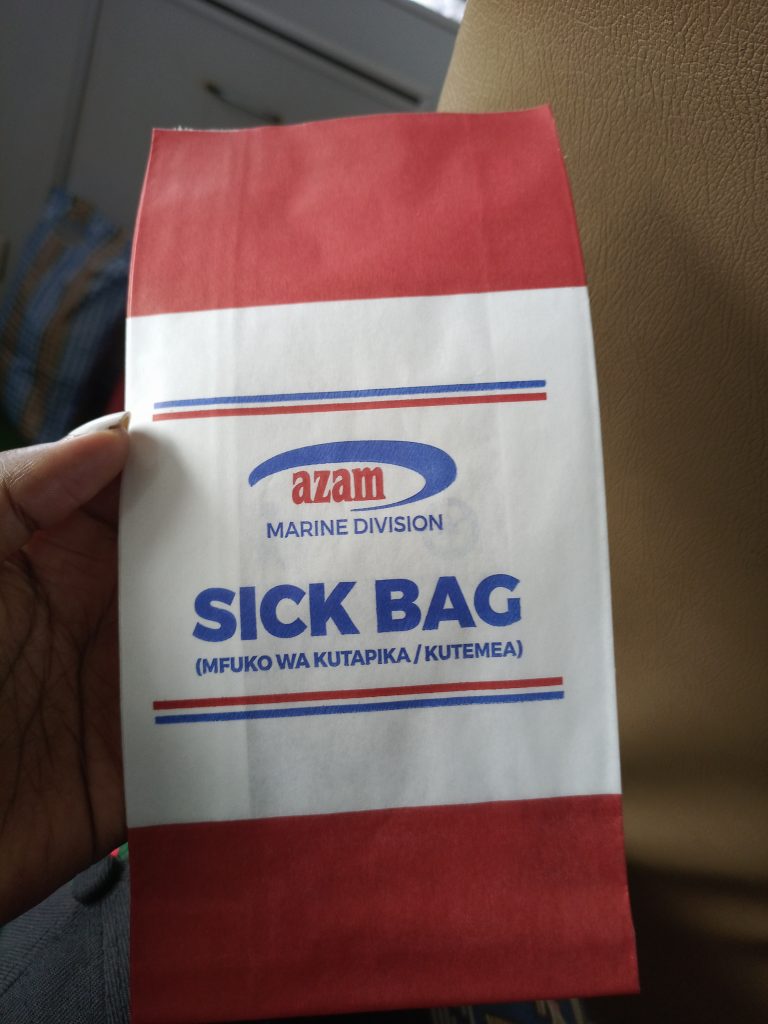 Being my first time on a "real ferry", the experience was unexpected. For a person who has never had seasickness before, I was shocked to experience it. Thirty minutes into the ferry ride and I could not stand the motion. We had previously decided to sit on the top deck but after the seasickness kicked in, I went to sit downstairs which was more shielded, warmer, and comfortable. The next one and half hours went on smoothly as I blacked out and slept all the way while my new friends were having the time of their lives on the rooftop deck.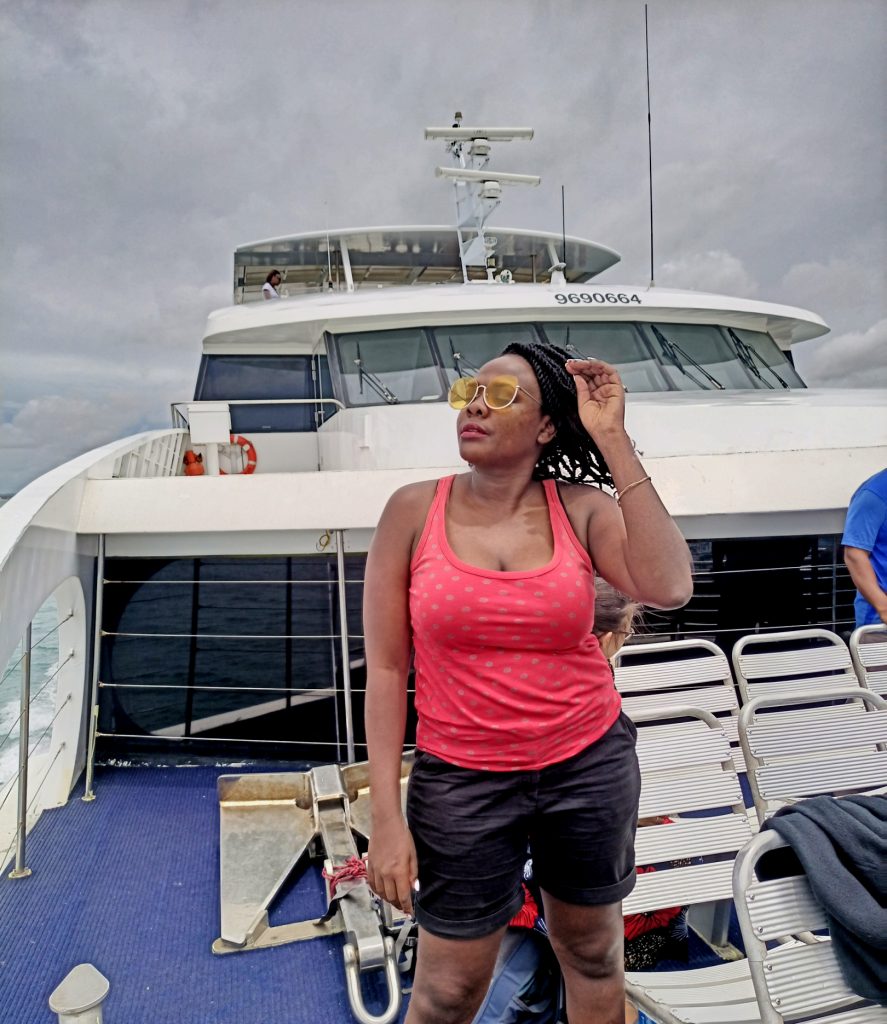 What to do;
Stone Town Tour
On arrival, our first stop was Stone Town which is a UNESCO World Heritage site and the vibrant enchanting heart of Zanzibar city. A walking tour around stone town shed light on how Zanzibar came to be and how the slave trade was abolished. Stone town is not too different from Lamu except that some of the streets are a bit wider and it has many shops and mini-markets.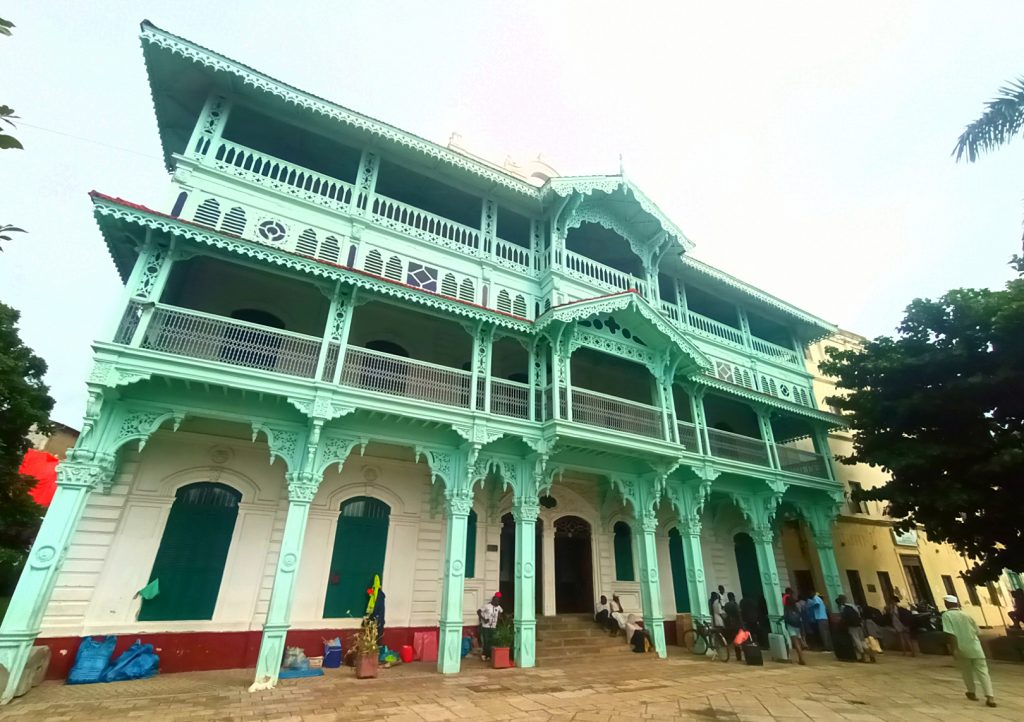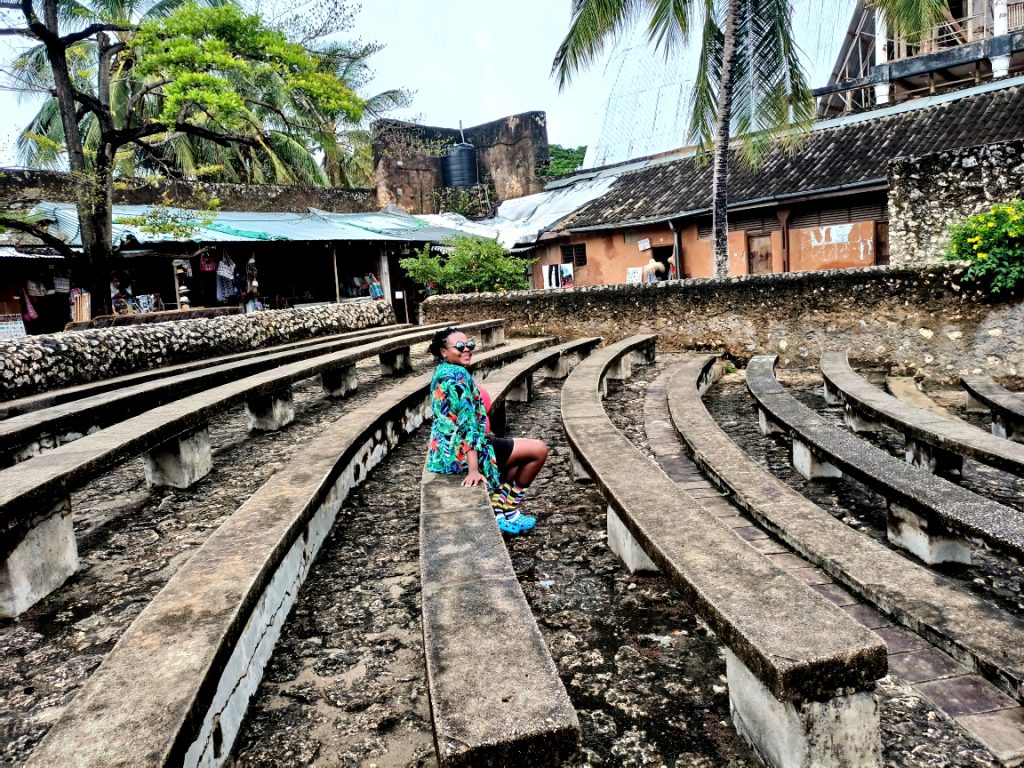 Stone Town has several historical landmarks such as the Old Fort, Old Dispensary, House of wonders which is the first house in East Africa to have electricity and an elevator, and the Anglican Cathedral of Christ church which was built mostly of coral stone. Zanzibar played a major role in the colonial slave trade and at the East African Slave Trade Exhibit in Stone Town; there is a statue of five slaves bound together by a chain that serves as a reminder of all the atrocities that the people faced. The Exhibition is dedicated to telling the terrible stories of the slave trade and the long, hard road to freedom. The tour is eye-opening and I felt that it is one of those tours you would not want to miss if you need to know and understand Zanzibar more.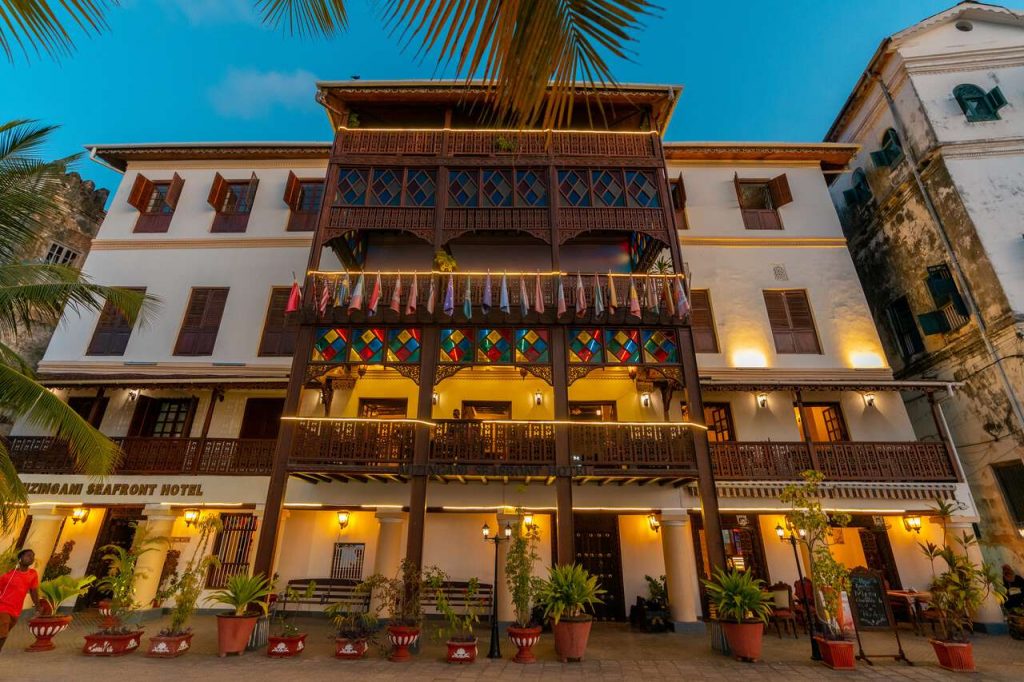 Feeding tortoises at Prison Island
After the 4-hour Stone Town tour, our next stop was Prison Island in Unguja which is a hidden sanctuary rich in antiquity. It is also known as Changuu Island due to the abundance of the changuu fish in the surrounding waters. The Island is famous due to the giant Aldabra tortoises and its former intention to host prisoners from the mainland. Though it was never really used as a prison, the island became a quarantine center for yellow fever patients and has been lately transformed into a government-owned hotel.
The 20-minutes boat ride from Stone town ends at a sneaky rustic wooden bridge that hovers a few meters above the clean white beach.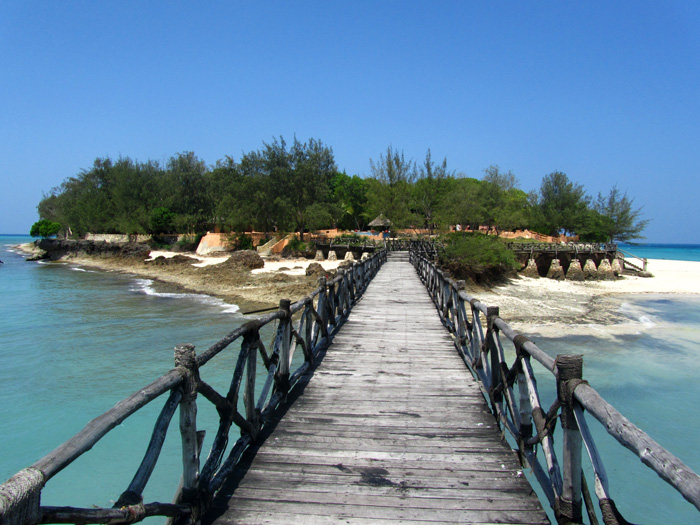 The entry fee is $4 to access the area, feed the giant tortoises, and get a guided tour of the facility. Some of these tortoises weigh over 200kgs and are over 160 years old. It was such an incredible experience to see them up close and feed them.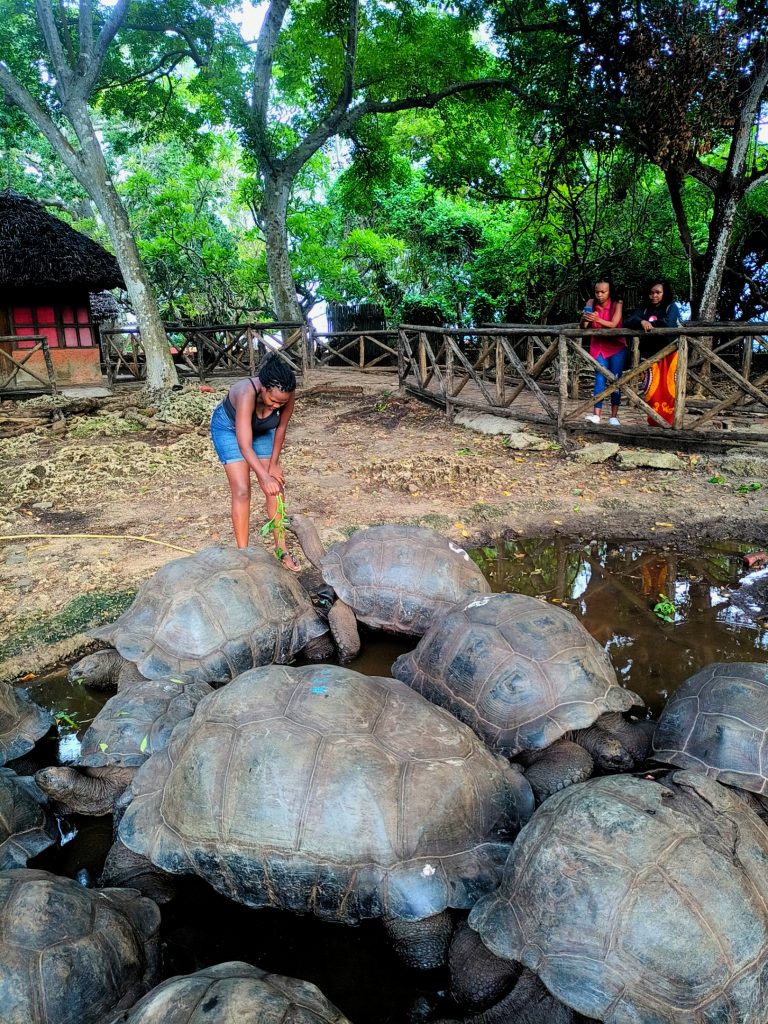 Eat and party at Zanzibar's floating bars and restaurants
My experience in Zanzibar's Stone Town gave me Lamu vibes. The narrow labyrinth alleyways, the small barazas, the buildings, and now, the floating bar. On the shores of Stone Town, there are two floating restaurants you can visit. One is the main floating restaurant just a few minutes from Forodhani market and it attracts several high-end clients. It is accessible on foot as it is not located far away from the shores. The other floating restaurant and bar (Dreamers Island) is a renovated boat just like the one in Lamu and can only be accessed via a boat.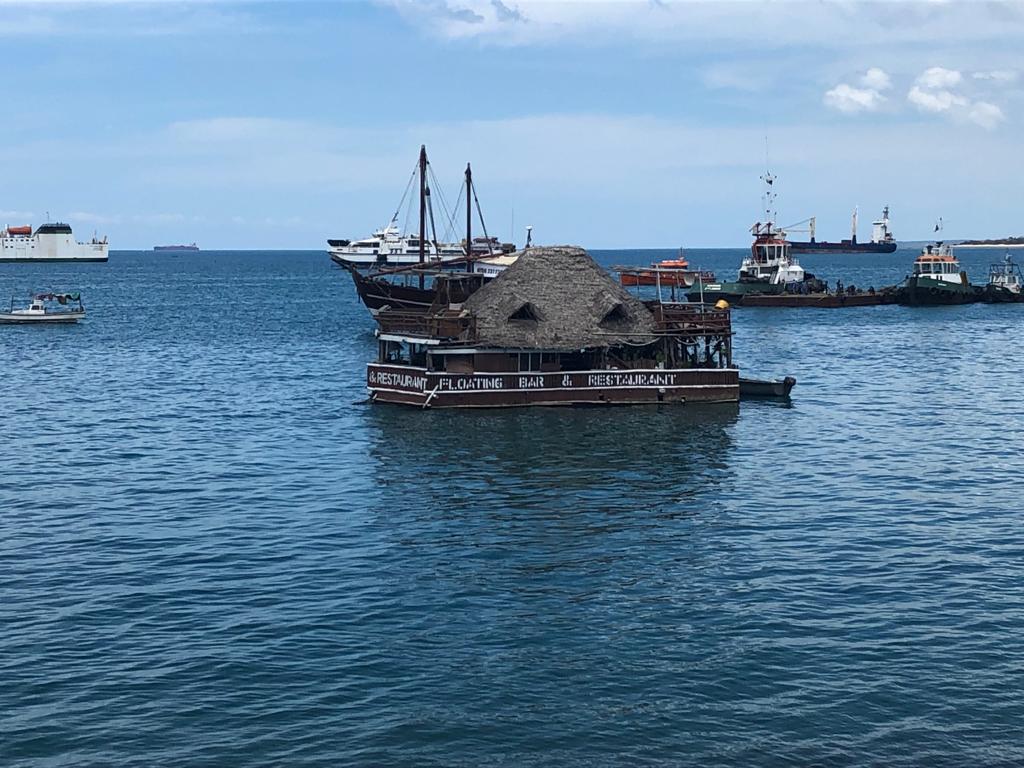 Another famous floating restaurant in Zanzibar is the Rock restaurant which is set on top of a rock in the ocean on Michamvi Pingwe beach in the Southeast coastal areas of Zanzibar. This charming, exclusive restaurant is a crowd puller and all visitors have to make reservations in advance or risk being turned away on arrival. It can be accessed on foot when the tide is low and a boat is provided as a complimentary at high tide. The sunset shots here are to die for. Their menu is quite pricey but you can give it a try for the unique experience. See their menu here.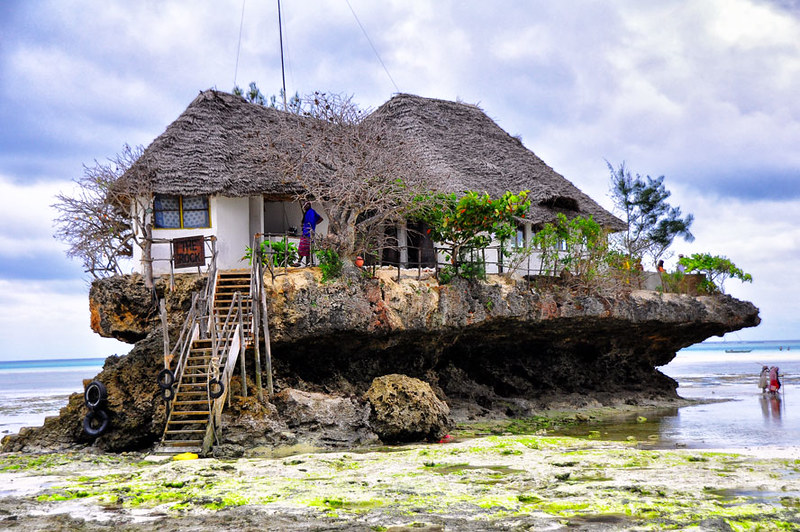 Swimming with turtles in Nungwi
One of the most impressive and unique experiences you can have in Zanzibar is swimming with the turtles on Nungwi beach. Nungwi is one of the popular tourist beaches on the island and is home to Baraka Natural Aquarium where most people come to see, feed, and swim with these incredible creatures. For Kshs. 1,000/= per person, we got unlimited time to enjoy ourselves in this natural pool and feed the turtles with seaweed. The turtles were a bit scary at first but as time went by, we got used to them and we could even touch and feed them comfortably. The pool is not that huge but it can accommodate almost 100 people and you don't have to be a good swimmer to swim with the turtles. There are some stones at the edge of the pool whereby you can just watch the turtles as they swim close to you.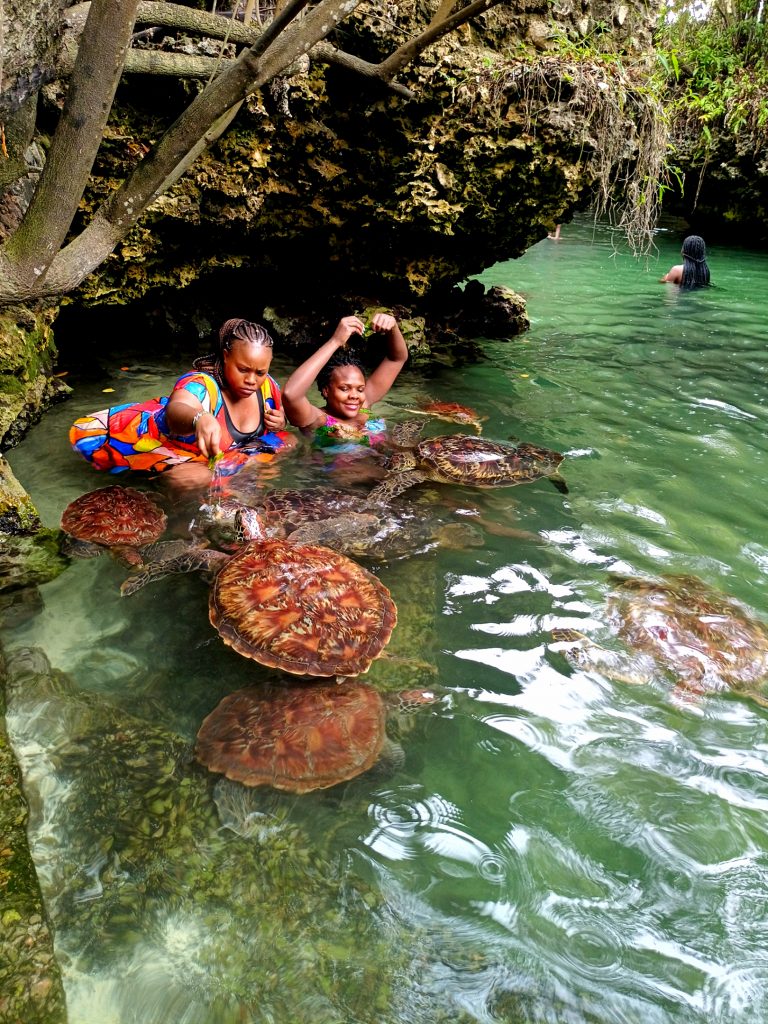 Spice tour
Every trip to Zanzibar has to have a spice tour itinerary as Zanzibar is known as the spice island. So, why go all the way and not visit a spice farm? There are several spice farms to choose from and our tour guide took us to Jambo Spice Farm which is about 20 minutes away from Stone Town. At the farm, we go to meet the farmers and another guide who educated us on all the spices on the farm, their importance, and their use.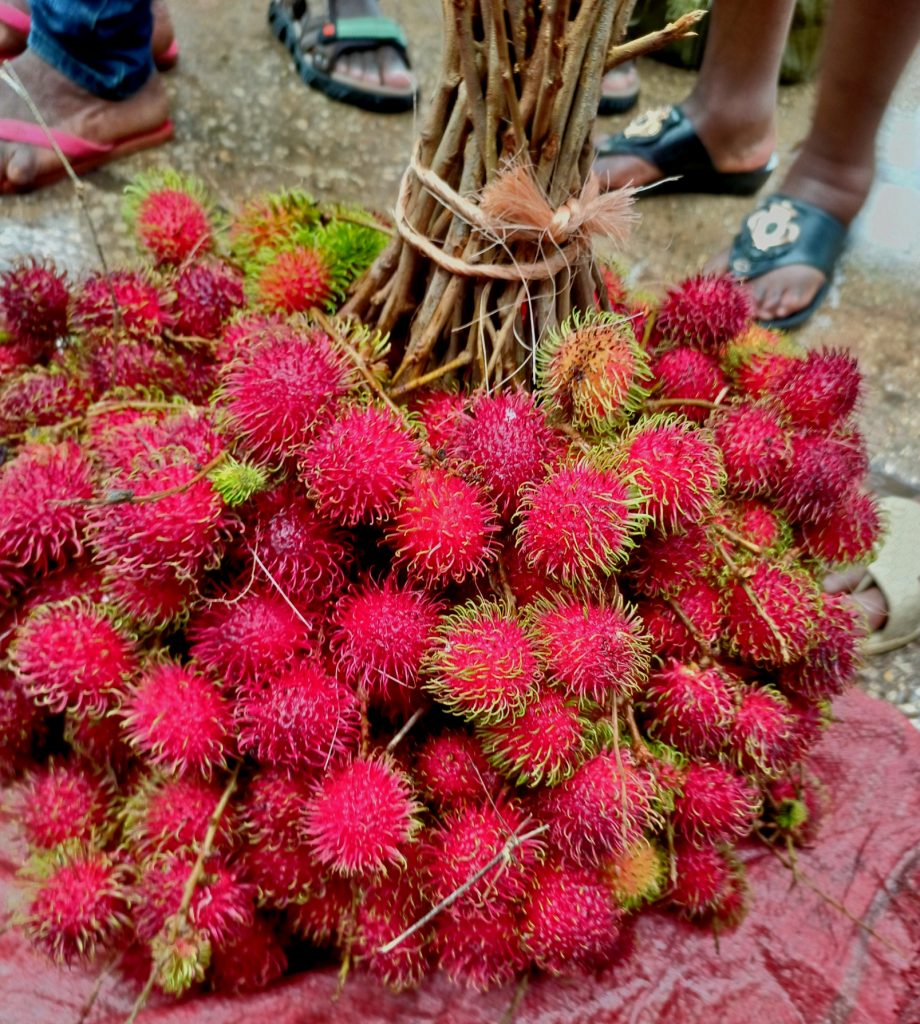 We got to see ginger, turmeric, lychees, lemongrass, cocoa, cinnamon, and nutmeg among many others. What amazed me was the achiote fruit which is a coloring spice used to make red curry and also give tandoori chicken the orange-red color. It is also used as a natural lipstick. Some of the spices are used to make natural perfumes such as the local Channel number 1 which smells amazing. They also sell natural soaps made out of the spices like turmeric, aloe Vera, sandalwood, and charcoal soap. After the tour, we got fresh coconut juice and some beautiful handmade hats.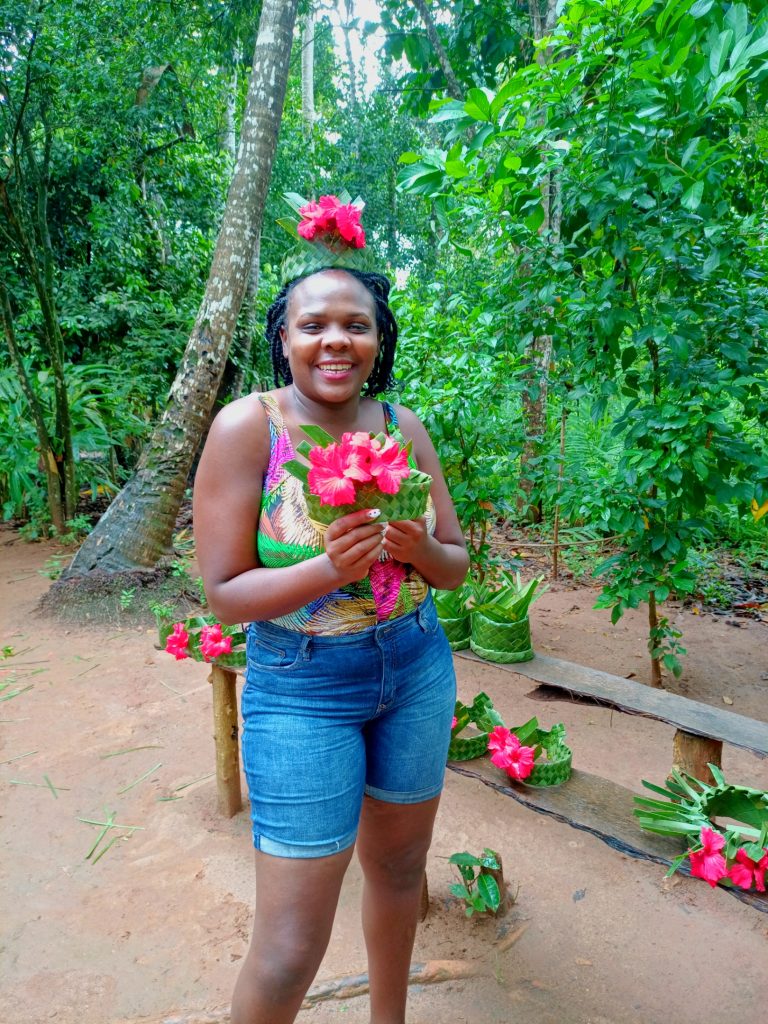 Full moon party at Kendwa Beach
Kendwa beach is known as the party beach and the host is Kendwa Rocks Hotel Zanzibar. It is famous for the wildest and most epic full moon parties that happen once every month and attract quite a large number of travelers and locals. It is the perfect pulsating social scene to unwind and have a good time at the beach while dancing to the amazing beats.
Another amazing beach to party at is Aluna Beach in Nungwi. It is right next to Baraka Natural Aquarium where we swam with the turtles.
Snorkeling at Mnemba Island & Nakupenda Sandbank
These two beaches are the best places to do snorkeling in Zanzibar. Mnemba is located on the Northeast coast of Zanzibar at Matemwe village and is the best place you go snorkeling as fishing is prohibited in the area. So, you are guaranteed to see a lot of fish species such as sea stars, green turtles, lion fish, snappers, beautiful coral reefs, and even dolphins especially if you visit early in the morning.
At Nakupenda sandbank, you have to be there before noon to have the best experience. It is 15 minutes away from Stone Town and is more affordable. For Kshs. 1,000/= per person, you will get a boat ride, seafood platter for lunch, snorkeling gear, and lessons.
You can also try kite surfing at Paje and a dolphin tour at Kizimkazi which is a small fisherman village famous for Dolphin tours.
Safari Blue tour
Zanzibar's most talked about sea adventure. It is a full-day adventure from Fumba to Menai Bay Conservation- a marine conservation zone in a traditional dhow. The bay has a variety of uninhabited islands and sandbanks whereby you can stop for a swim or picnic to enjoy Zanzibar's tropical fruits. The safari also involves swimming in the hidden natural blue lagoon, eating delicious seafood platters, drinking amazing cocktails, and snorkeling. Be aware of fake tour operators and always book through the safari blue website here.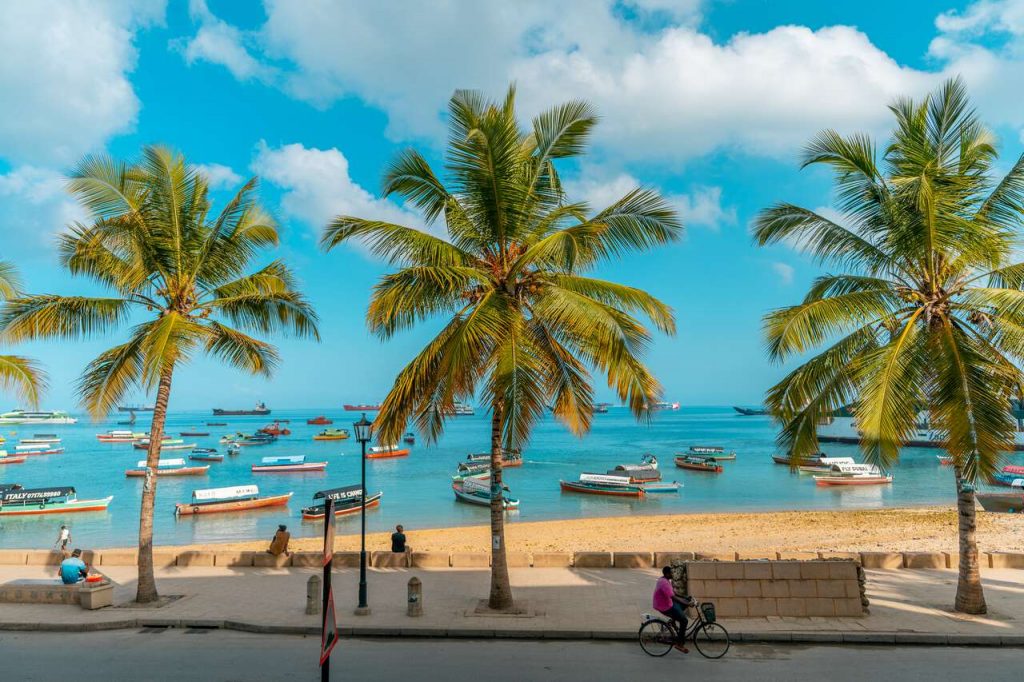 Forodhani street market
Forodhani is Stone town's food center. It comes to life from 6 pm until midnight. Different vendors come together and put up stalls to sell their foods at affordable prices. You will be spoilt for choice as everything looks amazing, especially the seafood. A pro tip to use is to "Always buy meals from vendors who have a menu with a price list". We learned this the hard way. These locals can sense a tourist/visitor from afar. So, what they do is try to sway you to buy food from their stalls by promising you the best price which in reality is double or triple the prices.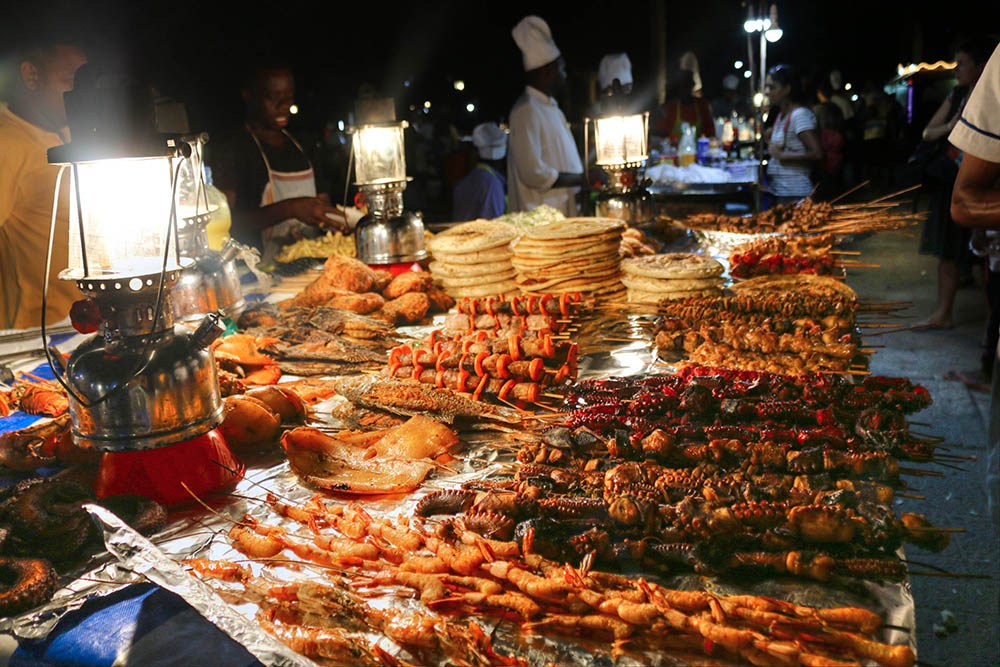 I would recommend you try out the Zanzibar pizza, shawarma, rice cake, mishkaki, biryani, viazi karai, tandoori chicken, octopus, shrimps, sugarcane, and tamarind juice.
Lukmaan Restaurant
This restaurant came highly recommended by our cab driver for authentic traditional Zanzibar dishes at affordable prices in Zanzibar City. Since we visited Zanzibar during Ramadan, it was one of the few restaurants open in town during the day as others remained closed and only opened from 6 pm onwards. Lukmaan restaurant won the best local dining experience award in Zanzibar Tourism Awards 2018 so one is assured of authentic meals. Our go-to meal was the chicken biryani, samosas, viazi karai, seafood platter, and tamarind juice (ukwaju). The prices were very fair and the friendly staff helped us get the best sellers.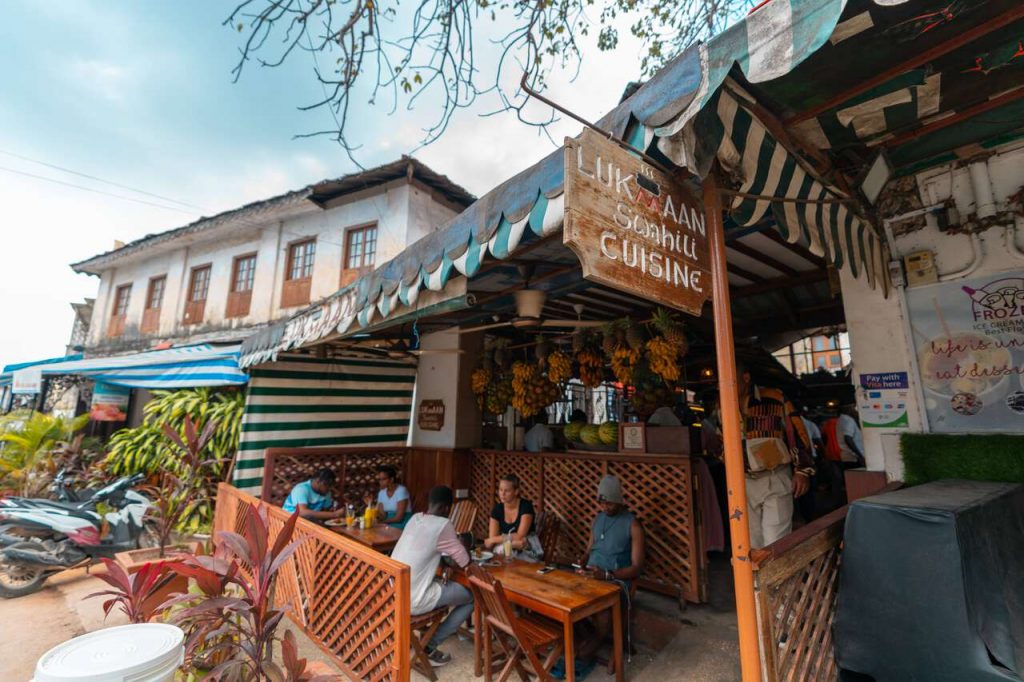 Jozani Chwaka Bay National Park
This is the only National Park in Zanzibar which is just 50 kilometers square wide and is known for sheltering different wildlife species including bird species, butterflies, and the red colobus monkeys(endangered species only found in Zanzibar), Sykes monkeys, bush babies, nocturnal tree hyrax among others. The park does not have any of the big five but it is believed to have a few remaining species of the Zanzibar Leopard.
Stay at Ngalawa Hotel & Resort
We spend our holiday at this beautiful 5-star resort on the outskirts of Zanzibar in the Bububu area. Their accommodation ranges from standard rooms, deluxe, executive rooms, villas, and even honeymoon suites. All standard rooms come fully fitted with a king-size bed, a television set, closet, study area, and a bathtub. The deluxe suites had the same but with an extra shower, sofas in the sitting area, and a balcony opening up to the gardens. They have three restaurants, three swimming pools, conference rooms, a spa, and a fitness center. One of the infinity swimming pools overlooks the mangroves near the beach which is just two minutes away. Check them out here.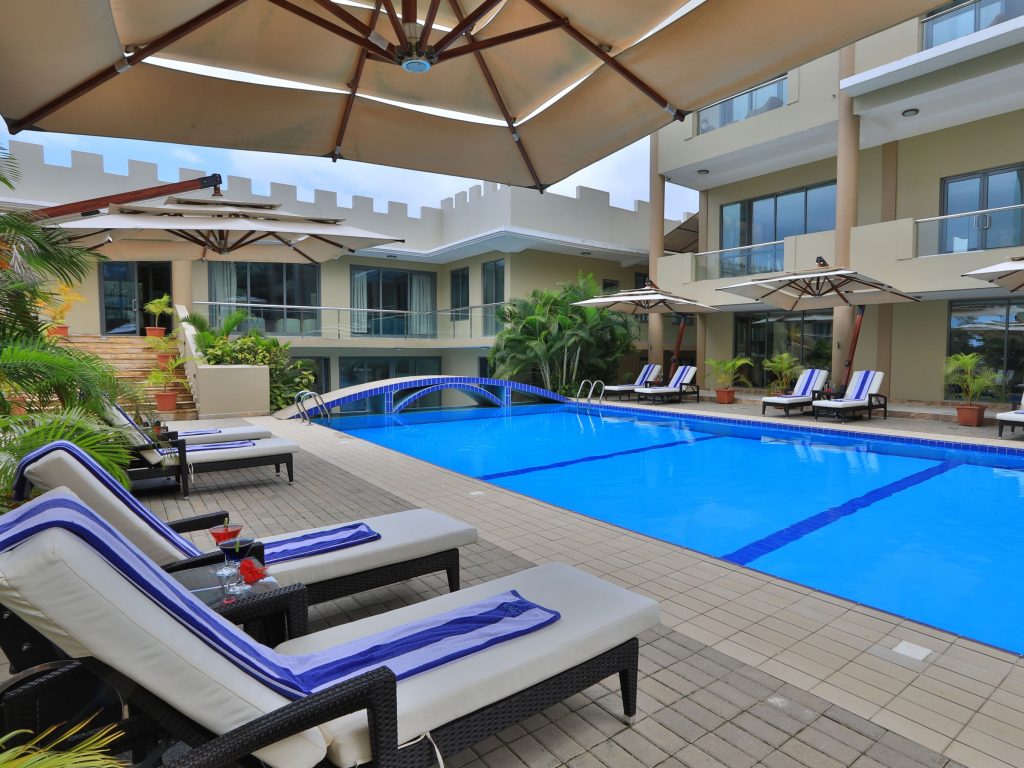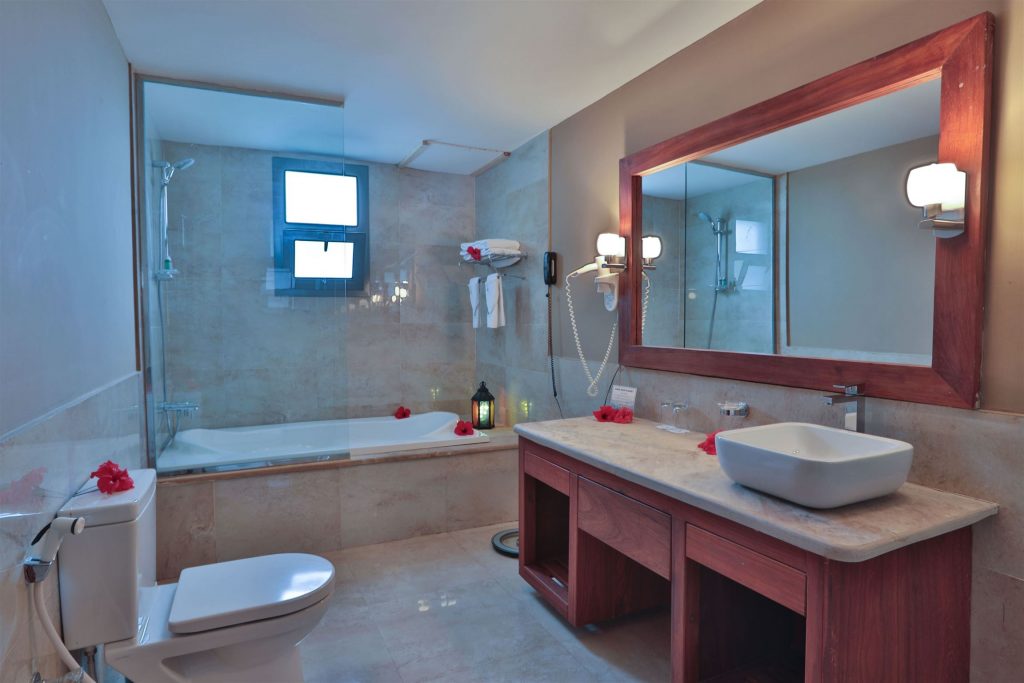 The above is a sample itinerary you can use on your next trip to Zanzibar. Pack a lot of sunscreen, shades, hats, and your wanderlust spirit.