Any time a person from Nairobi mentions that they are going to Naivasha, what comes in mind is "non-stop parting" because Naivasha is generally known as the party center for Nairobians looking for a quick getaway. The like of "you guy my guy, si we shika a few botties and halla our chilles we go to Vasha this weekend you guy. My Subaru has a full tank you guy." The party won't stop until Sunday at 9pm.
This is true to some extent but Naivasha is more than a drunk road trip destination. It has some of the best scenery you will ever see in Kenya and lots of activities to indulge in not only for adults but for children as well. As a booming tourist destination with several camps, lodges, and hotels dotted along the serene Lake Naivasha, the town is attracting a lot of travelers who want to experience its exquisiteness. Once again, Naivasha is set to host the Kenya Safari Rally from 24th to 26th June which attracts thousands of fans from all over the world. If this does not prompt you to pack your bags and take the trip, there are other exciting reasons as to why you should visit Naivasha especially with kids.
Ever thought of taking your kids to Naivasha for a quick weekend getaway but you are unsure if it is an appropriate destination? Wonder no more as the below list will help you find fun activities to do with kids in Naivasha and have an adventure of a lifetime!
Below is a list of fun activities to do with kids in Naivasha.
Swim at Olkaria Geothermal Spa
One of the most exciting places to visit with kids in Naivasha has to be the Ol Karia Geothermal Spa. It is a place full of adventure, luxury and true African Hospitality. The Spa is owed by KenGen and is located inside Hells Gate National Park on Moi South Lake Road. It is the largest of its kind in Africa and it contains a pool of hot natural water in the form of hot steam that cools through the pipes and gets into the pool at a temperature of between 30 to 40 degrees centigrade; that's how the spa is named Geothermal.
A swim in the pool will leave you rejuvenated as the water is believed to have several health benefits including promotion of good blood circulation, skin detoxification, softening and healing of diseases. The spa also has a steam sauna on site which you can visit.
Swimming at Olkaria Geothermal Spa costs Kshs. 400 per adult and just Kshs. 100 per child and you can swim for as long as you like. You don't have to an expert swimmer to swim in the pool as it is not as deep and they have a baby's pool on the side for kids which is less than one foot deep.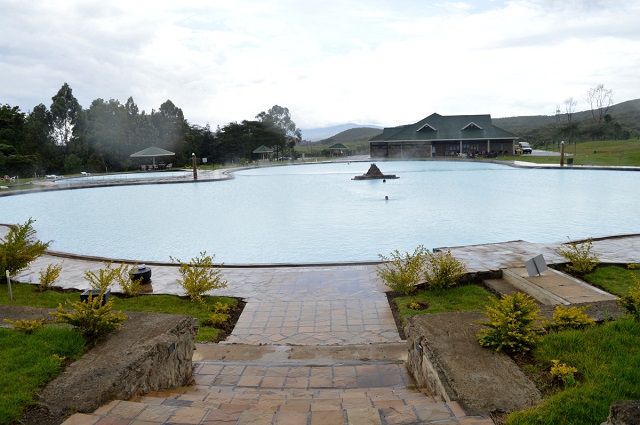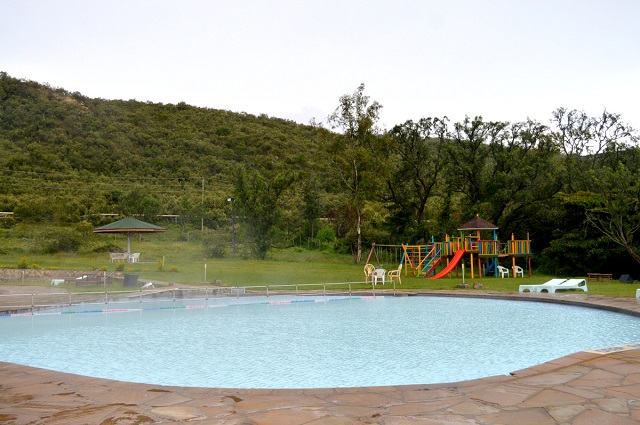 Crescent Island Game Sanctuary
Crescent Island Game Sanctuary is located on Lake Naivasha, in the Great Rift Valley, Kenya and is one of the most beautiful parks in Kenya. It is often called Naivasha's best-kept secret, perfect for wildlife and bird watching in the wilderness. The Island was created when the nearby Mt. Longonot erupted, creating the crater on which the island now sits. It can only be accessed by a boat which will cost between Kshs. 2,500 and Kshs. 6,000 depending on the boat operator. Entry fee is Kshs. 800 per Kenyan adult and Kshs. 400 per child.
Boat ride at Lake Naivasha
No trip to Naivasha is complete without a boat ride on Lake Naivasha. My best experience so far was a boat ride from Lake Naivasha Resort to Crescent Island. The hotel can organize the boat ride for you and your family or you can just negotiate the price on your own. The price ranges from Kshs. 2,500 to Kshs. 4,000 depending on your negotiation skills. The boat ride takes roughly one hour and you can carry snacks to eat as you enjoy the beautiful scenery, watch the different types of birds and take in the beautiful views with a backdrop of Mt. Longonot. A fun activity to do with the kids is to ask them to name the many birds and animals they will see during the ride.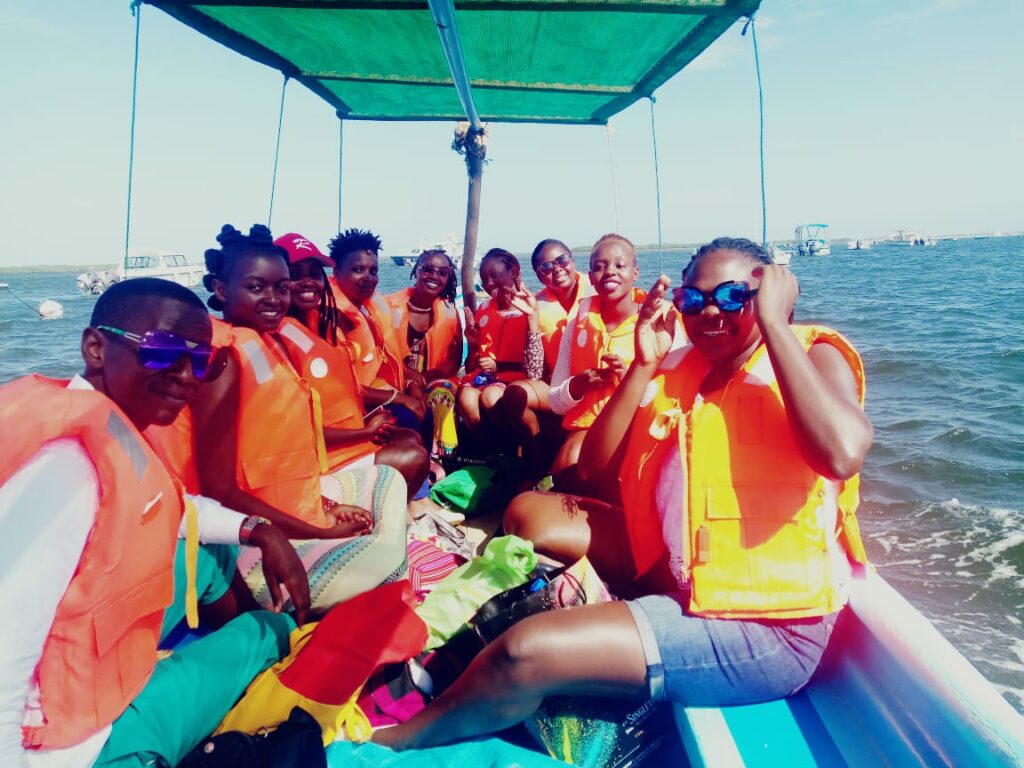 Camping
Naivasha has some of the best camping sites you can ever come across in Kenya. The camps come in from of luxury to affordable tented camps and others offer grounds where you can bring and pitch your tents with the kids. Most of the hotels offer tents, mattresses and beddings while others encourage travellers to come with their own beddings or sleeping bags. Oloiden camp, Fisherman's camp, Naivasha West Beach, Camp Carnelleys and Cray Fish Camp are some of my favourite spots when it comes to camping in Naivasha. They are child friendly and are located by the lake shores where you can enjoy the beautiful views and even go fishing.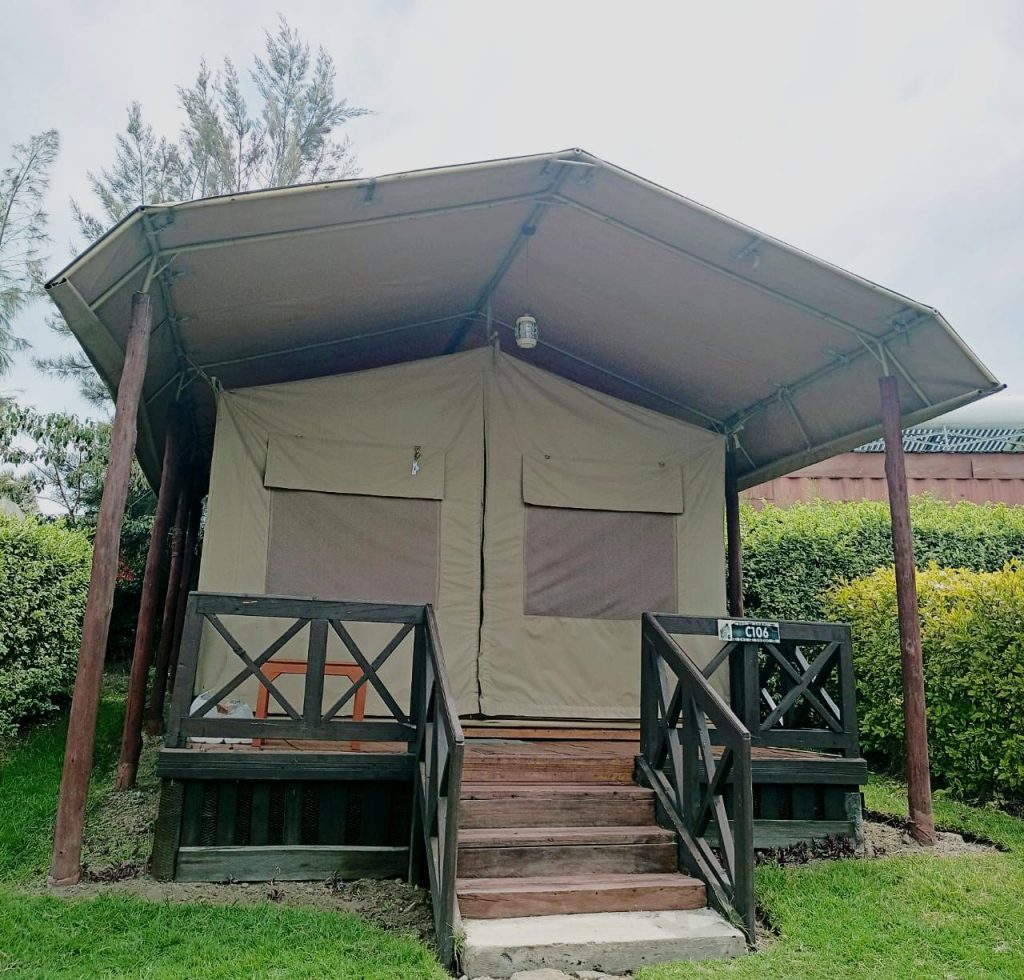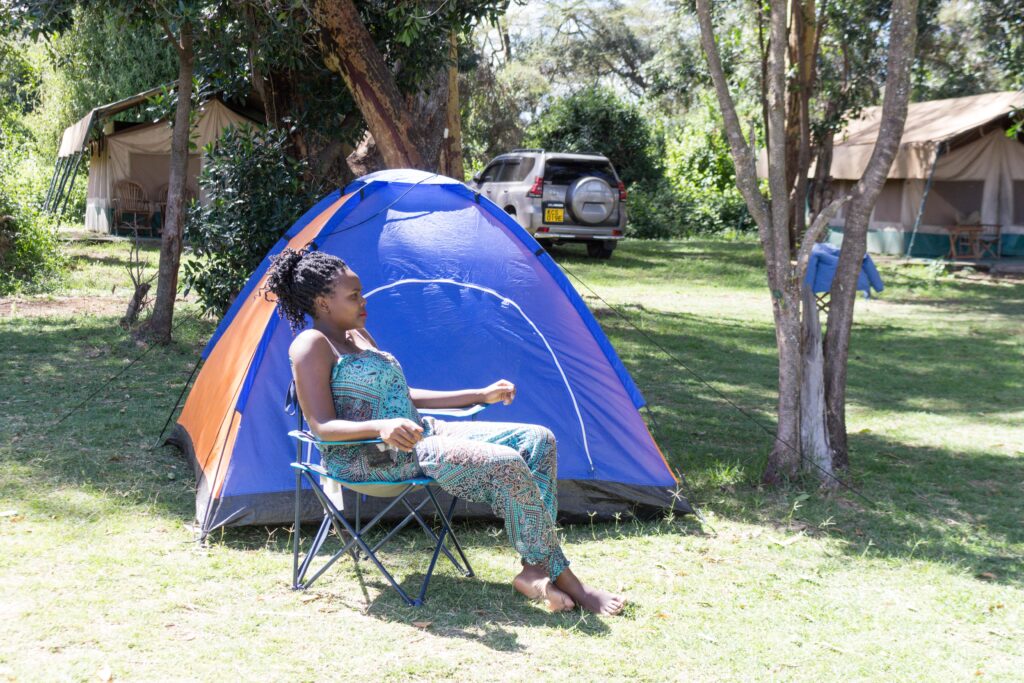 Hells Gate National Park
Kids love animals; and Naivasha is a perfect spot to get to view some of the wildlife up close especially at Hells Gate National Park. Spectacular scenery including starting with wildlife viewing, towering cliffs, hot springs, nature trails, health spa, water-gouged gorges, stark rock towers, scrub clad volcanoes and belching plumes of geothermal steam make it one of the most atmospheric Parks in Africa. Other activities at Hells Gate National Park include horse riding, rock climbing, hiking, game viewing and bird watching.
Hike Mt. Longonot
For some fitness exercise, hiking Mt. Longonot would be a great activity to indulge in. It is located inside Mt. Longonot National Park which is 52square kilometers wide and offer a unique feature in the thick forest that lies within the crater of the mountain. The crater rim also provides great scenic views across the beautiful Rift Valley all the way to Lake Naivasha. Major wildlife attractions at Mount Longonot include buffaloes, elands, lion, leopard, bushbucks, common zebra, giraffe and Grant's gazelles. Entry fee is Ksh. 300 per adult and Kshs. 215 per child. You can also engage in biking and rock climbing activities.
Shopping at Buffalo Mall
Instead of doing your shopping in Nairobi, you can have a stopover at Buffalo Mall and shop there. It is the biggest mall in Naivasha and it is a one stop shop – a premier mall experience. The mall has restaurants, an amusement park for the kids, a car wash, a baby changing room and disability accessible toilets.
Enashipai Maa Museum
This is the first privately registered Museum in Kenya and it took the curators 6 years to put it together. It is located inside the eco-friendly and conservation committed Enashipai Resort & Spa. You will get to learn the fascinating facts about the popular Maasai tribe as you enjoy the hospitality the hotel has to offer.
Kariandusi Pre-historic site – Cradle of mankind
Kariandusi is a confirmation that Kenya is the cradle of humanity. The site is near to Lake Elementaita. On the eastern side of the Rift Valley, about 120km north-north-west of Nairobi is the Kariandusi site museum; and is approximately 2km to the east side of Lake Elementaita. The site boasts of numerous excavation pits exhibiting a scattered assortment of stone tools.
For those interested in archaeology, this museum houses some of the most ancient artifacts known to man. From skulls to pre-historic tools, Kariandusi Museum is a must-see for anyone visiting Naivasha. This site dates back to millions of years ago and is thought to have been a stone factory for hunting tools. It would be an exciting trip for adults and an educational trip for kids. Entrance charges costs Kshs. 500 for non-residents and Kshs. 250 for others.
Lake elementaita hot springs/flamingoes
This a great place to go and enjoy the natural hot water springs which are said to have medicinal effect to the body. There is no entry fees and the place is easily accessible with any kind of a vehicle. It is also a great spot for bird watching especially the thousands of flamingoes that inhabit the lake.
Kigio Wildlife Conservancy
Kigio is wildlife conservancy center protected by the local community. It is located near Gilgil in the Great Rift Valley. This conservancy center contains diverse habitat of indigenous plant species, it is also home to over three hundred bird species including what is said to be the world's largest population of grey-crested helmet shrikes. Besides the birds and plants, among the most beautiful places in Kenya, you will see various wildlife including African buffalo, common eland, impala etc.
Other notable places to visit with the kids include Oserian Conservancy, Crater Lake Game Sanctuary and Fina Gardens Resort.