The culinary scene is Nairobi is very diverse and it keeps on growing each and every day. From restaurants serving vegan meals, animal friendly, continental to international cuisines, Nairobi has the perfect restaurant for you. In this post, we shall dive into some of the top recommended romantic restaurants in Nairobi. It is more than just food; the range of services offered and the ambience is worth the money.
Restaurants in Westlands
Copper Ivy, Westlands
Hands down, one of my best restaurants for a romantic or friendly date in Westlands. It is located at the Promenade Building on General Mathenge Road. Their menu is very unique and they have daily offers to keep the customers coming back. Their customer service is top notch, same as the ambience especially on Jazz Thursdays. Try out their T-bone steak with mashed potatoes.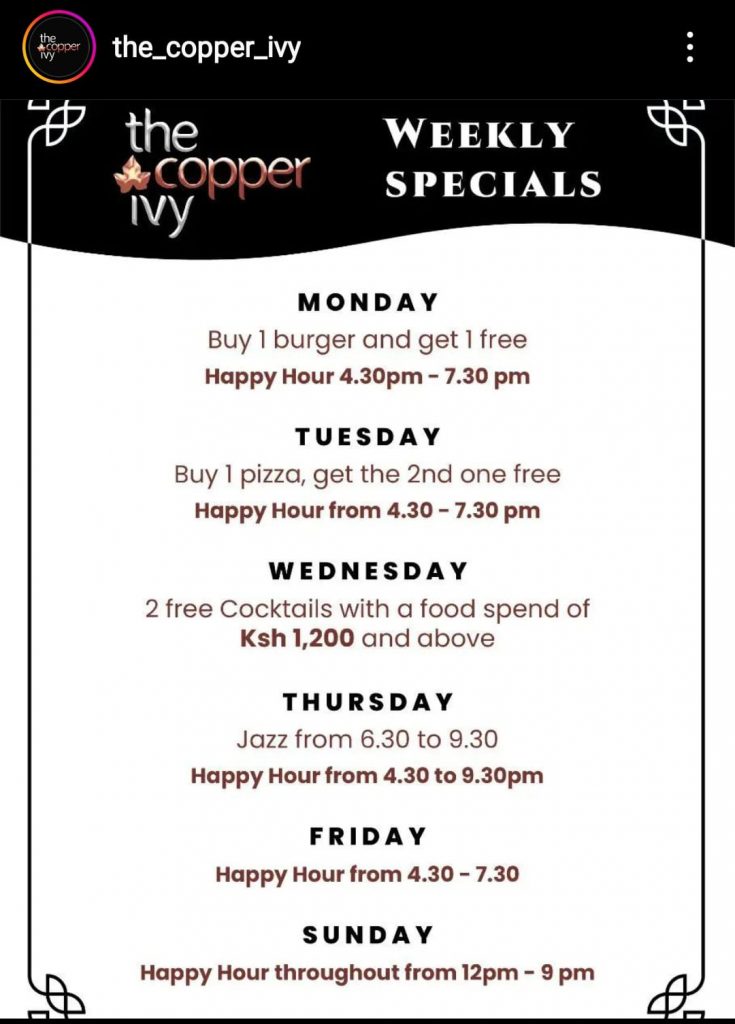 Pepper Tree, Westlands
Located at Delta Towers, Pepper tree is a craft cocktail and global flavors concept that offers exciting food and drinks in an eccentric romantic environment. I love the hanging planters in the restaurant that make it look like you are eating in a garden.
Urban Eatery, Westlands
Located on the ground floor of the Delta Towers in Westlands, Urban Eatery is a lavish romantic restaurant with a modern setting seeking to satisfy your multiple food cravings. It offers a wide range of delectable cuisines such as Indian, Mexican, Asian among others in an urban atmosphere. It has four different kitchens and a signature bar with menus spanning from tasty early morning bites to more substantial evening feasts.
Inti Nikkei, Westlands
Inti Nikkei offers a blend of Japanese and Peruvian vibes in a unique contemporary urban environment in Westlands. It is located on the 20th floor of One Africa place, Waiyaki Way and it a great place for a romantic lunch/dinner with a view of the expansive Westlands. They have a strict smart casual dress code and vest, shorts, flip flops, sandals, sportswear and caps are not allowed.
MeSo, Westlands
MeSo is a modern Asian Izakaya (i-zaka-ya) experience inspired by the journey of a hungry mind in a contemporary, luxury dining setting. Izakaya,(stay-drink-place) represents the rich sensory indulgence of fresh ingredient dishes in a romantic fine-dining set up. It is located at the Westgate Mall, second floor. See their menu here.
Restaurants in Karen
Matteos, Karen
Matteos Italian Restaurant specializes in authentic Italian cuisine and it is located at the Ngong Road and Karen Road Junction. This is the place to take your romantic date to enjoy some fine wine and exotic italic meals like risotto, gnocchi,pasta,and out-of-this-world pizza. It would be perfect for a romantic dinner date under the stars as they have some seats for their patrons in the garden. Make a reservation through 0110098333.
Eden, Karen
Bordering the Giraffe Sanctuary, Eden is a perfect gastronomic getaway. It is perfect for a wine and dine, relaxing and experiencing nature at its best. The 9 bedroom former family home has been transformed into a hotel,a living museum and a private gallery. All meals must be booked 24 hours in advance and payment of Kshs. 5,000 per person done to confirm a reservation. The menu is set daily and so it is not available until you get there. Booking is done through 0113397967.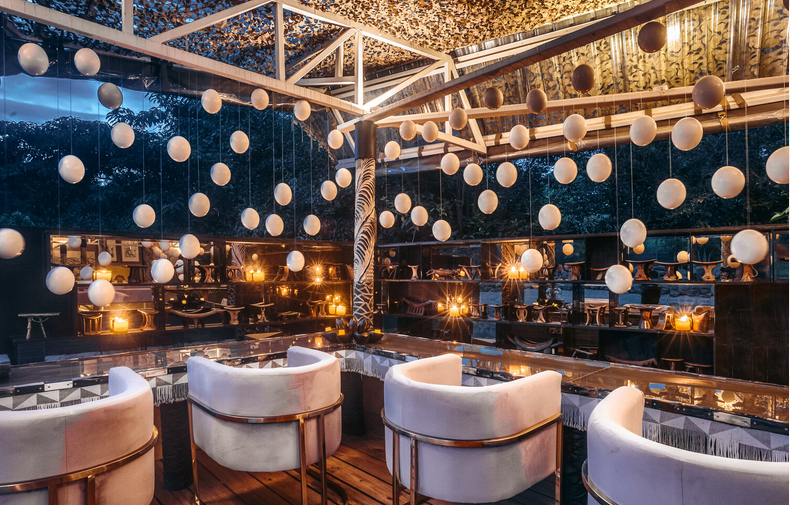 Embark Restaurant, Karen
Embark is a small restaurant on Ngong road opposite Karen Shopping Center next to Velmac Furniture. The small restaurant can only accommodate 12 adults. It is perfect for intimidate romantic dates or small family gatherings. The restaurant has a dessert bar concept running from 9 am to 5pm and a multi course concept from 6pm onwards accessed via reservations only.
Boho Eatery, Karen
Located at 114 Ndovu Road, Hardy, Karen Boho Eatery is a wholefoods restaurant that focuses on conscious and sustainable living. 80% of their menu is vegan & vegetarian with most of the ingredients locally sourced. The restaurant has four sitting areas: the main greenhouse / orange area, the garden, the terrace with our iconic swing chairs, and the newer terrace extension with additional indoor seating.
Restaurants in Parklands
Red Ginger, Parklands
Red Ginger is Nairobi's newest state of the art eatery located at 2nd Avenue Parklands and it offers koroga and fine dining. Their menu is quite versatile and it includes vegan options and an Indian menu. You can choose to sit in the bandas outside, at the bar counter or in their indoor fine dining restaurant.
Bambino, Parklands
If you are looking for a well-lit, colorful restaurant in Nairobi, look no further as Bambino will offer you that and much more. From their enthusiastic welcome to the distinctive sights and smells that will surround you, Bambino offers best of Latin-Italian dining. Their cuisine offers a variety of freshly made specialty foods in a casual atmosphere that includes spectacular décor. It is located on the ground floor of 9 West Ring Road, Parklands. Here is their menu.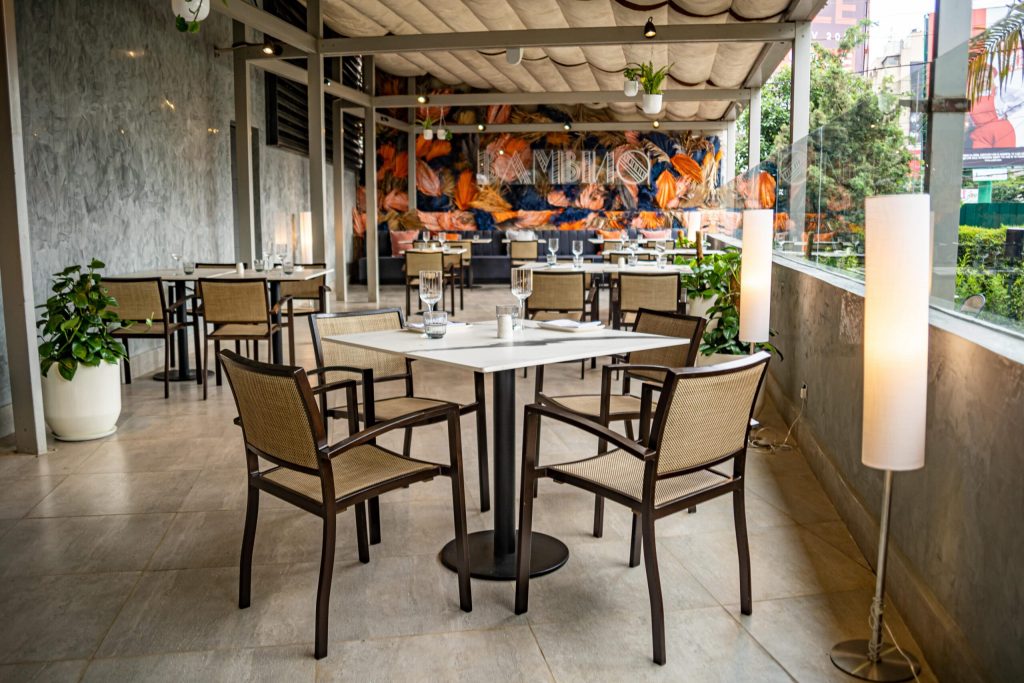 Mercado, Parklands
Apart from Inti Nikkei, Meso, and Bambino, "The Food Library" also runs Mercado which is a Mexican restaurant on Kenrail Towers Park lands. This is the place to enjoy authentic Mexican cuisine with a modern twist. The restaurant has won many awards, among them Best Mexican Restaurant, Best Cocktail menu and even Best Luxury Interior design, East Africa. Check them out here.
Restaurants in Lavington
Wama Africa, Lavington
WAMA is a social enterprise boutique hotel, spa and restaurant that trains young adults living with special needs on Muthangari Road, Lavington. This unique training establishment includes two restaurants; one casual dining and the other fine dining, a conference room, swimming pool, indoor and outdoor garden function space, and an art gallery. I loved their open mic Thursdays and they also host movie nights, sip and paint, and many more activities.
The Social House, Lavington
The social house on 154 James Gichuru Road in Lavington came into the picture and revolutionized the hotel industry in Nairobi. It gave every hotel a run for its money. The hotel has four restaurants. Copper specializes in smouldering urban brasserie with emphasis on meat, fish and vegetarian meals.The living room which is a cafe bar and coffee roastery for informal hangouts and casual dining. The other room is a bold simple farm to table dining by the poolside while the fourth restaurant is Inca which is the rooftop Peruvian Melting pot. Check them out here.
Samaki Samaki
This is another new seafood restaurant bringing you authentic tastes and Jazz music in the heart of Lavington, 28 Othaya Road. The service, decor, ambience, quality and quantity of food is great. They originally started as a bar and restaurant in Dar es salaam Tanzania and joined the Kenyan market in December 2021.
Restaurants in Nairobi, CBD
Mawimbi Seafood Restaurant, CBD
Mawimbi seafood restaurant as the name suggests has a diverse menu that will satisfy your cravings for seafood. It was been voted as the luxury seafood restaurant global winner for year 2021. It is located at Longonot place, Kijabe street. Mawimbi has five different types to serve and you can also have combinations of different seafood like slices of king prawns, salmon, tuna, king-fish and octopus or consider their signature dishes. Check out their menu here.
Moonlite Cafe, CBD
Moon lite is all about food and smiles. It a new restaurant on Avenue House, Banda street off Kimathi Street. This restaurant is perfect for lunch dates and the prices are quite affordable. Their meal presentation is top notch. Check out the prices here.
Mint Shack – Hurlingham & Peponi Road
Mint Shack is the place to go if you want to try out amazing Indian cuisine. they are located on 56 Peponi road and Komo lane Wood Avenue in Hurlingham. They have the same concept as Red Ginger Restaurant whereby you can enjoy the Koroga menu, fine dining and the bar. The portions are large and the rices are affordable.
Restaurants in Village Market
Jiko, Village Market
Jiko is an African inspired cuisine restaurant at The Tribe Hotel, Village Market. The decor in this restaurant is top notch as well as the ambience. I would highly recommend as a romantic dinner spot. Click to see their menu here.
Harvest, Village Market
Located in the same area as Jiko restaurant, Harvest Restaurant is not left behind when it comes to fine dining, decor and great ambience. They have an open kitchen to allow guests be part of the action. The restaurant is inspired by Kenya's love for meat and the open grill brasserie focuses on farm fresh ingredients.
Hero Restaurant, Village Market
A new kind of eatery at the intersection of design, fantasy, indulgence and individuality. Built as a speakeasy with a discrete entrance and prohibition-style bar; the concept invites you to be members of a secret space. Bridging fantasy and reality, the space and food celebrate heroes from comics and from our own community. The thought leaders, entrepreneurs, athletes, authors, champions of humanity and protectors of the environment. The small plates draw influence from the idea of the superhero, and their superpowers.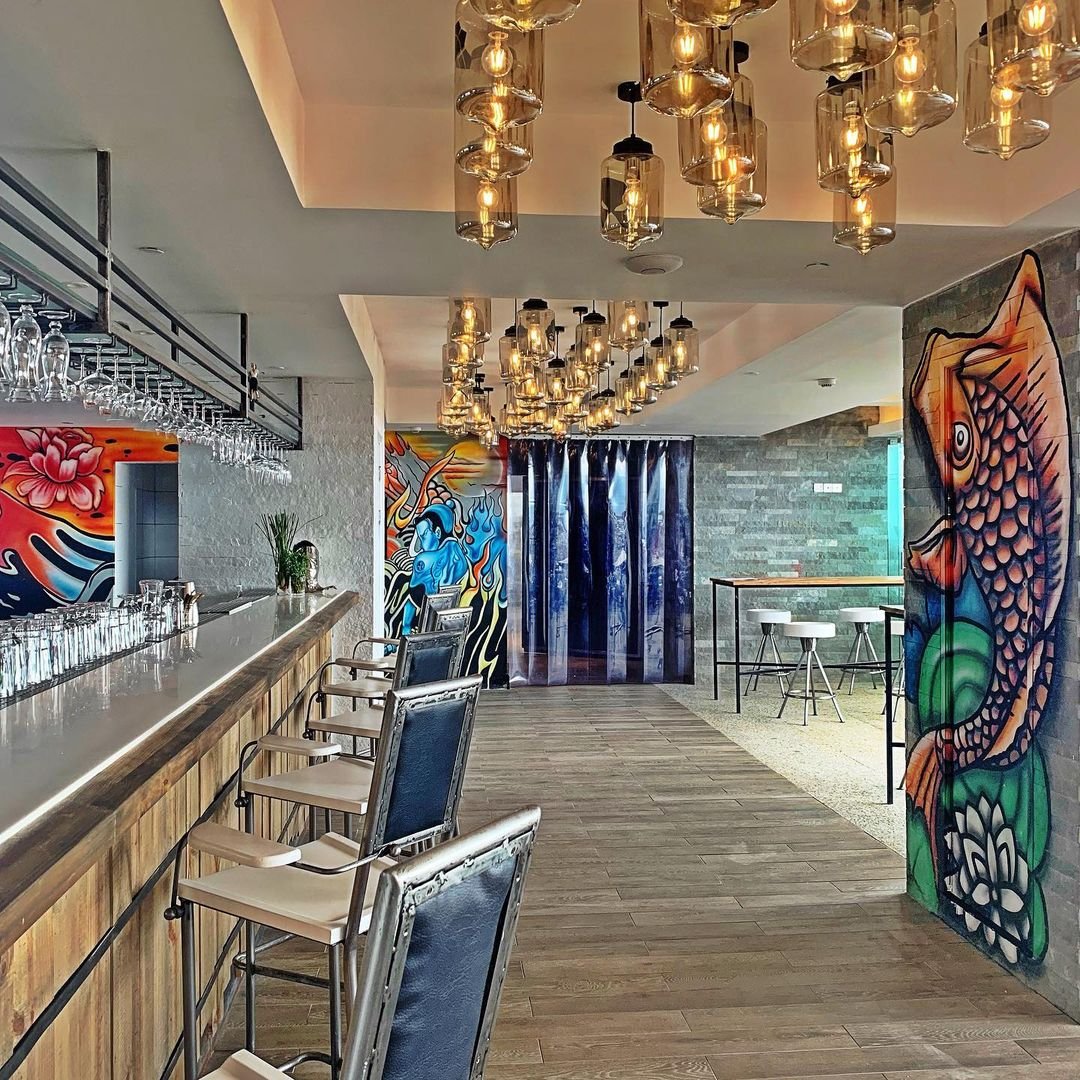 Karel T-Lounge , Village Market
Luxe and comfort meet at Karel T lounge in Village market. The lounge is perfect for a dinner date or a small family or friend's meetup. Jazz lovers would be so delighted to be here every Saturday as they listen to Jacob Asiyo Quartet.
Restaurants on Mombasa Road
Fifteen Rooftop
As the name suggests, Fifteen Rooftop is located on the 15th floor of The Curve by the Park Building on Mombasa road. It is right next to NexGen Mall facing Nairobi National Park. Fifteen curates tasty menus serving gourmet fusion and tapas dishes, prepared with passion and love. Check them out here.
Captain's Terrace
Another restaurant with a view of Nairobi National Park is Captains Terrace right opposite the Airtel Building on Mombasa Road. Get the ultimate dining experience at the sublime terrace and enjoy a wide range of classic wines, drinks and seasonally inspired continental and Chinese dishes.
Ankole Grill, Kitsuru
Named after the iconic cattle breed of East Africa "The Ankole Watusi", Ankole aspires to bring a unique African steakhouse experience. Apart from the branch off Westlands, Redhill Road Link, they also have another branch at Senteu Plaza, Galana Road, Kilimani. This is the best place to satisfy your meat cravings with dry-aged steaks and grilled meats. See menu here.
With the above, you will not run out date locations. Choose any restaurant of your liking and enjoy a sumptuous meal, great ambience, amazing décor, and amazing service.