Over the weekend I had one of the most amazing staycations in Nairobi. I had a visit to Royal Tulip Canaan which is a 4-star hotel located off Chaka road in Kilimani estate. The hotel is part of the renowned Louvre Hotels group which is an international hotel brand. They offer international standards with local flavor for both business and leisure travelers.
As soon I entered the gate, there was a sanitization station where I had to sanitize my hands and have my temperature taken before I proceeded to the reception.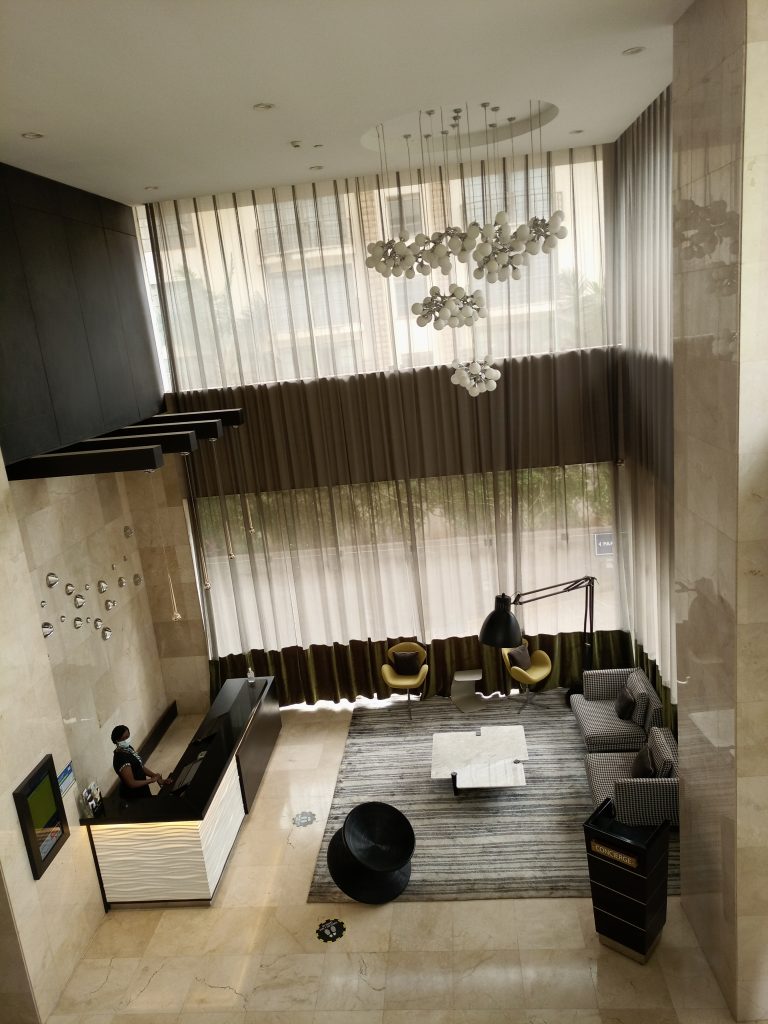 From the reception, I was directed to the Mosaic restaurant on the ground floor which has an indoor and outdoor sitting area for my meeting.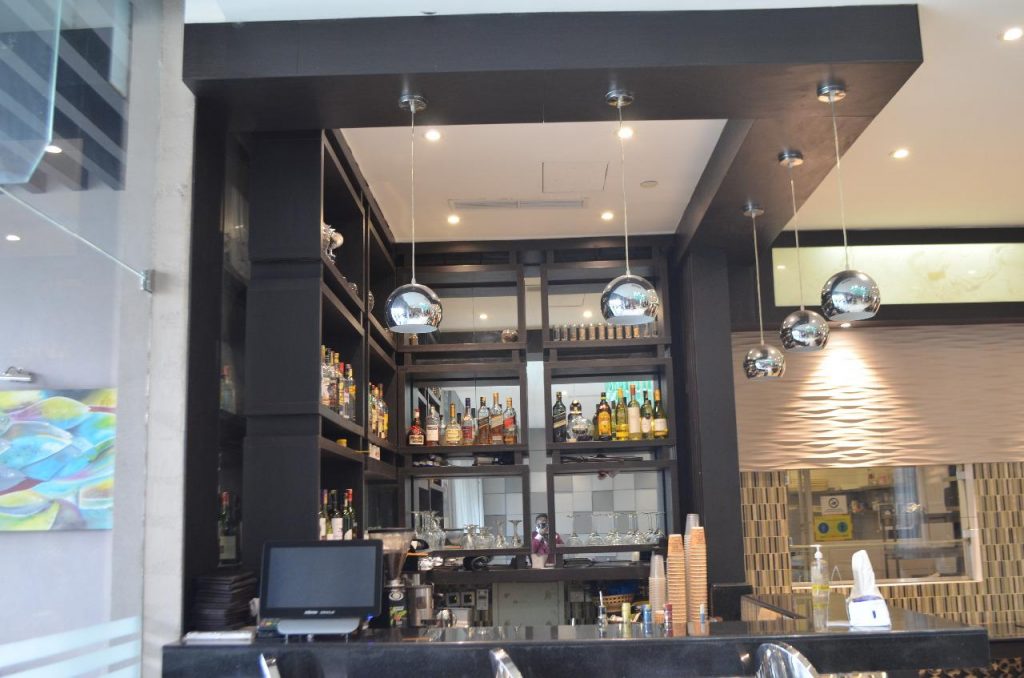 As I waited for my host – Doris, I had a chance to go through their menu and order a drink to quench my thirst. Their menu is contact-less, meaning you have to use your phone to scan the QR code or manually input the web address. This as I came to learn about, is one of their many initiatives to curb the spread of Covid-19 in their hotel.
I then proceeded for my meeting with Doris the Public Relations Manager and Mr. Bhupendra Kumar, the General Manager for a brief regarding the hotel. They were both kind enough to squeeze in some time and share with me how they have dealt with the Covid-19 pandemic. When every other hotel had closed down, Royal Tulip Canaan never shut down. They became one the few approved private quarantine facilities authorized by the government. They are still among the 9 remaining ones in Nairobi.
After the meeting, I had a chance to explore the hotel and experience their services. My first stop was definitely back to the restaurant to order for a snack which I was informed would take about 15-20 minutes since all meals are prepared on order. This was enough time for me to go and check in and have my luggage tucked away in my room. The check in process was so swift and took less than 5 minutes. I was then given my room card which gave me access to my floor and the 8th floor where they have the Thabiti Health club.
Another thing that fascinated me is the touch-less key points in the lifts. You just swipe your card on the scanner, and the lift detects your floor. This is also a good safety measure to ensure access to the rooms is limited. I walked right into the well carpeted lounge area with sofa sets, a table and a fish pond just outside my room.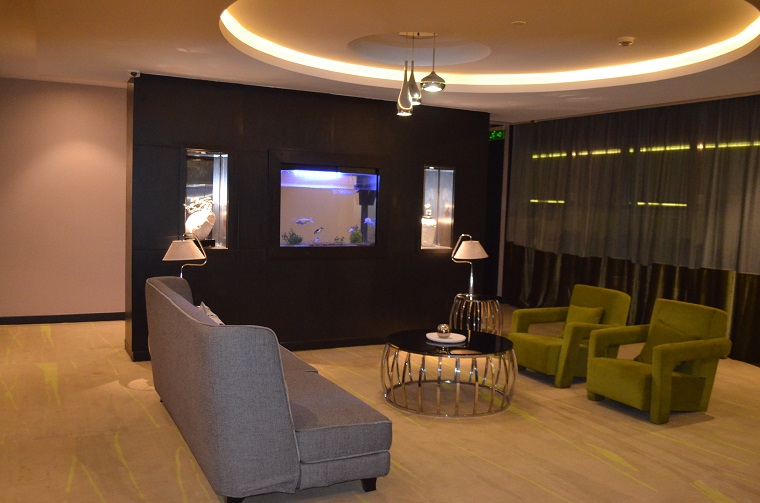 I was not ready for my next sight. My room was very spacious and stunning. I was literally just wowing!
I got one of their superior rooms which comes with a King size bed, or should I say Queen size because of feminism? Ha ha. The room also had a nice sitting area with two big sofas and a table, a flat screen TV, 4 bottles of water, a coffee/tea maker, an electronic safe, mini-fridge, a well-lit work/study area, a closet with an ironing board and iron box and a fully fitted bathroom with toiletries. It felt like I was in a fully furnished studio apartment.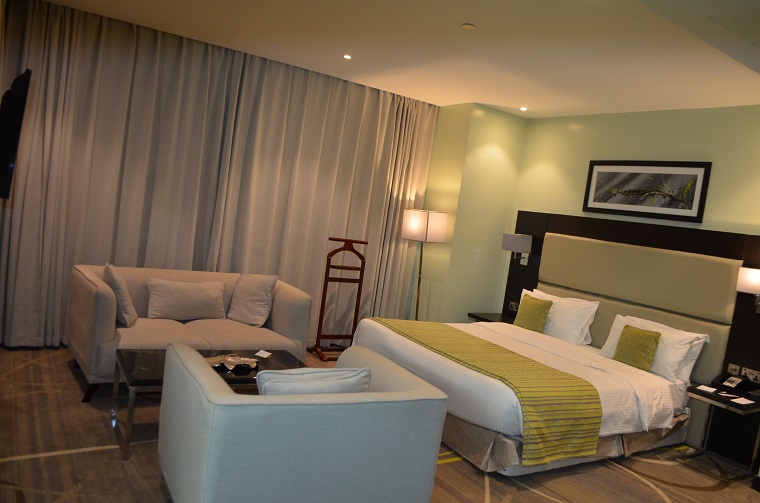 Another thing I noted about the rooms was the carpeted corridors. Such a clever idea to reduce the noises that people make when they are making movements in and out their rooms or when they had one too many at the Terrace bar and can't seem to balance well in their shoes.
As I was doing my happy dance, I got a call to inform me that my food was ready. For a person who rarely orders chicken wings, I had taken a leap of faith in the Royal Tulip Canaan hotel. I was crossing my fingers not to find three pieces of wings and 2 potatoes because it has happened before. Luckily when the meal came, the wings were many!! probably 8 or 9 and they were "the drumstick ones" and very juicy. I loved them.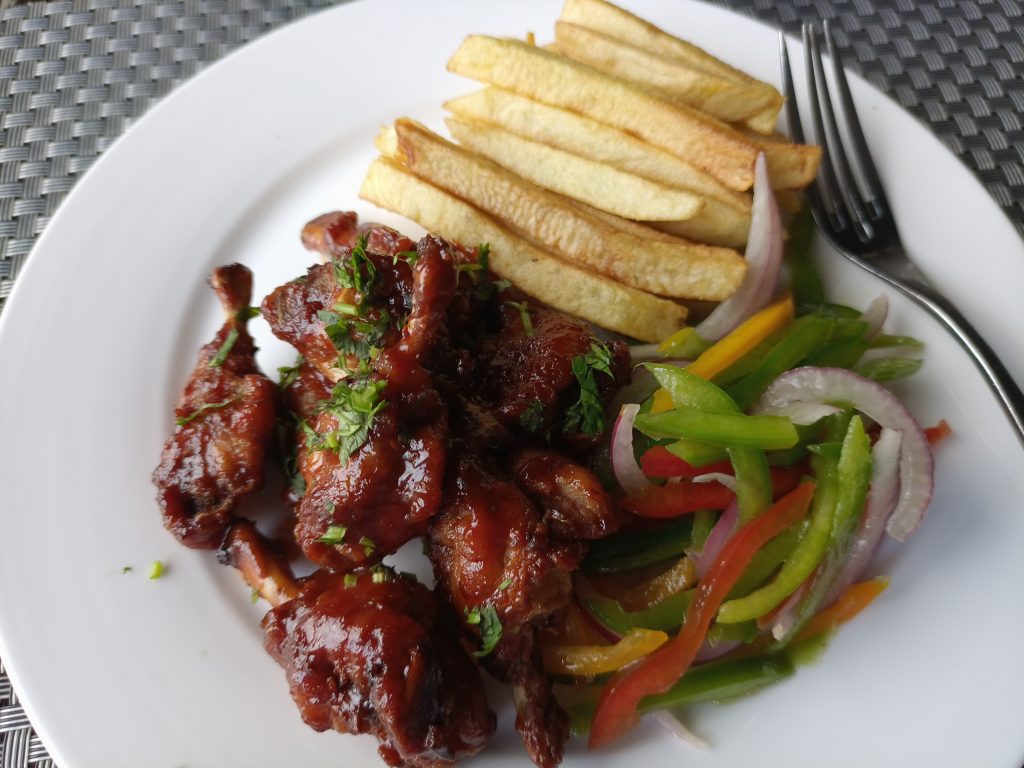 After my snack I did a full hotel tour. I started with the first floor where they have their fully equipped boardroom, one seminar hall and the Terrace bar which has the swimming pool view and looked perfect for sundowners.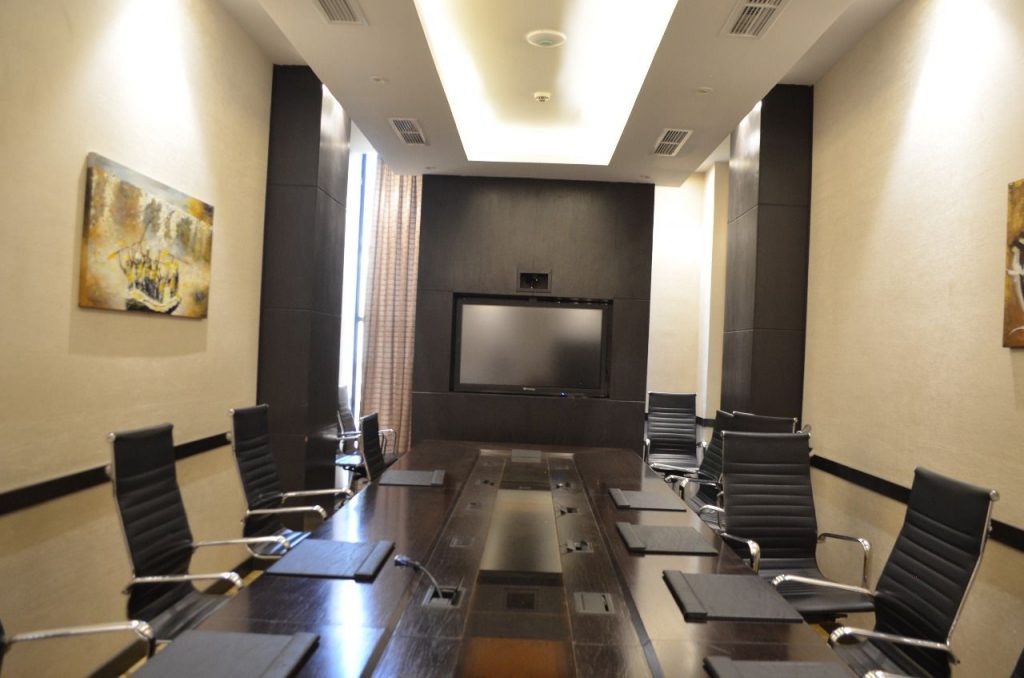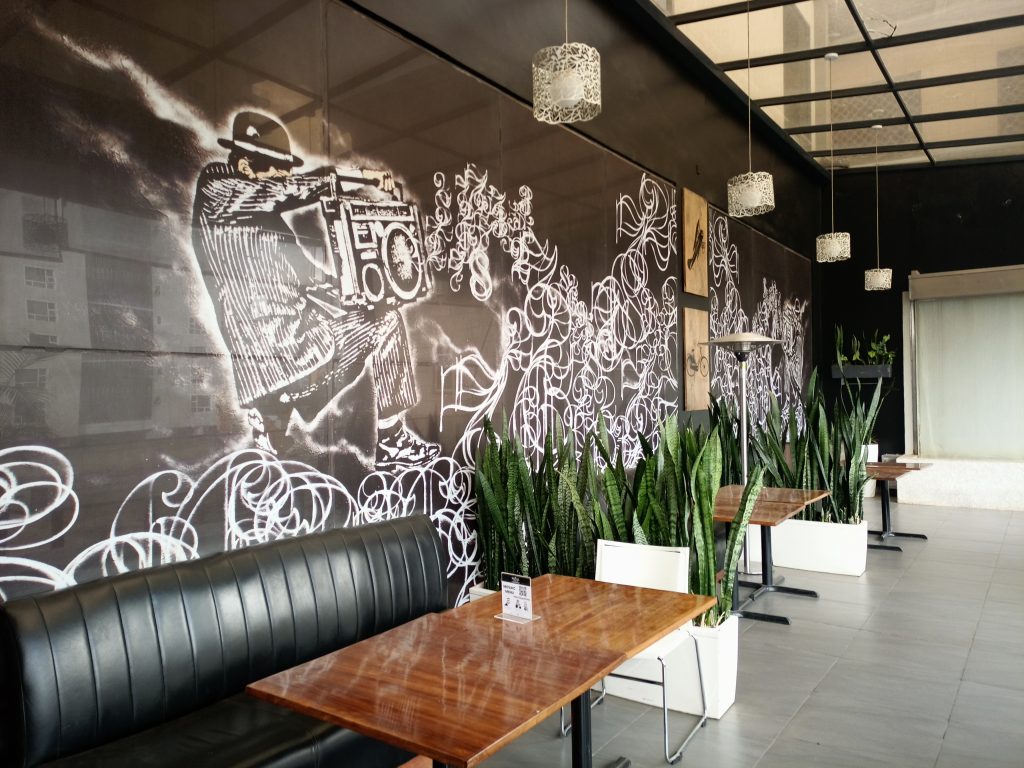 I noticed the unique wall decor which was different in every floor and this floor had a "bookshelf".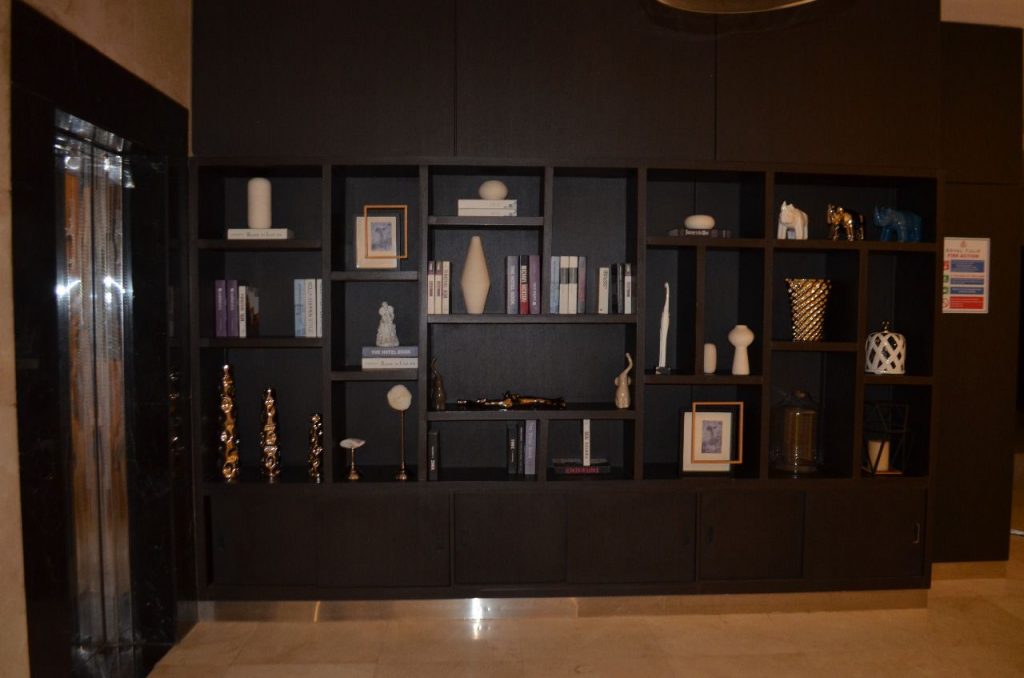 I then had a quick stop on the 8th floor where they have the Thabiti health club and one other conference room.
This health club includes the salon, spa, steam room, sauna and the gym. I wished I had carried my gym clothes so that I could have a gym session.
By the time I was done on 8th floor, it was around 5:30pm and I wanted to go and do some little shopping and also meet my friend in town. I took a 5 minutes' walk to Yaya Centre did my shopping and headed to town which took me about 10 minutes considering that there was no traffic. Royal Tulip Canaan is that centrally located and has close proximity to all your social amenities.
When I came back, I ordered the mushroom and shrimp soup as my starter and pork ribs with mashed potatoes and vegetables as my main meal for dinner. Let me tell you Maina!! That soup slaaaapped!!! I did not even realize it had pepper, yaani it was that good.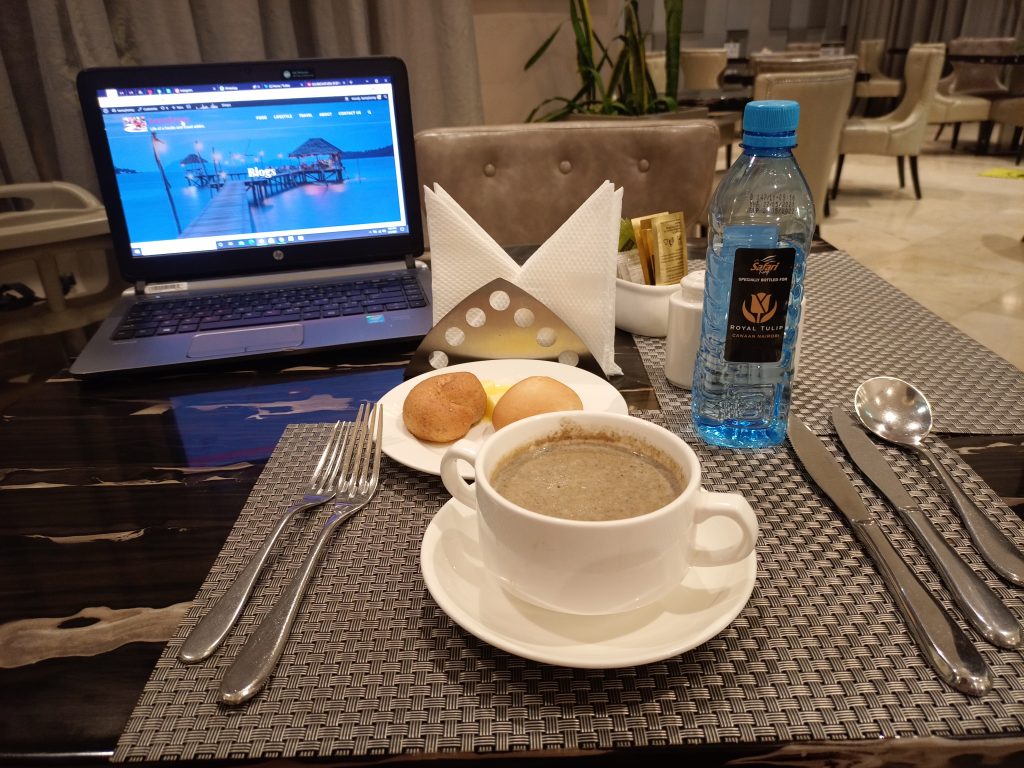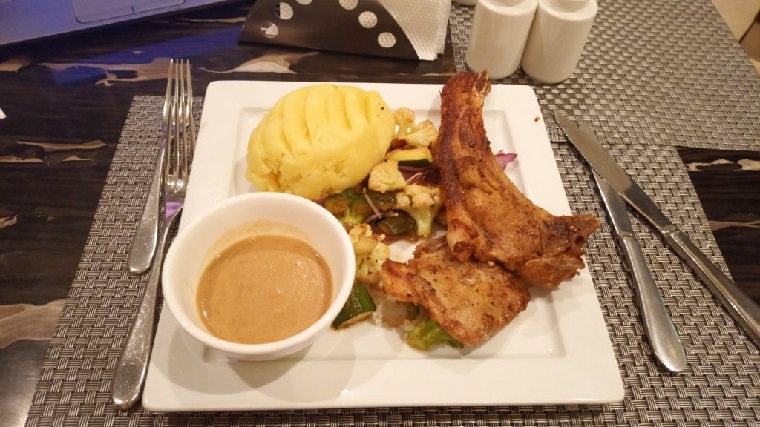 The pork ribs were also really tender and savory. Check out video evidence on my Instagram stories under the highlight "Royal T. C".
I headed back to my room to watch some movies and ended up sleeping at midnight. My bed was so comfortable that I woke up the next morning at 8:50am. I was scheduled for a massage at 9:30am and so I had only 40minutes to shower, prepare myself and have breakfast. I have never had such a quick morning. The good thing is that they had a buffet setup for breakfast so I did not have to wait for my meal to be prepared. In 10minutes I had enjoyed my breakfast and was ready for my massage. This was my first time in my not so many years of existing that I was getting a professional massage. I was excited and I am sure it was showing all over my face.
I had actually thought people go for a massage completely stark-naked but I realized that you are given some disposable underwear to wear before you massage starts. I was basically in cloud 9 for the next one hour. The massage was so soothing and I was literally feeling all my worries and tension leave my body and mind. I was then directed to the steam and sauna for more relaxation. I did not want the day to end!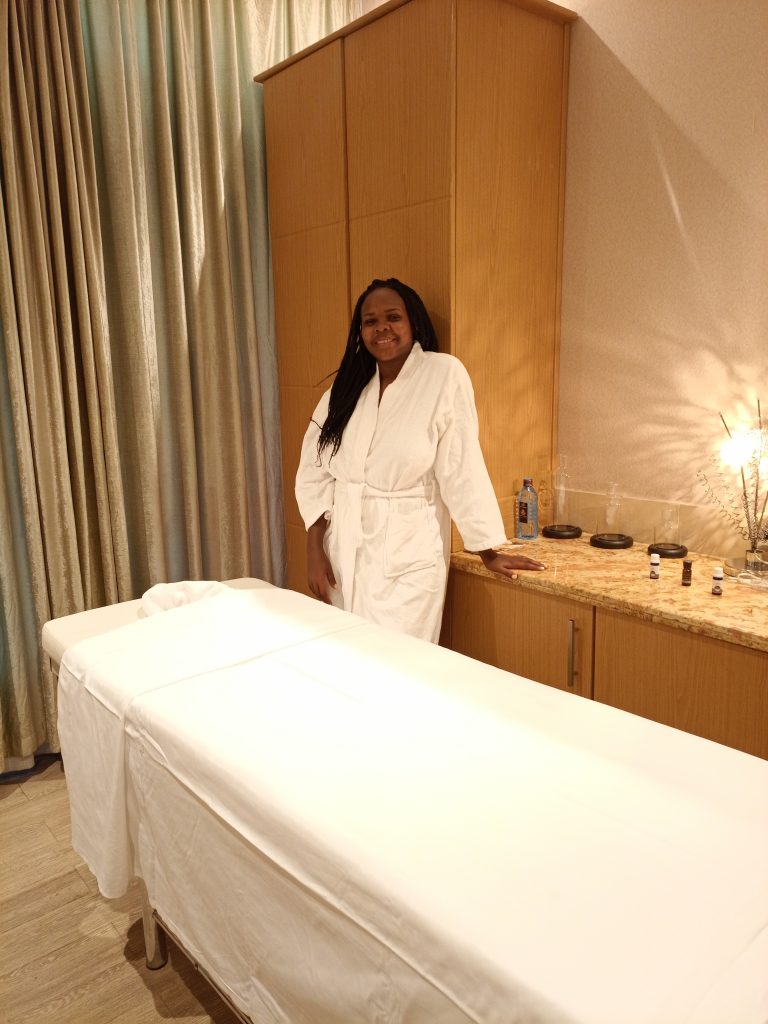 My last stop for the day was at their heated swimming pool where I spent about 30 minutes before I had to go check out and have my lunch. For Kshs 1,880 for adults and Kshs. 1,200 for kids, you will have access to the heated swimming pool and still have lunch in the hotel. It is a steal!!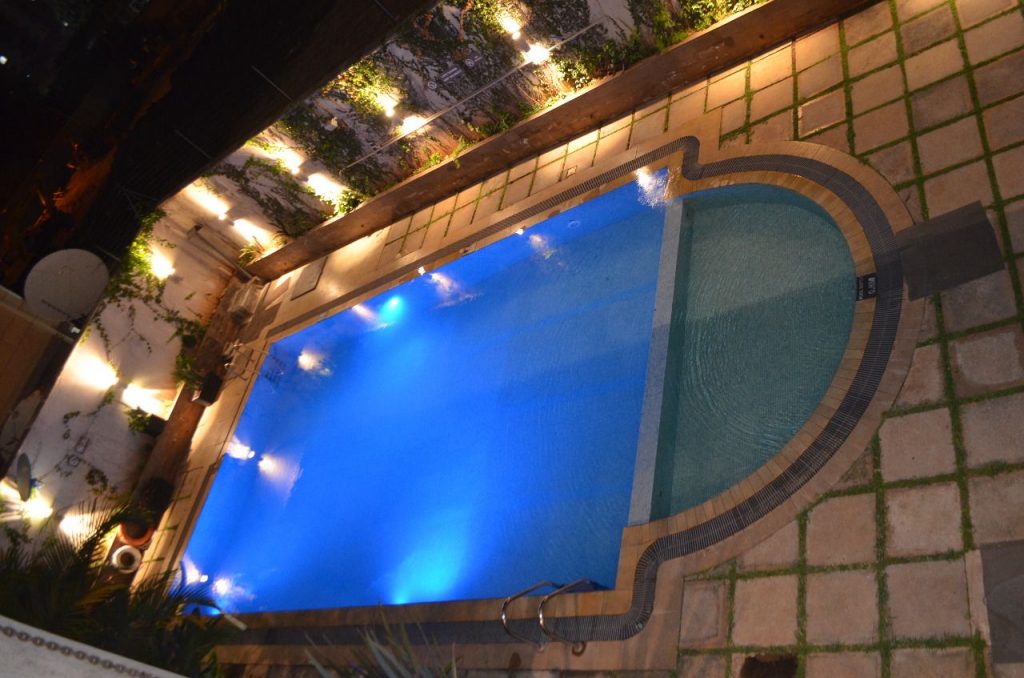 My general verdict for the staycation is a "worth your money". The staff were quick on their feet, their processes are seamless, the meals are in large portions and not too expensive, the rooms are clean and spacious, the environment is safe and the hotel's location is central and accessible. The standard room rates start from kshs. 8,000 for single occupation and kshs. 10,000 for a double on bed and breakfast. The price might fluctuate depending on the season and the hotel's occupancy levels. But for a great deal, talk to Doris on +254722727003 for all your inquiries and bookings. Click here to access their menu.