If by now you don't know what a staycation is, then it means that you are not as adventurous as you think you are or this Covid-19 pandemic has not had a toll on you. For those of us who have missed travelling outside the country for a while now, our travelling options have been limited to staycations.
A staycation is a vacation spent in one's country or in this case, one's city involving a day's trip to local attractions. Staycations are way cheaper than vacations as you get to save more money and also spend less time travelling.
The restrictions that have come with Covid-19 have limited travelling to local tourism as we wait for international tourism to open fully and be affordable. Few hotels have been left in operations and strict measures are put to ensure the safety of guests and the employees at large.
Below is a list of my top recommended hotels for a staycation in Nairobi.
Ibis Syles Hotel Westlands
If you haven't heard about Ibis styles Hotel in Westlands, then you must be living under a rock or have no internet access nor social media account. They are the true meaning of "if you didn't see it on social media, then it probably didn't happen". They are well known for using influencers to market their hotel.
Currently, they are running a weekend offer for Kshs 4,000 per person sharing for a room only and Kshs. 6,000 per person sharing for bed and breakfast.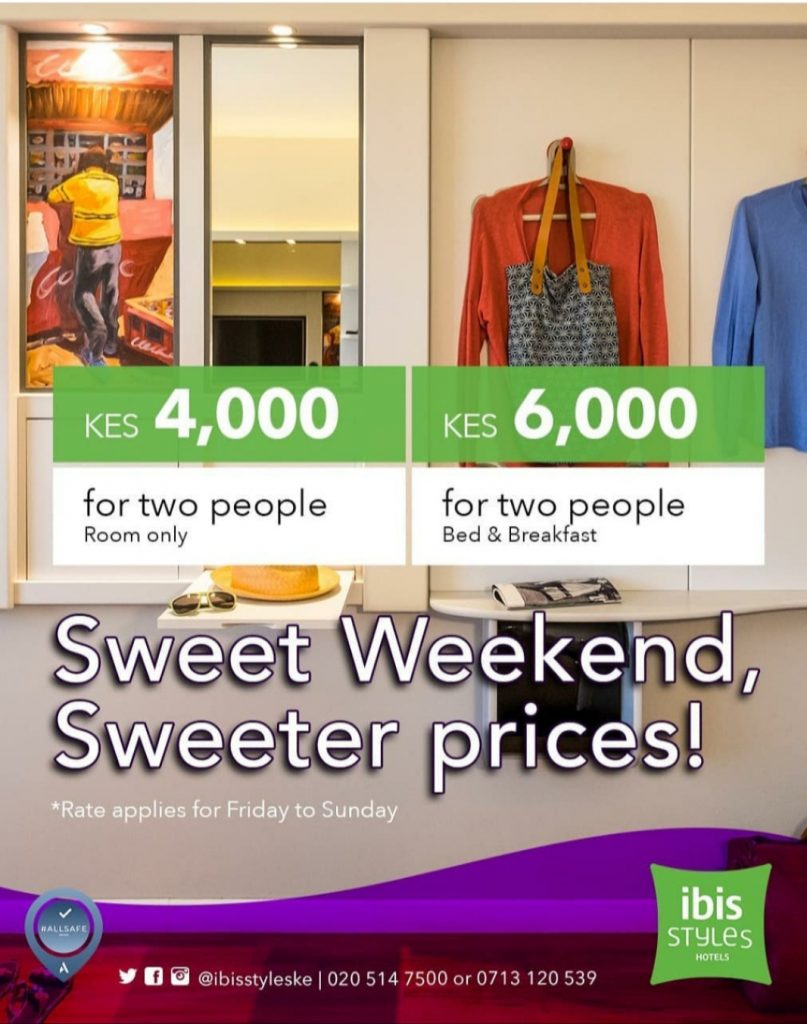 Fair Acres Boutique Hotel
Tucked away in the leafy Karen suburbs, Fair Acres Boutique hotel offers luxury accommodation to both luxury and business travellers. It is ideal for fine dining. Its close proximity to local attraction sites like Karen Blixen, Giraffe Centre, Giraffe Manor and David Sheldrick's Wildlife Trust makes it a more ideal location for any type of traveller.
What makes it a more ideal location for a staycation is their current offer which includes a free bottle of Gin or whisky for when you book a night stay with them. This will only cost you Kshs.10,500 for double occupancy and with bed and breakfast. What a deal!!!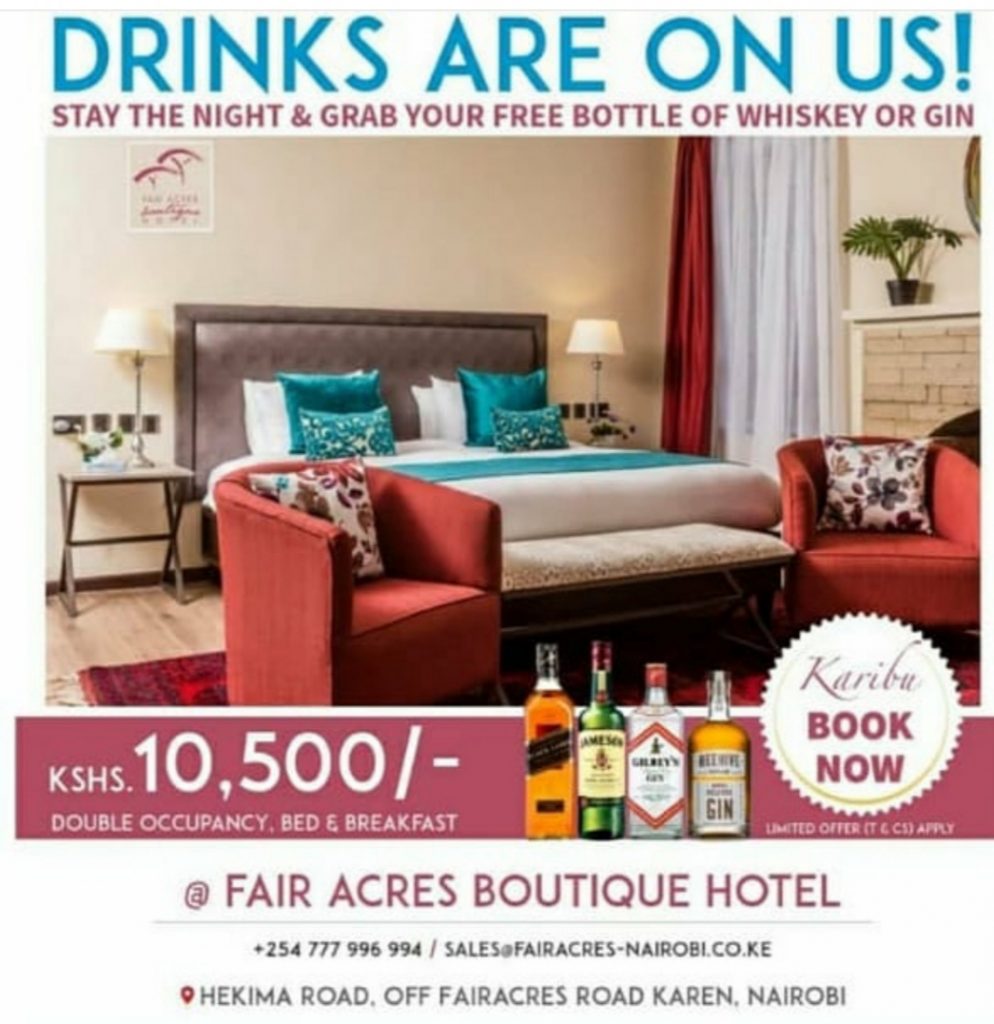 Villa Rosa Kempinski
Your dream of staying at a 5-star hotel without breaking the bank is closer than you thought. I don't know if you should say thank you God for Covid-19 or just thank you, God. I think thank you, God is a better option.
The envied Villa Rosa Kempinski is doing a staycation offer for just USD 220 (roughly Kshs. 22,000) for double occupancy with dinner and breakfast. This also comes with early check-in and late check-outs. For family getaways, you will also get a free complimentary stay for two children who are 6 years and below. Not forgetting a 20% discount on extra food and beverages. What more could you possibly ask for?
Four Points by Sheraton- Hurlingham
This is literally home away from home. For magical views and some nice Italian cuisines, this is the place to be. Get to enjoy the panoramic city view and watch the sunrise and set. Just make sure you get your meals at the rooftop restaurant – Mezze on deck.
For only Kshs. 10,000 you get a room for two with bed and breakfast. You also get to enjoy a 20% discount on dinner and get a complimentary bottle of wine.
The Social House
This is one of my best social media-present hotels of all times. It is more of a home than a hotel, as clearly indicated in their name. Their energetic team always post offers on their Instagram page.
Currently, they are running an offer that involves spending Kshs. 10,000 in any of their outlets in the month of August, and unlock a night stay at a rate of Kshs. 3,000 per person sharing. Also, you can book a room at 8pm for just Kshs 8,000 and beat the curfew. Their decor is to die for. It is located at 154 James Gichuru Road, Lavington in Nairobi.
Your toughest decision now should be which hotel to call for your staycation booking. I can't wait to hear your feedback.
Also: Book your Airbnb staycation using my code and get $40 dollars off.