It has been a minute(insert Teacher Wanjiku's Voice) since I wrote about food in this blog and it doesn't feel good. As a certified foodie it is my obligation to keep my readers full and busy with information on where to get the best food. I am sorry for keeping you guys hungry but that has come to an end now.
As a traveller who really loves to eat, I can not pass a chance for a lunch invitation especially when it is in a four star hotel. My lunch this time was at Four Points By Sheraton at Hurlingham. This was my first time going there since they rebranded the hotel from Best Western to its now current name. I did my very first Human Resource Internship in this hotel and so it felt like going back to where the hustle started.
The rebranding made it even better and more appealing. As you enter the hotel you are welcomed by the courteous staff and then directed to where you would want to seat. We preferred the rooftop restaurant (Mezze' on the deck) because the view from up there is just magical and also because it is a Middle East-Mediterranean cuisine restaurant. Plus that is where the swimming pool is and also the bar area (Level 8). Unfortunately this Saturday afternoon it seemed like everybody had a plan like ours and so the rooftop was fully packed.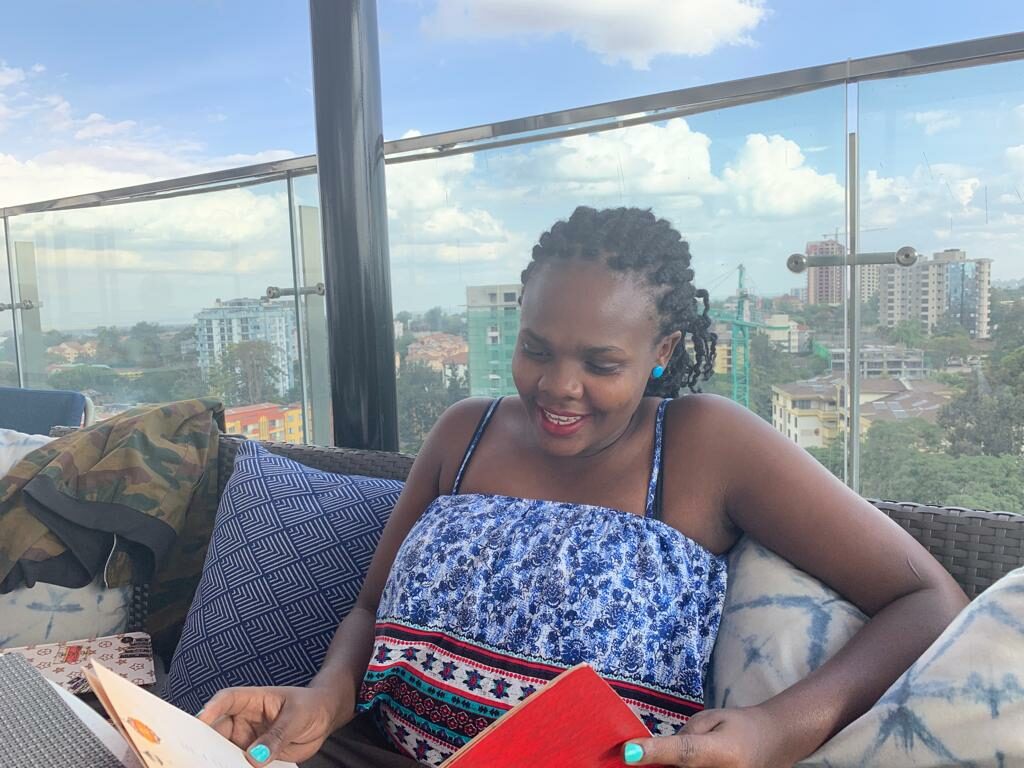 We had no option but to go to Pablo's Restaurant which is on the ground floor near the reception. As we entered the restaurant we found the set up was already done and it looked really amazing and so cosy. We decided to seat outside so as to enjoy the green scenery and have some fresh air too.
Our waitress was so friendly and she even helped us to decide on what meal we could enjoy more because we were really spoiled for choice. So I finally settled on a chicken schnitzel and Chris settled on the Fillet of beef pepper steak.
The chicken Schnitzel is breaded and deep fried chicken breast, topped with melted cheddar cheese and is served with tartar sauce, salad and a choice of homemade fries or mashed potatoes fo ksh1,600. I went for the mashed potatoes. For the Fillet of beef pepper steak, it is a marinated tender grilled fillet with pepper sauce served with sauteed mushrooms, seasoned vegetables and with a choice of homemade fries or potato wedges and it was ksh1,850. On the drinks we settled on the classic dawa which is grinded ginger, lemon and honey. It was ksh 250 per person and it was truly worth it.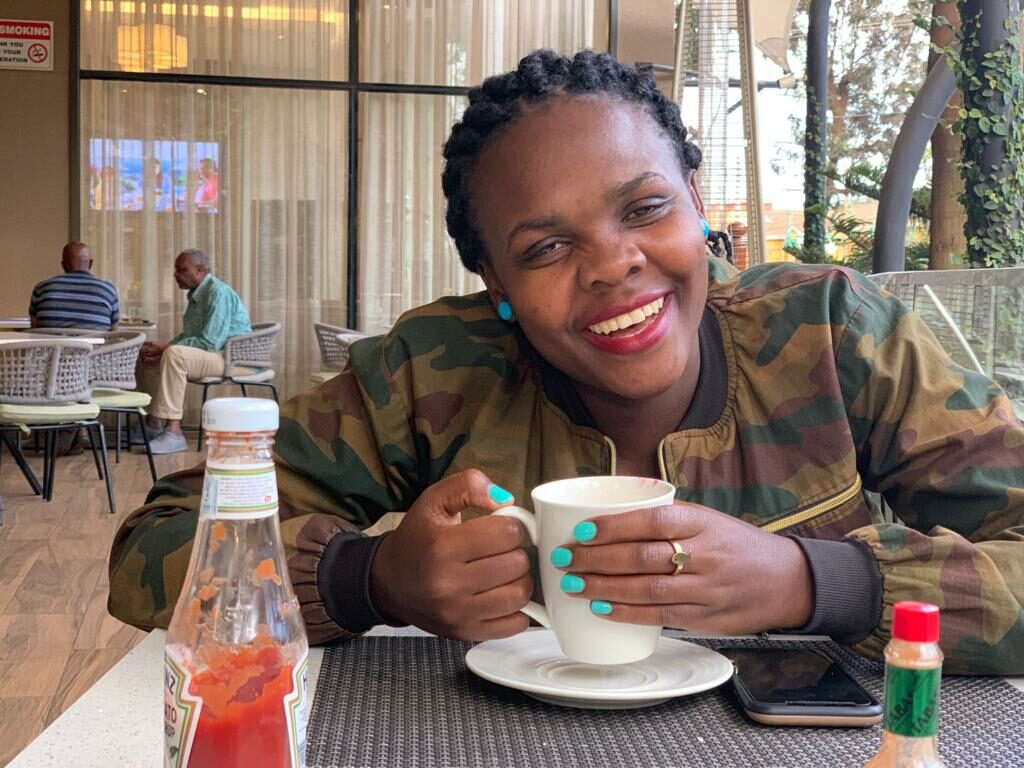 As we were waiting for our food to be prepared, we were served with warm buns and butter to kick off as our starter or maybe we were to eat them with our hot dawa hahah. Regardless of us not knowing the appropriate time to eat them, we decided to have them with our dawa since we did not have any soup to eat them with.
Finally our food was here!!!! Let me tell you again that food is the way to my heart! The presentation was top notch. Everything looked so delicious and it also tasted the same. The Fillet of beef pepper steak was super well done and juicy but a bit flat with a lot of spices, my chicken was done just right, the salad was amazing and to top it all, the fries and mashed potatoes were superb. I have had a bad experience with mashed potatoes once but this ones redeemed my faith in mashed potatoes.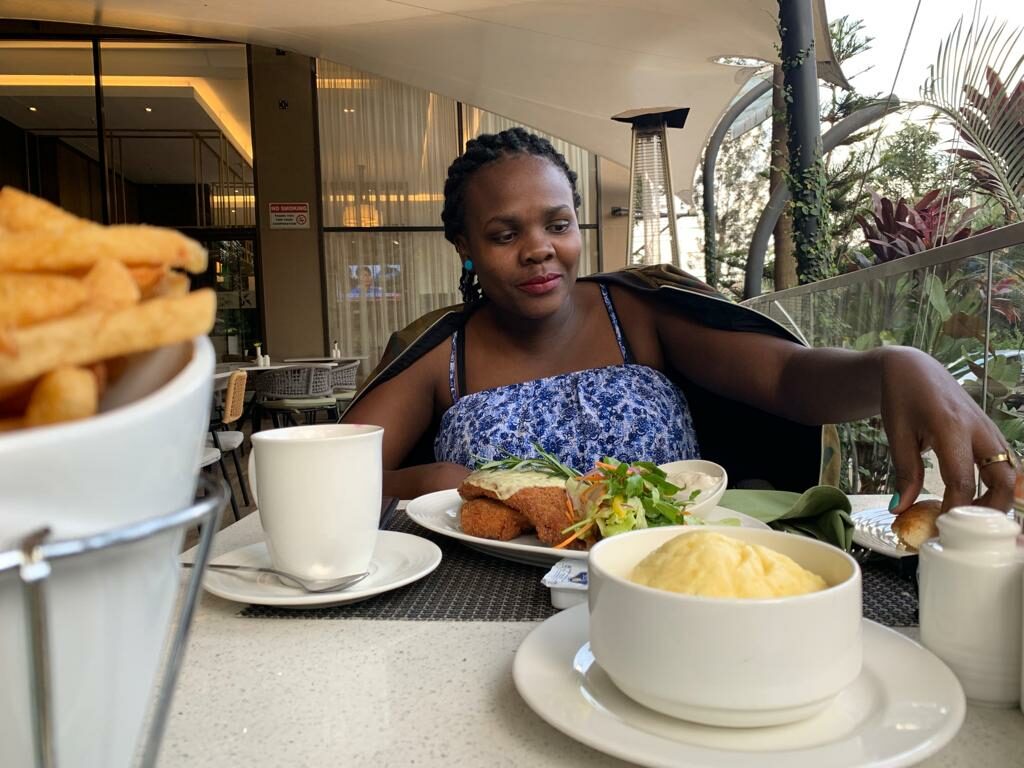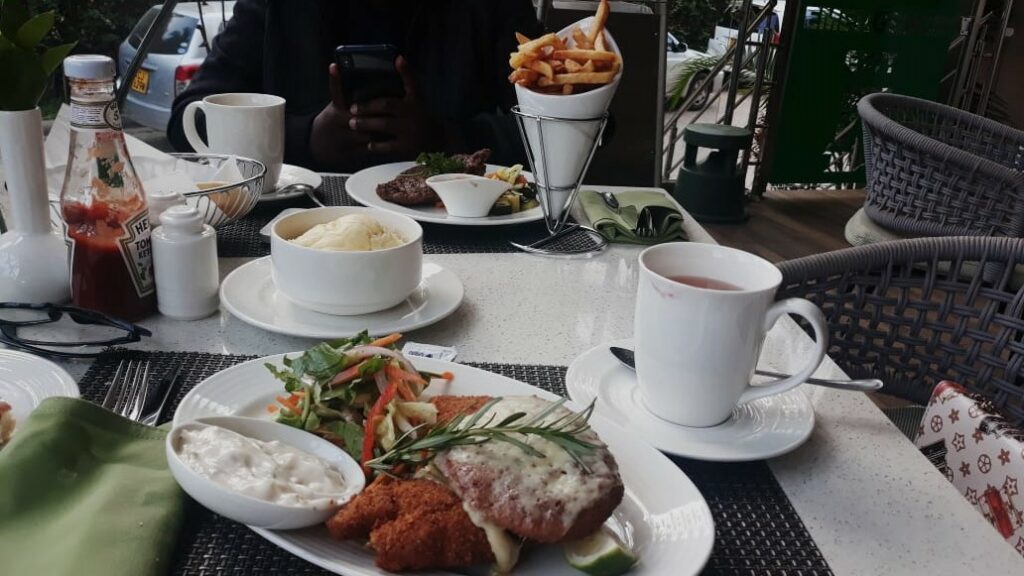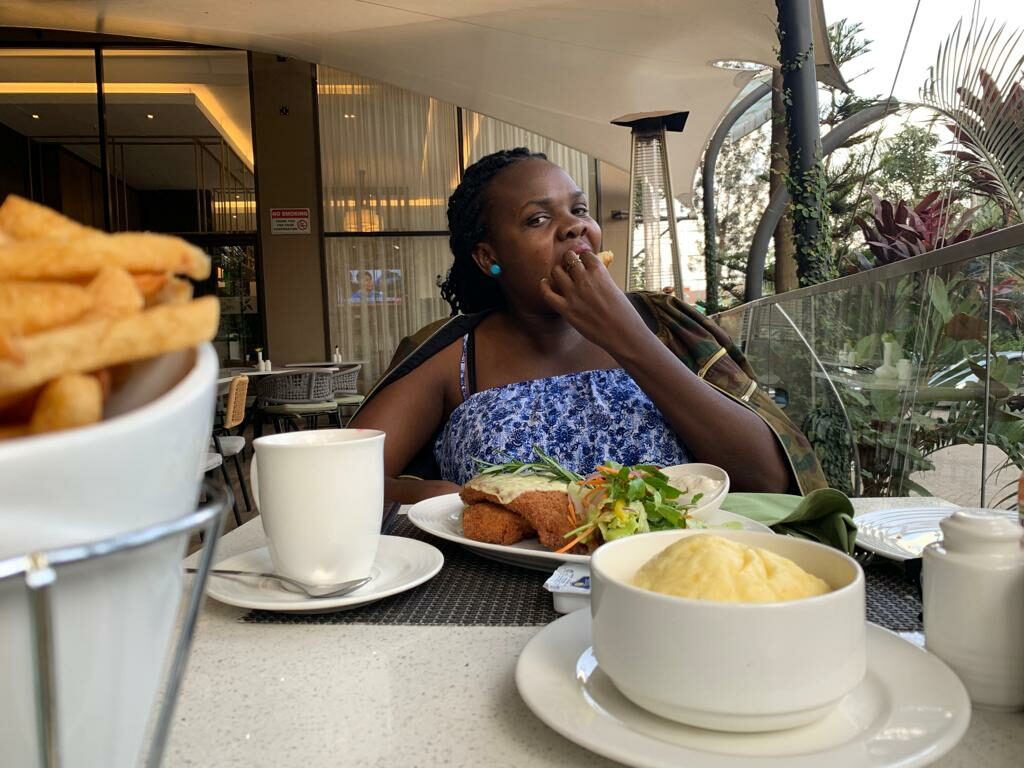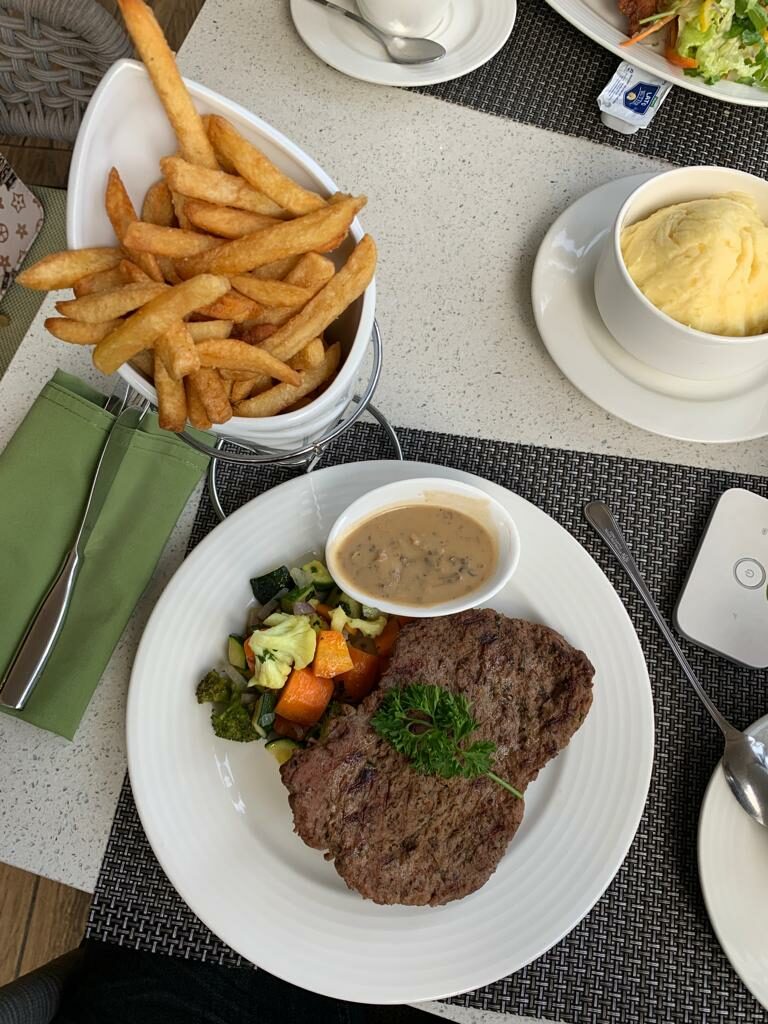 The portions were really big and we did not get to finish the food. We were too full to even order dessert.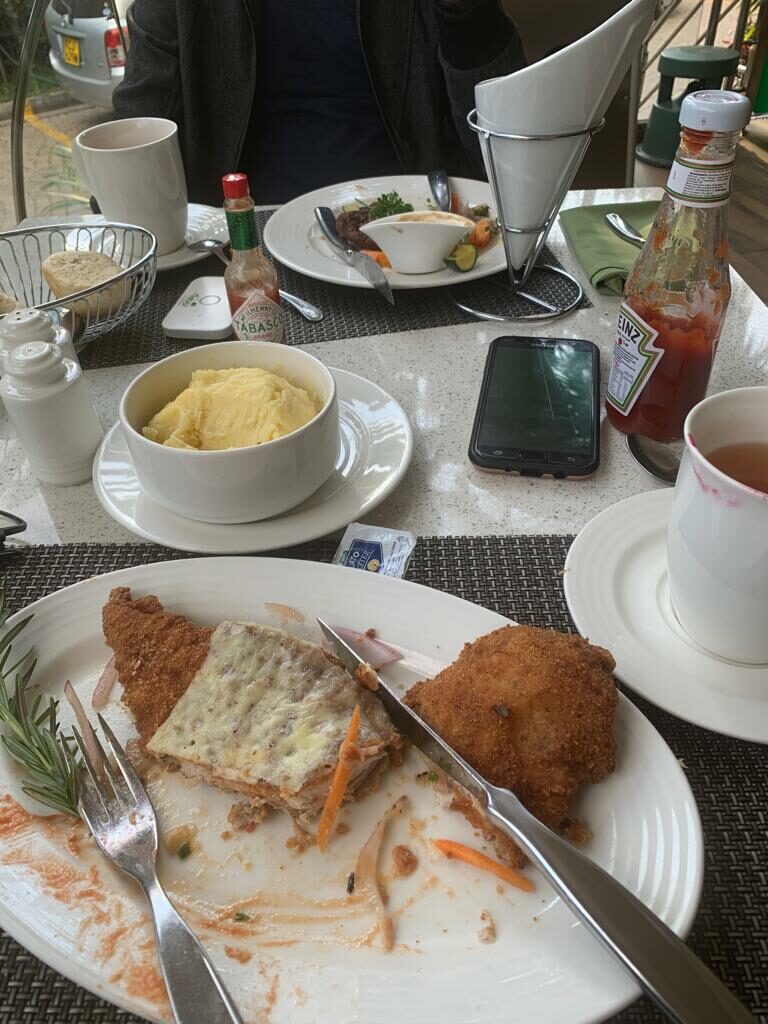 Valentine, the waitress was kind enough to pack the food for us and not in foil paper! Kudos. The packaging was an A plus. My total rating was an excellent! Though the prices are a bit high for some items.
The service, ambience,location, the food and the hotel itself is amazing. My next plan is to go back and this time have a taste of their seafood and deserts. I would recommend it for anyone who is looking for a chilled out place to go for a date or even just a casual meal or drink.