In my recent post about most affordable fun activities to do when in Nairobi, Ice skating was number one of them. Nairobi offers quite a range of activities to do whether you are a tourist or a citizen. All this activities are just a drive away from wherever you stay. Our transport system is quite efficient as we have taxis, matatus/buses and even motorcycles to take you anywhere you need to go.
So on one Saturday, we decided to go and try out this Ice Skating thing. The most common Ice skating place in Nairobi is found at the Panari Hotel on Mombasa road just 10 minutes away from Jomo Kenyatta International Airport. The panari Hotel is one of the five star hotels in Nairobi with exceptional service, luxurious and comfortable space to relax in while enjoying activities from ice-skating at East Africa's only ice-skating rink to winding down with drinks and music at the one of their three entertainment spots. As soon as you enter the gate, you are welcomed by super friendly security officers who guide you to the parking lot. The place is spectacular especially the entrance.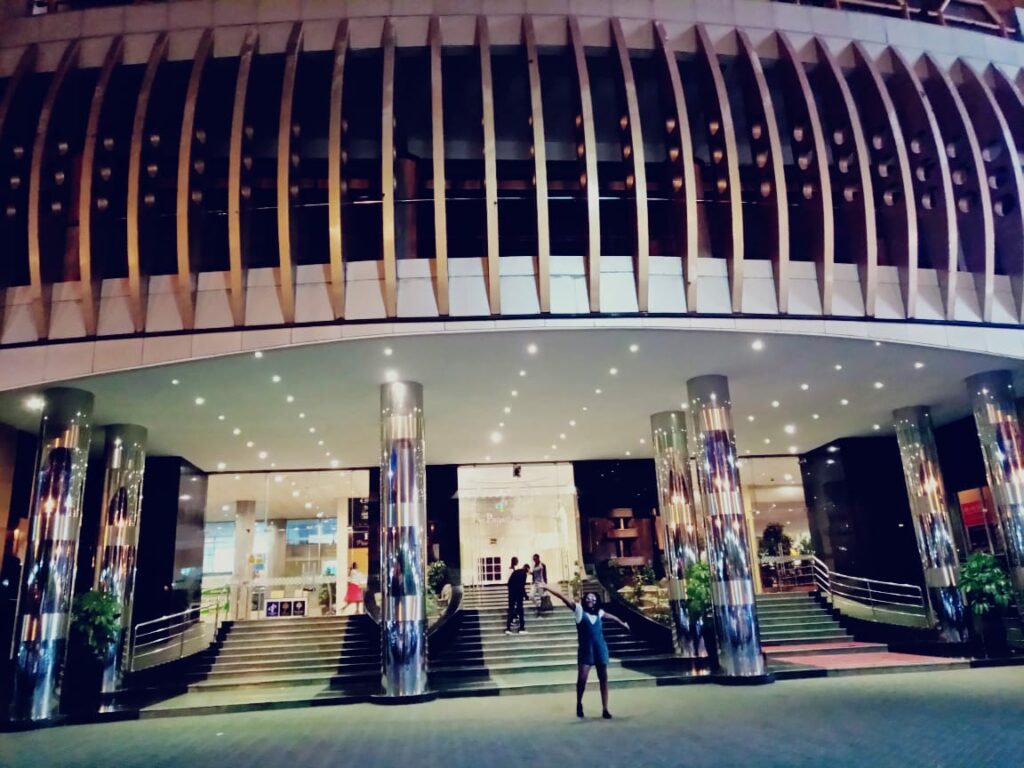 Once you enter the hotel you are spoilt for choice. The hotel is really huge which about twelve conference halls catering for different types of conferences.They also have a movie theatre showing all the latest movies at affordable prices. As if that is not enough, they also have three restaurants.
The Red Garnet which is their main fine dining restaurant where you get to enjoy international cuisine either buffet or a-la-carte with a view of Nairobi National Park.
The Black Gold Cafe where you get to enjoy their well roasted coffees, teas, light meals, smoothies and desserts. Their menu ranges from 200/250 shillings for a cup of tea/coffee to about 800/850 shillings for a sandwich or a burger which I found quite affordable considering it is a five star hotel.The Amber Coffee Shop for freshly baked pastries to go with some hot, freshly brewed coffee. Their english breakfast goes for 1,400 shillings while the continental one goes for 1,000 shillings now this is where you stay in your lane hahaha.
They also happen to have three entertainment spots. Clearly that is an indication that they got all their different clients sorted out for any kind of entertainment they want.The Crystal Bar for all your cocktail needs, the Ruby VIP Lounge for the fine wines, blended old whisky, cognac and champagnes and then the Shooters and Dips night club sums it up for your night as this is where you go to shake off all that you have consumed.
After taking that hotel tour, our main aim was Ice skating. The Panari Hotel has the one of the best Solar Ice rink in the entire East and Central Africa. So it is a big deal!! and to top it all it is just 40 shillings fare from Nairobi CBD and the matatus will just drop you at the gate so there is no walking for a long distance. It is easily accessible due to it's convenient location. The ice skating area is totally enclosed with an ice temperature of -25 degrees and the air temperature inside the hall is 12 degrees. In simpler terms it is not lit!!! It is super cold!!!
The ice skating rink can accommodate upto 200 skaters. They open from as early as 11:00 am to around 10:00 pm. The skating fee is 800 shillings per child below 14 years and 1,000 shillings for anyone above 14 years for 1 hour. You get free skating shoes so no need to carry yours also I doubt there is someone who has ice skating shoes in their house haha.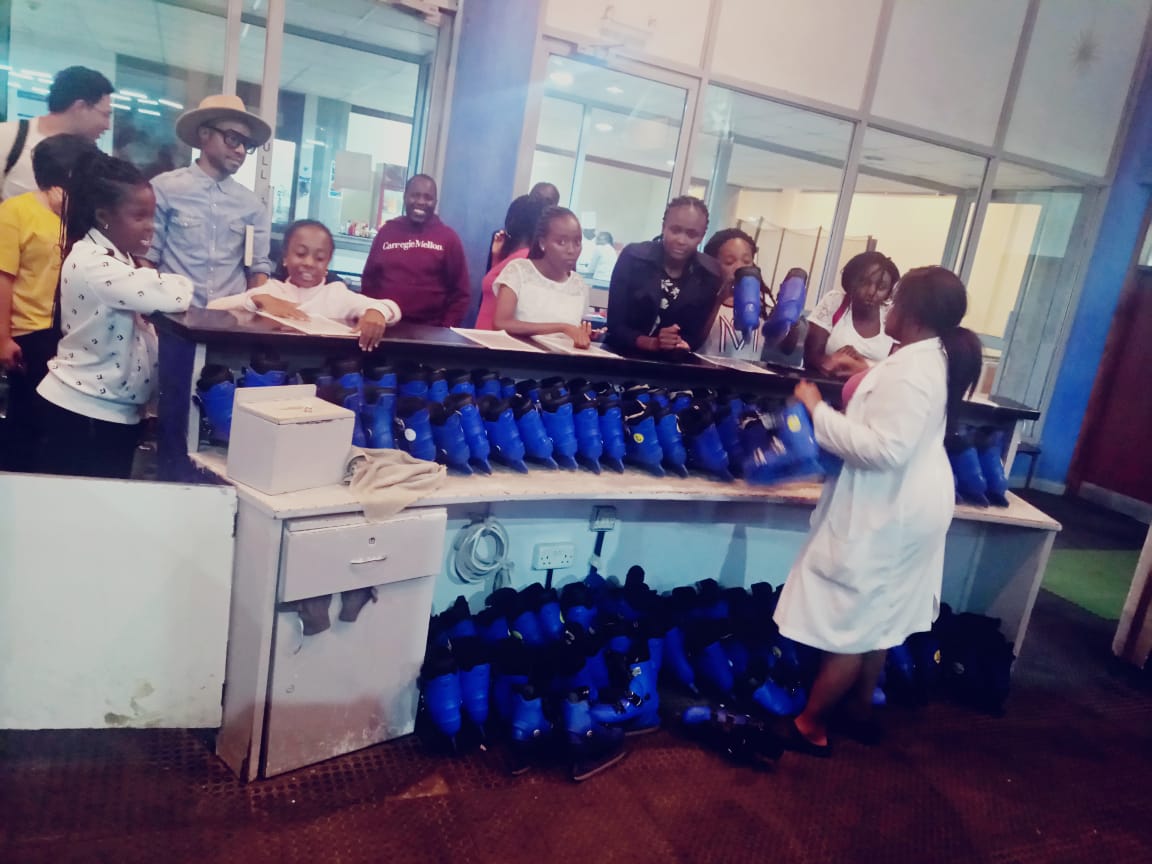 You can also register for a monthly skating session for 8,000 shillings. They offer skating lessons for those who don't know how to skate at 6,000 shillings for 6 lessons. Those who know how to skate and want to learn how to play hockey especially stick handling, passing, shooting, and team concepts, they offer Ice Hockey Lessons at 12, 000 shillings per person for 6 skating Lessons plus 4 Maneuvers classes. They also happen to have a Friday offer where you can pay 1,000 shillings and get to enjoy upto 3 hours of skating.
Can you guess what happened next?? We did not get to skate. This beautiful Nairobi yengs, decided to slay and dress up in romper shorts and jumpsuits!!!!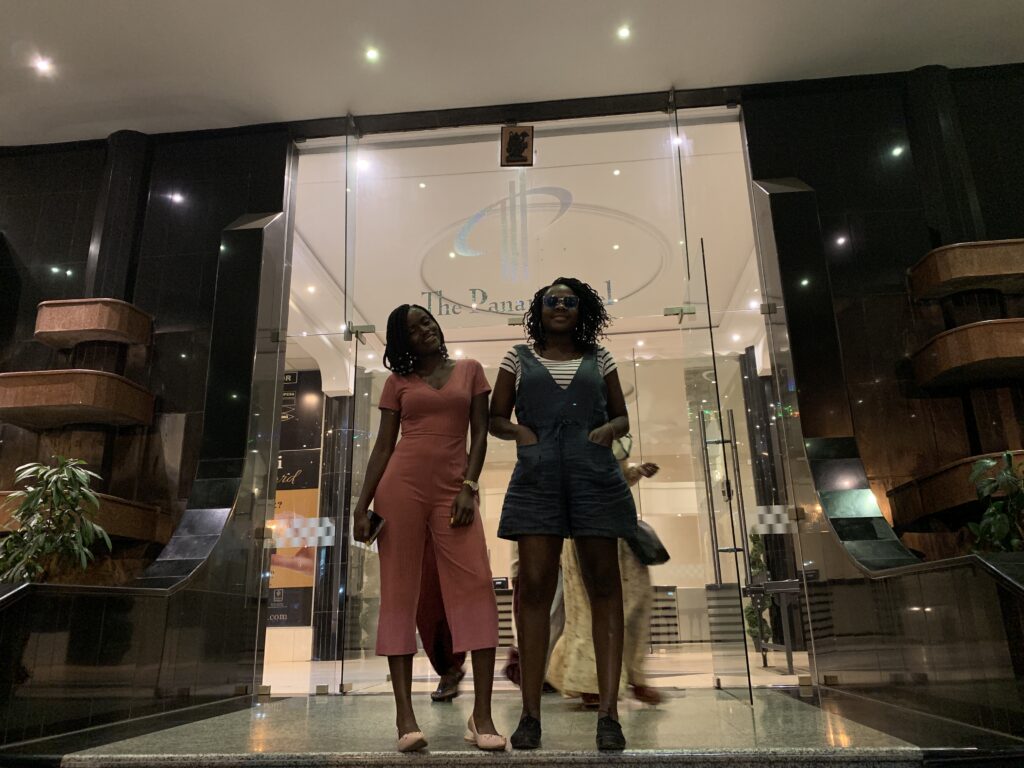 We got into the ice skating area and we could not even survive to stay for two minutes. The place was extremely cold and so our only option was to get out of that freezer and watch the other warmly dressed people enjoy our session. We finally decided to go to Shooters and Dips to dip our sorrows in some warm drinks hehe. But we are planning to go back there soon and finish our mission. So if you are planning to go ice skating please put on some nice warm jeans or sweatpants, T-shirt or top and a warm sweater.