When I was told that there is a "hidden" waterfall in Nairobi, all I could think of was a man-made one in someone's garden or those small artificial fountains at malls. Until recently, the only waterfalls I knew in and near Nairobi were fourteen falls, the ones at Karura forest and at Ololua Nature trail. My friends invited for an afternoon hangout and that's when I got to enjoy this hidden gem.
This new hidden treasure is just 35 minutes away from Nairobi CBD. The place is known as Lacascada Sports bar and garden though I feel like they could have interchanged the names so that it reads as Lacascada Gardens and sports bar. It is located in Ruaka town just before the famous Clean shelf Supermarket. The place is a walking distance from the road and there is a big signboard which you can't miss to see. Ruaka is home to Two Rivers Mall which is the home to the largest Ferris Wheel in Africa.
As we entered the premises, we passed through the spacious sports bar which offers a great variety of drinks with a stage for live performances. The sports bar has different themes for each night i.e Karaoke Tuesday, Ladies Night Wednesday, Reggae Thursdays, Mugithi Fridays, dance party Saturday and Live Band Sunday. We went there on Sunday and the live band was really amazing. I would recommend it for anyone who wants some classics and amazing rhumba music.
Down the sports bar, there is a staircase that lead us down to the amazing waterfalls. You can hear the water gushing as you walk down the path. The view is so beautiful, you won't even remember you are in Ruaka. There is a power and a brilliance in the tranquility, a place of stillness even in the roar of the water. I could watch this streaming water even in my sleep, a beautiful infinite dream. You can remove your shoes and go closer to the waterfalls if you are daring enough but the view from a distance is still worth it. I was really tempted to remove my shoes.
The waterfalls have clear white waters which trickle down to the Ruaka river that passes through this same premises. The river derives its name from the kikuyu rite of passage known as Ruaka which is short for rui rwa ka (women's river). Traditional Kikuyu women used to bring girls here to bathe the morning before they were circumcised. Although the archaic practice is now illegal and uncommon among the residents of the town, the name remains.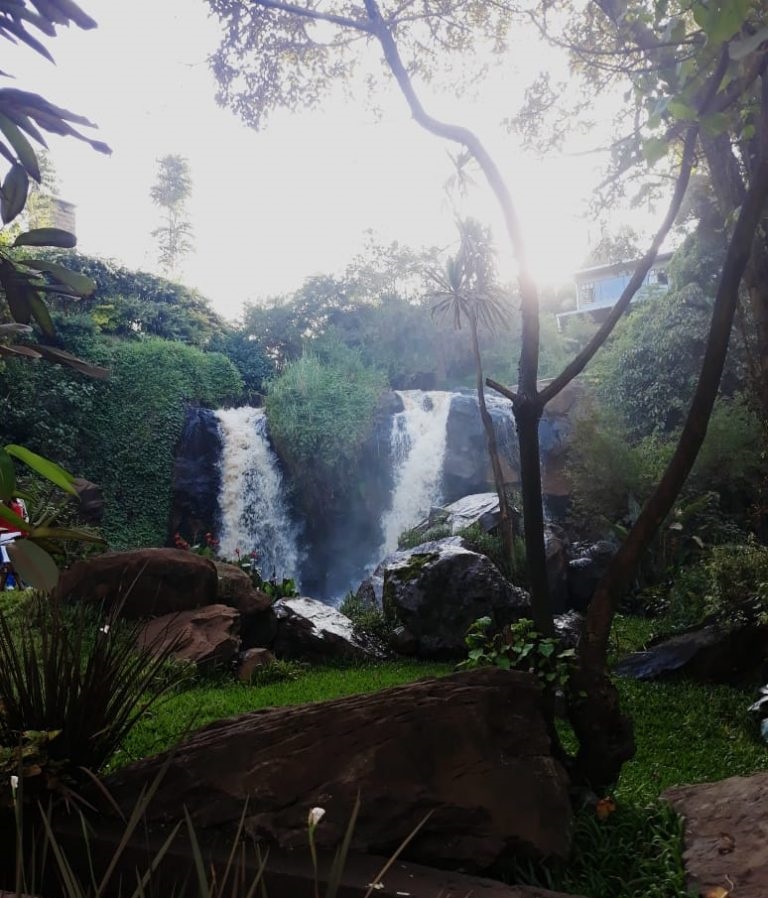 There is a bridge that connects the way from the waterfall to the garden through the river. It is perfect for a wedding concept. I was standing at the bridge and watching the water going down the Ruaka river. I never knew I would enjoy such things as watching a river flow. Am I becoming soft or old age is catching up with me? haha .
As recently as three years ago, the waterfall was inaccessible to the public because of a dense forest. The only people who found use for it, according to locals, were drug addicts and muggers who would use it as a hideout. In 2014 the owner of the place had the thicket cleared and transformed the place to the amazing relaxation outdoor spot it is now.
The place is very serene and ideal for outdoor meetings, weddings, picnics garden parties and any kind of outdoor party you can think of. To add to it, they also have a kid's playing area fully packed with playing items like Merry-go-rounds, trampolines and the likes.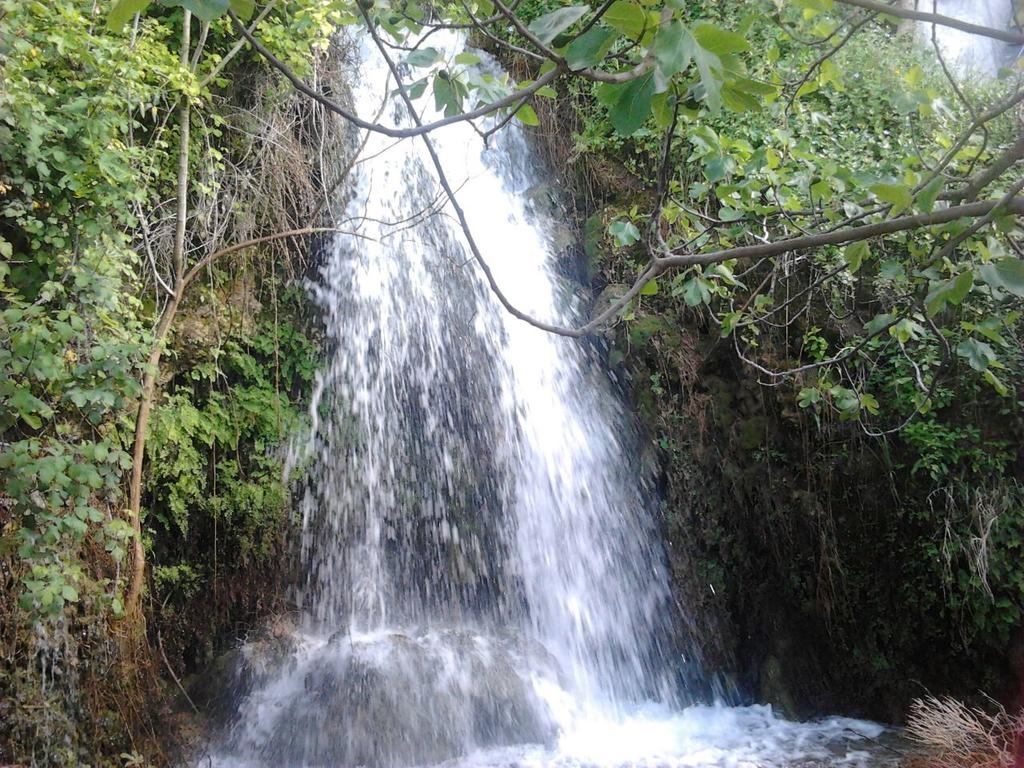 For our perfect afternoon, we got a table at the garden which faces the waterfall and ordered our favourite drink as we enjoyed the scenery. You can also have a picnic which I also found to be an ideal plan as the grass is very green and clean. You can even sit down without a "leso". The peace and tranquility that place offers can not compare to anything else.
Their menu is quite affordable. We had their fried beef which is a must try with the traditional Kikuyu meal known as "Mukimo". It was super delicious and worth every penny. We paid ksh 1800 for 2kgs of fried beef, ksh 150 for a plate of french fries and ksh 100 for a plate of Mukimo. Their service delivery was quite good though it sometimes takes a little bit longer which I understood because they had to get items from the sports bar down to the garden.
In conclusion, I would highly recommend the place for the beautiful waterfalls, family gatherings, picnics, dates and any other outdoor event. After this corona virus pandemic is over, make an effort to visit the place.