So today I decided to do a decor post. We all want to glam our homes without emptying our bank accounts completely and once again, I got you covered. I'll be showing you how you can use readily available materials to glam your house.
Requirements:
Empty wine/whisky/vodka bottles etc I know you get what I mean.
Spray Paint (Available on Jumia)
Magazines/ calenders/ rag. Anything to cover your working area.
Basins with water.
Flowers
String lights (See on Jumia)
Gloves (see on Jumia)
A camera/phone for taking photos.
You can use any glass bottles in your house or go to your local pub or club and borrow their empty 'mzinga' or wine bottles or you can halla at
Shazliqour Store
on Instagram and she will s you out. I do not think they can refuse to give you the empty bottles as you are helping them clear their bins. Bottles like baileys and savanna have very good designs and their logos turn out pretty nice. Look for shapely bottles not 'chupa za soda'. The spray paints are also readily available in most supermarkets now or even on Jumia as I linked above. The gold one I used was a gift from a friend (Desmond) which I gifted myself heheh and it is from Naivas Supermarket. It goes for 375 bob! You see? pretty affordable. It is called GB Spray Paint.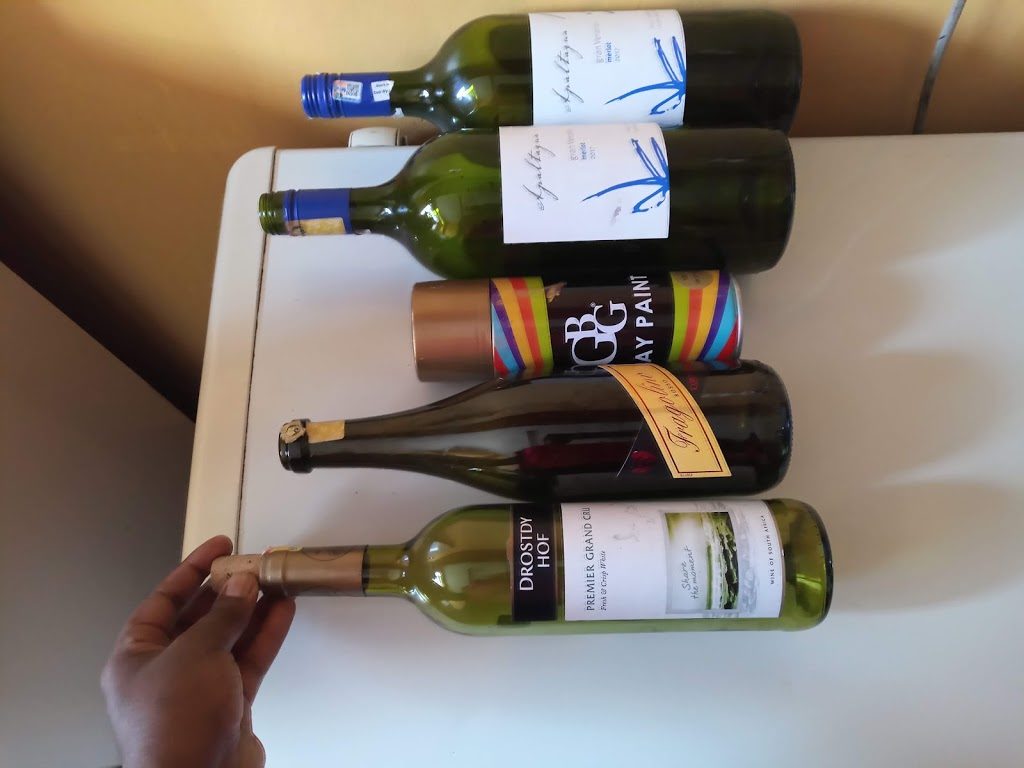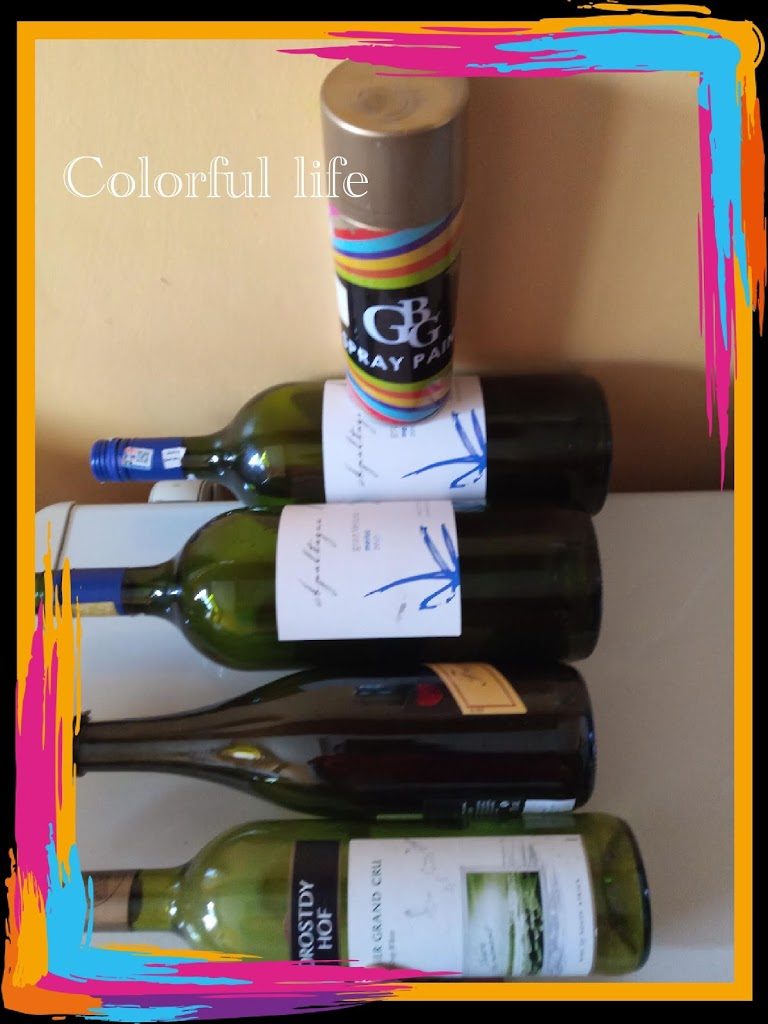 Before you start to spray paint you have to make sure that all the bottles are clean and empty. By clean I mean that they do not have the stickers on them. So what you do is soak them in water. You can do this overnight for easy removal or just a few hours then scrap off the stickers using a spoon or knife. Be careful!!
Just fill the bottles with water so that they are heavy coz this will make them sink thus the water will cover the whole bottle.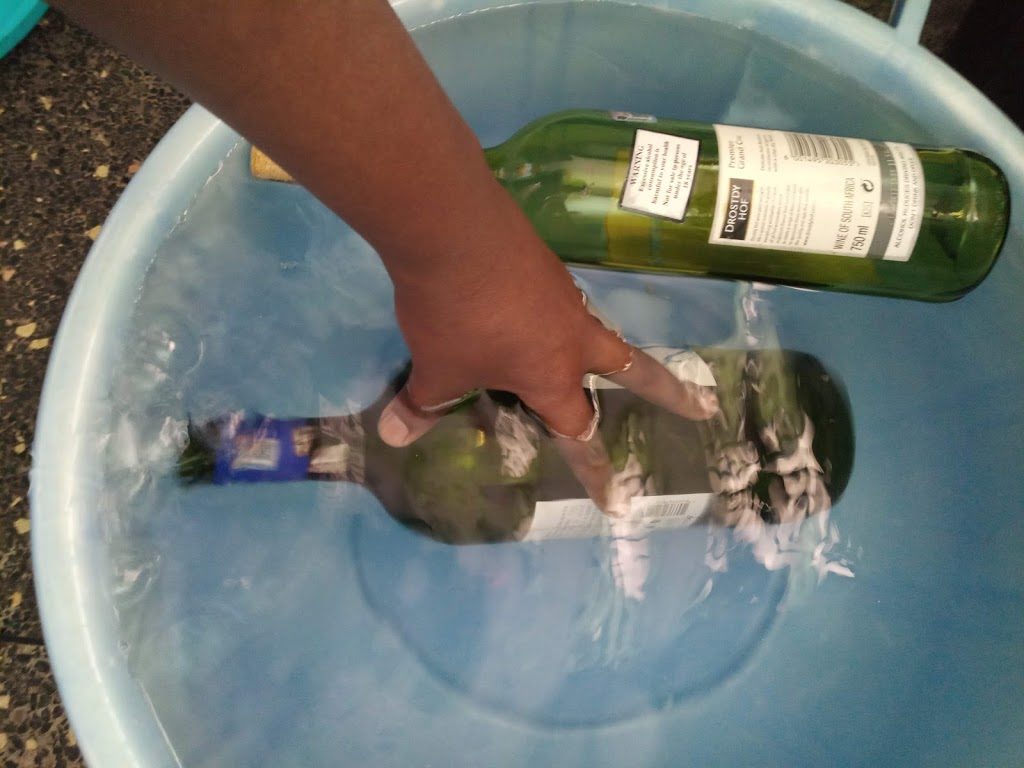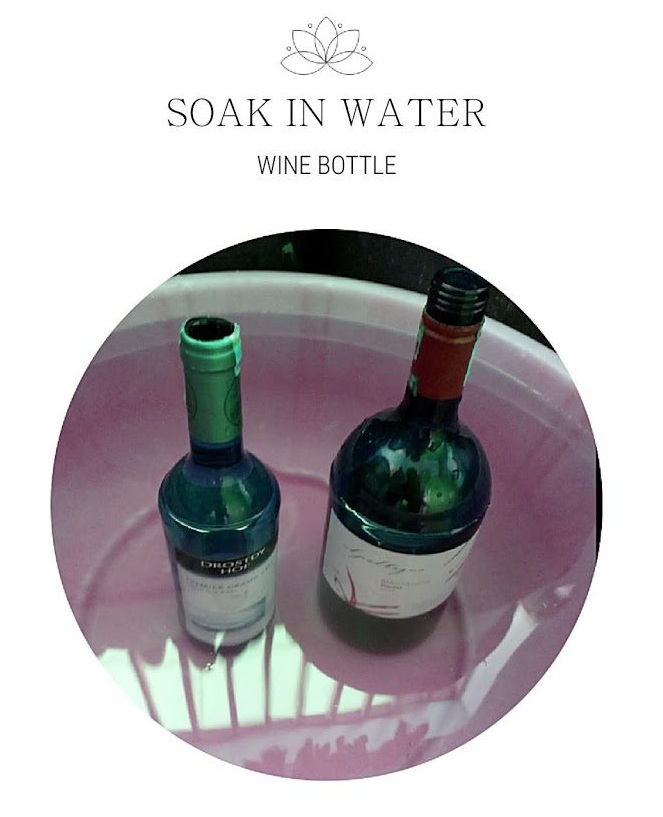 When the time has elapsed, remove the bottles from the basin, pour out the water, peel off the stickers and wipe them dry. They should look something like the picture below. I tried not to filter the images.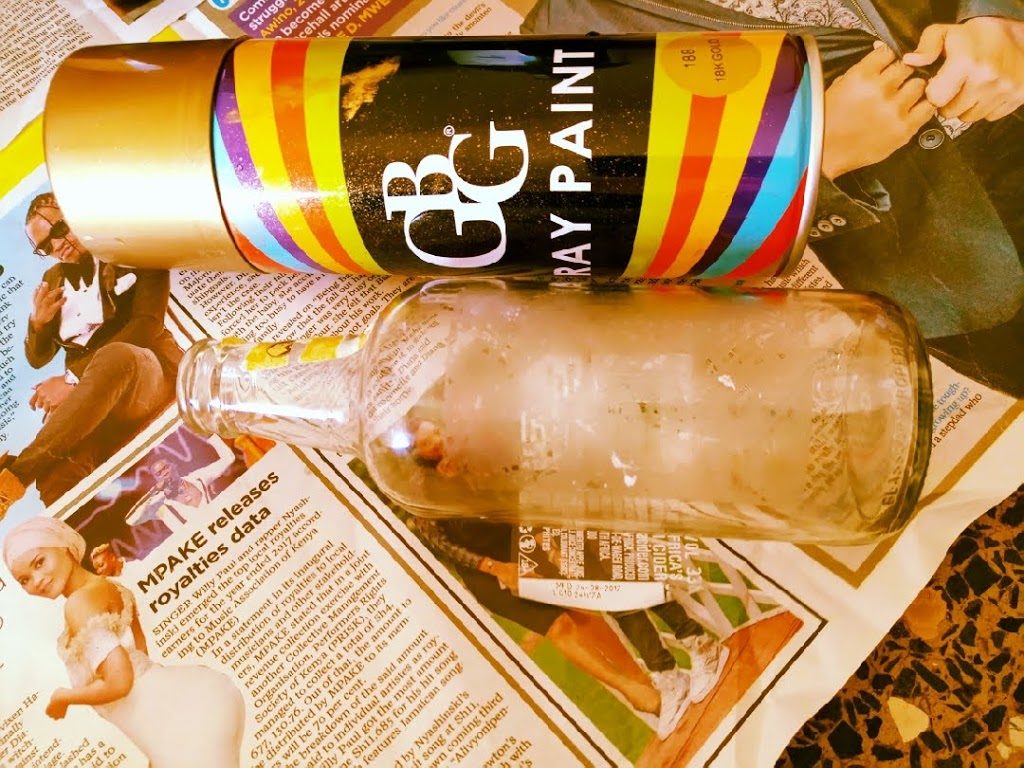 So the next step ( hoping you are already outside) is to start spray painting. Hold your bottle away from your face probably with your left hand or right depending on whether you are right or left handed. Then use the other hand to spray while rotating the bottle. I prefer inserting a finger in the bottle for easy rotation. I hope I am making sense.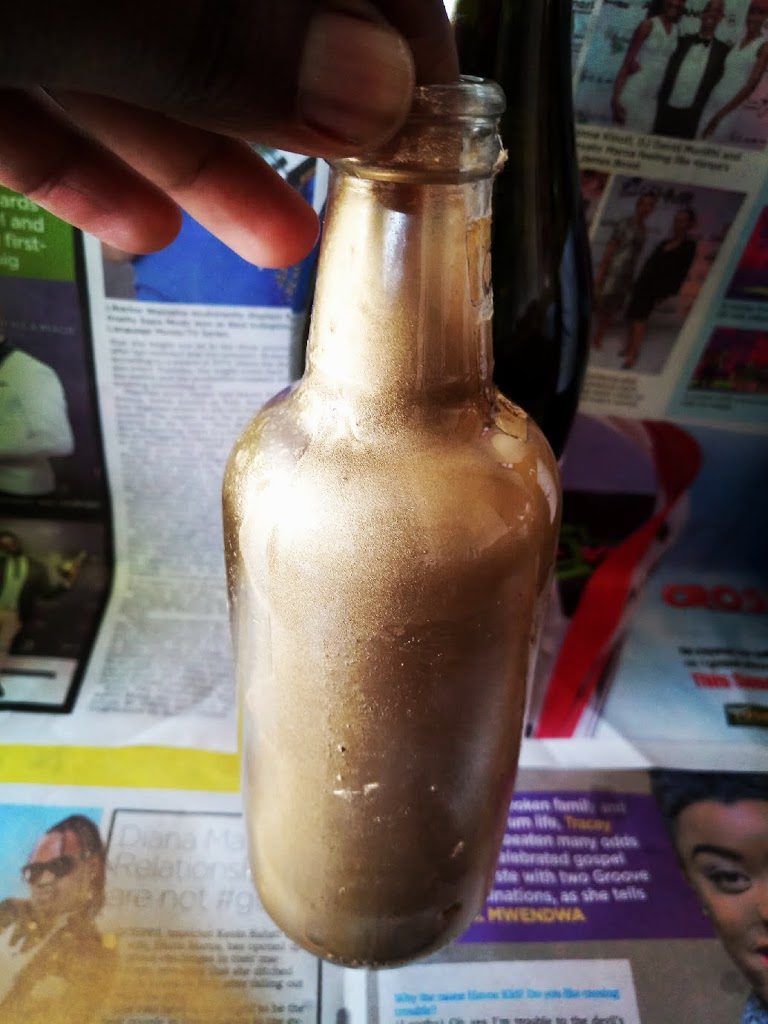 Then spray all round until the whole bottle is all done. Let it dry for like three minutes. It dries pretty quickly.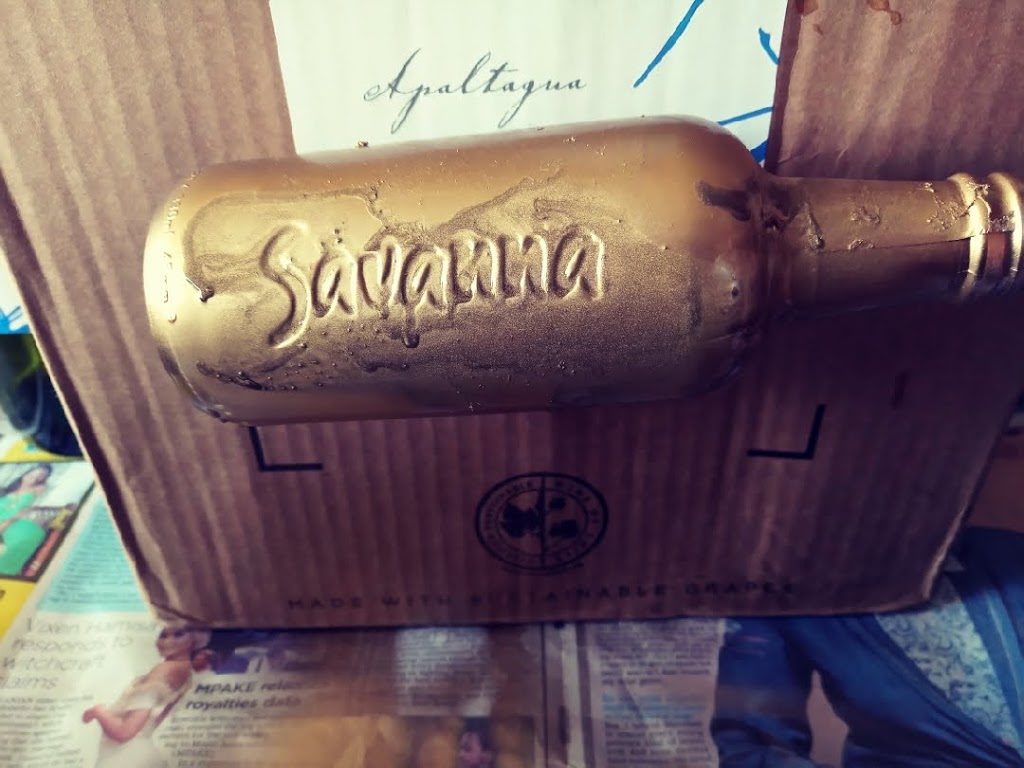 After it dries do a second and final coat.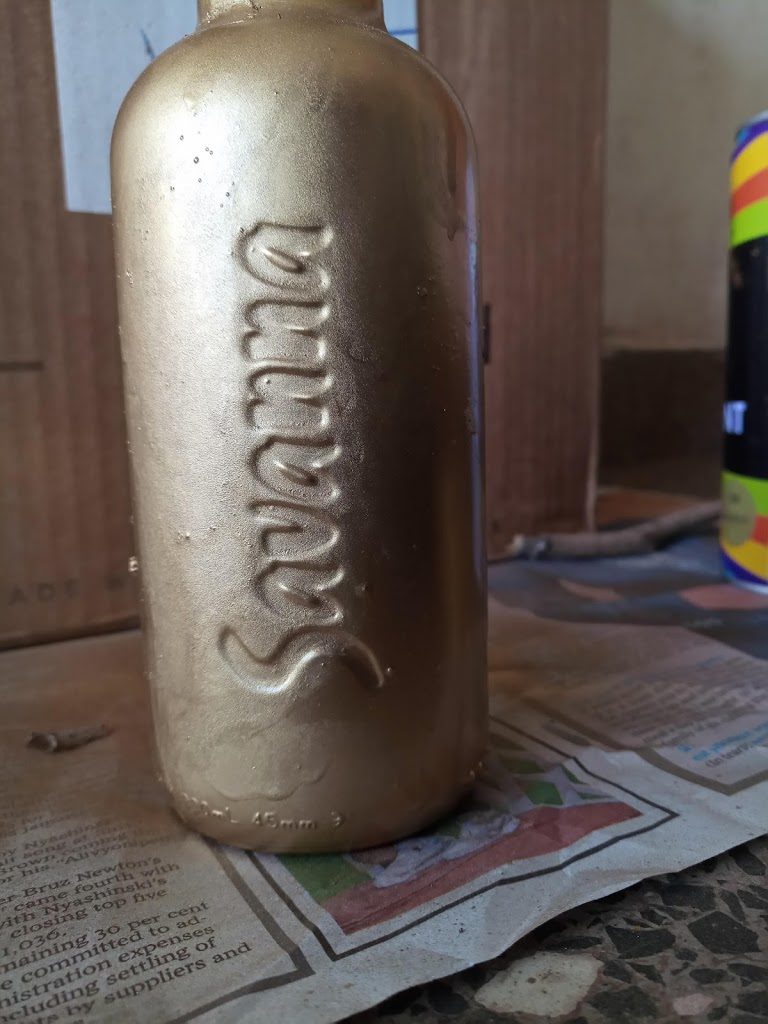 Paint the rest and let them dry.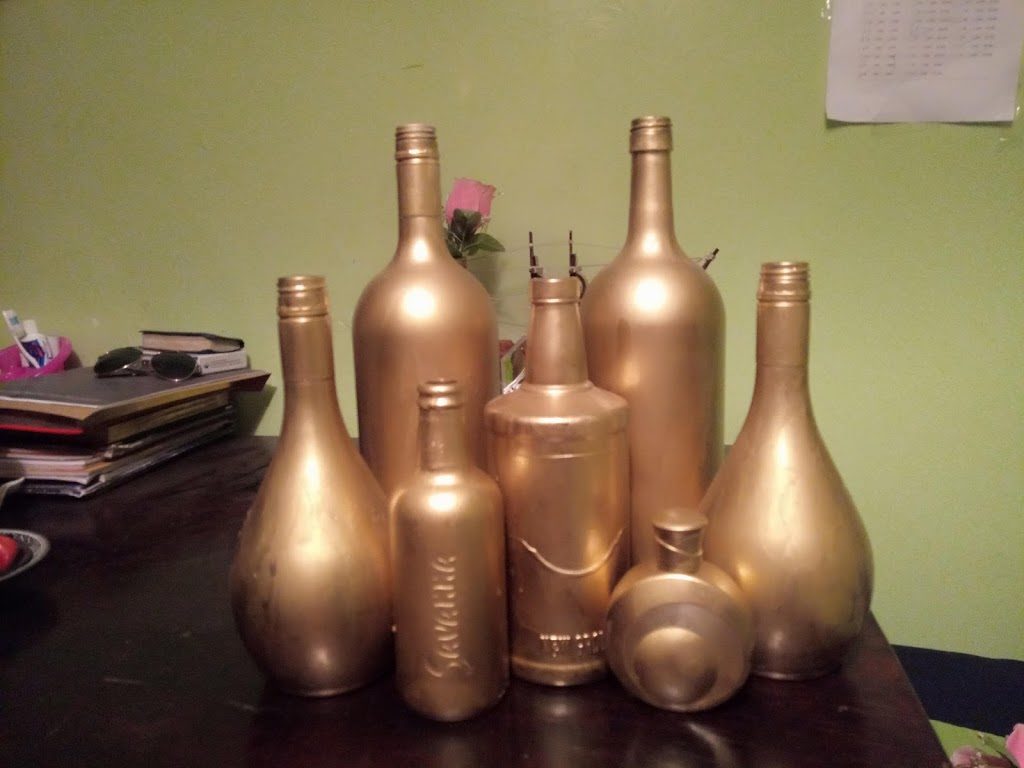 Put the flowers.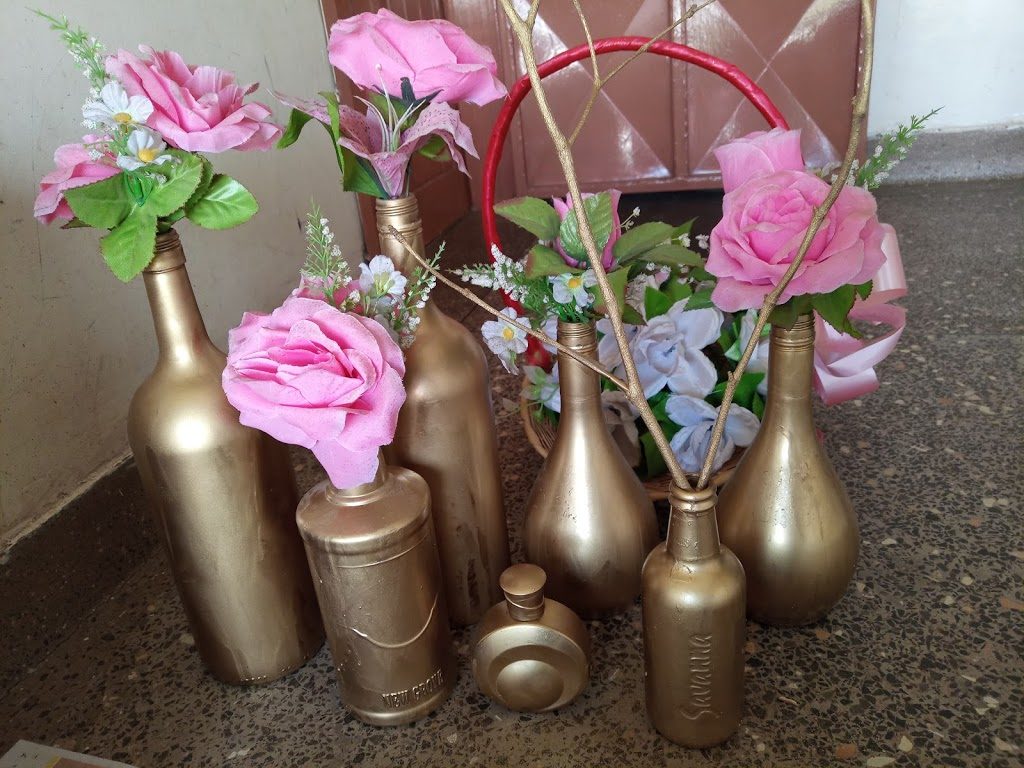 Take two.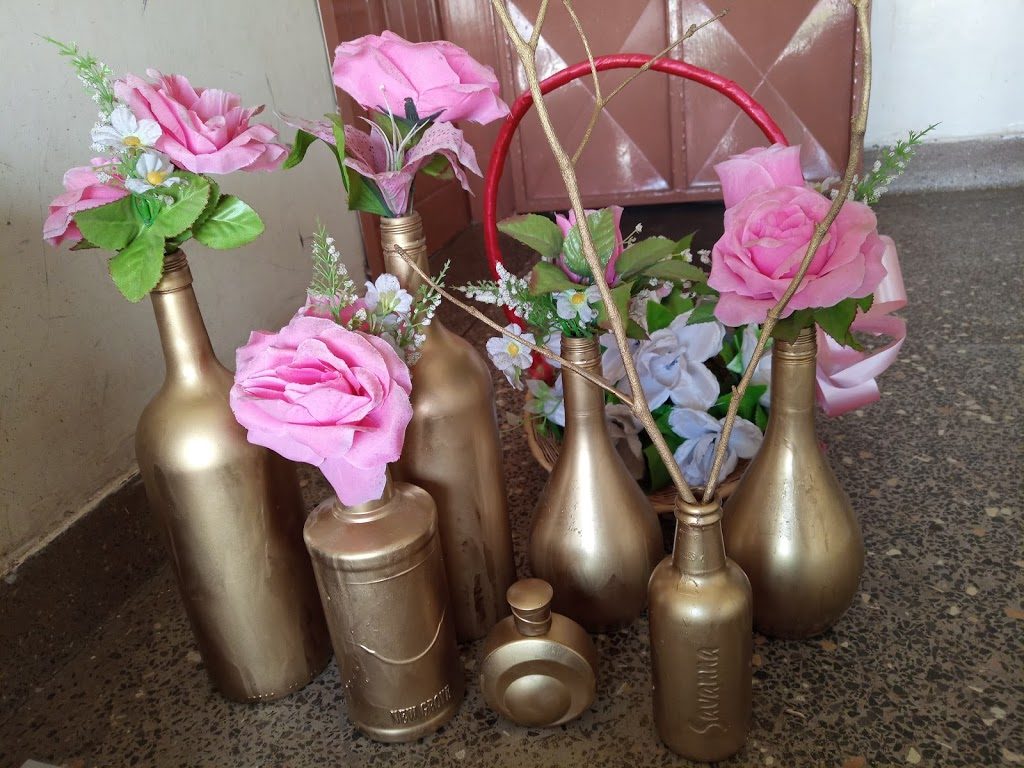 Another one.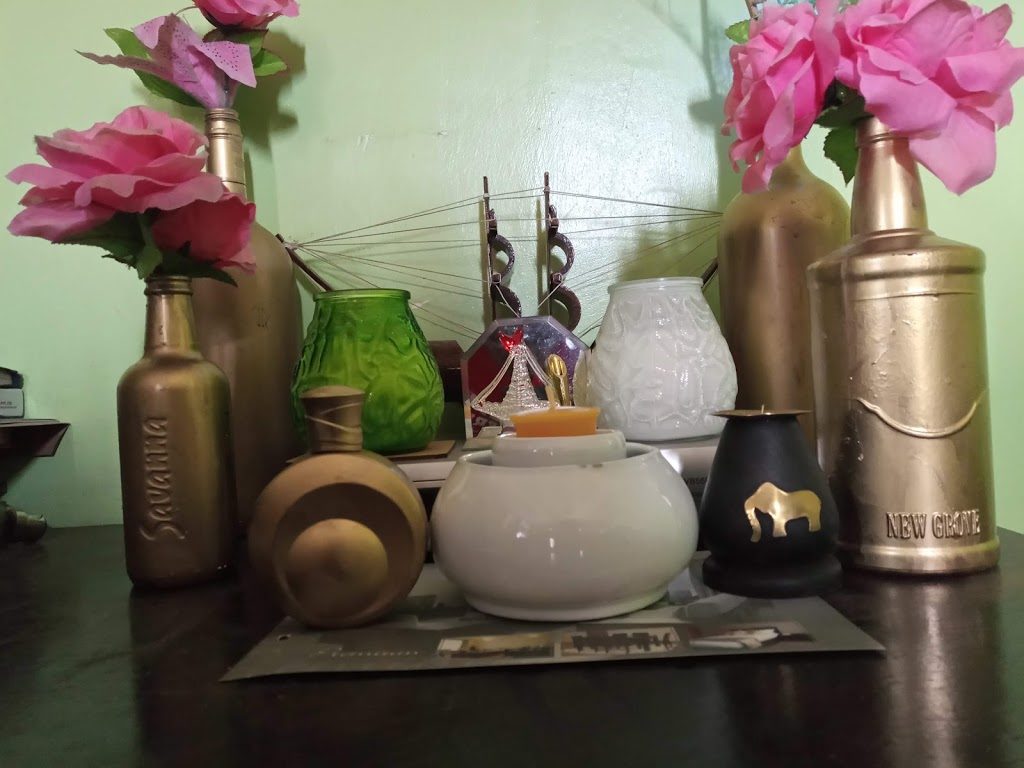 I have not arranged my room yet so I just placed all of them on the table for picture purposes but I suggest you don't put a lot of them in one area. At least two per table. This artificial flowers i just took them from my mum i think they are around 500 bob or less in the supermarket and they come in a kasmall beautiful basket. I suggest you buy them from house of leather on their SALE days coz they sell pretty affordably.
At the end of your spray painting your hands will look like the bottles so I suggest you get gloves since plastic papers were banned.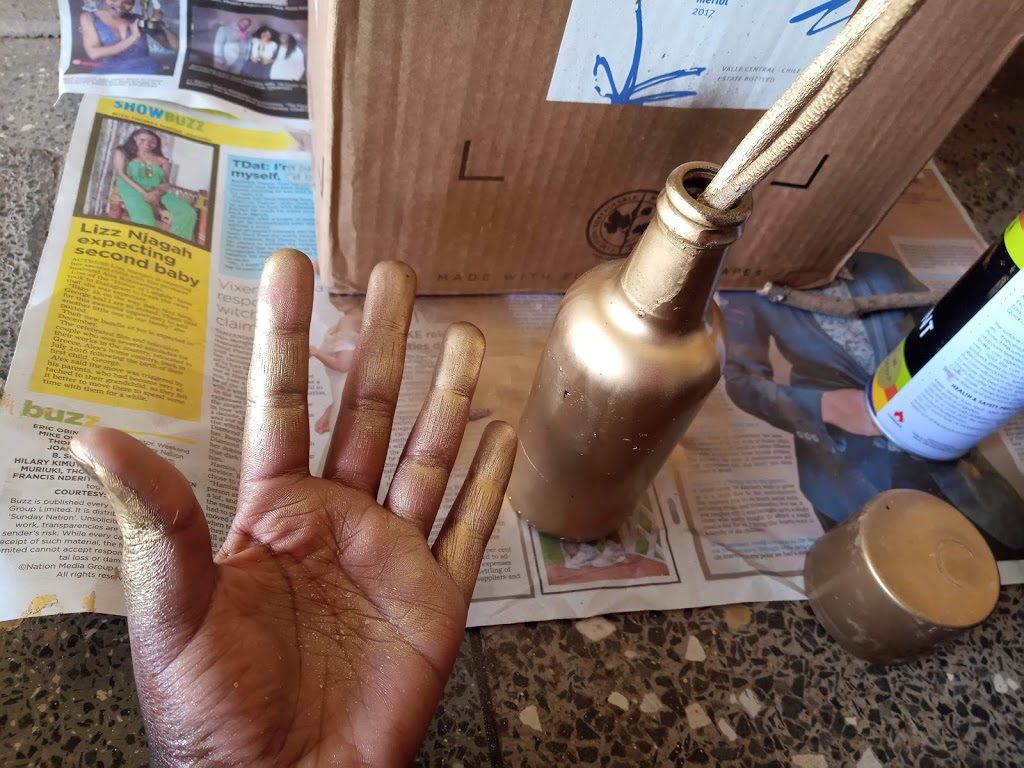 Golden fingers hahah.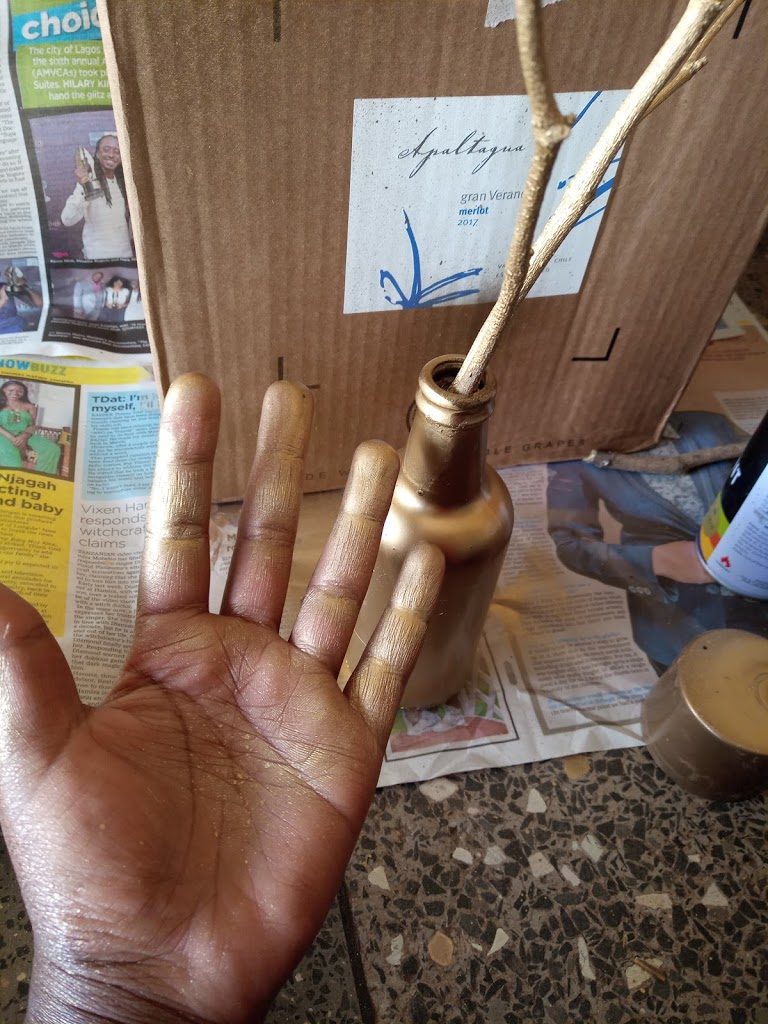 Hehehe. So I painted a twig!!!! Before I painted it my mum was like" hizi ni uchawi gani sasa aki?" But after I was done she was shoooooooocked. Okay not that much but she liked it.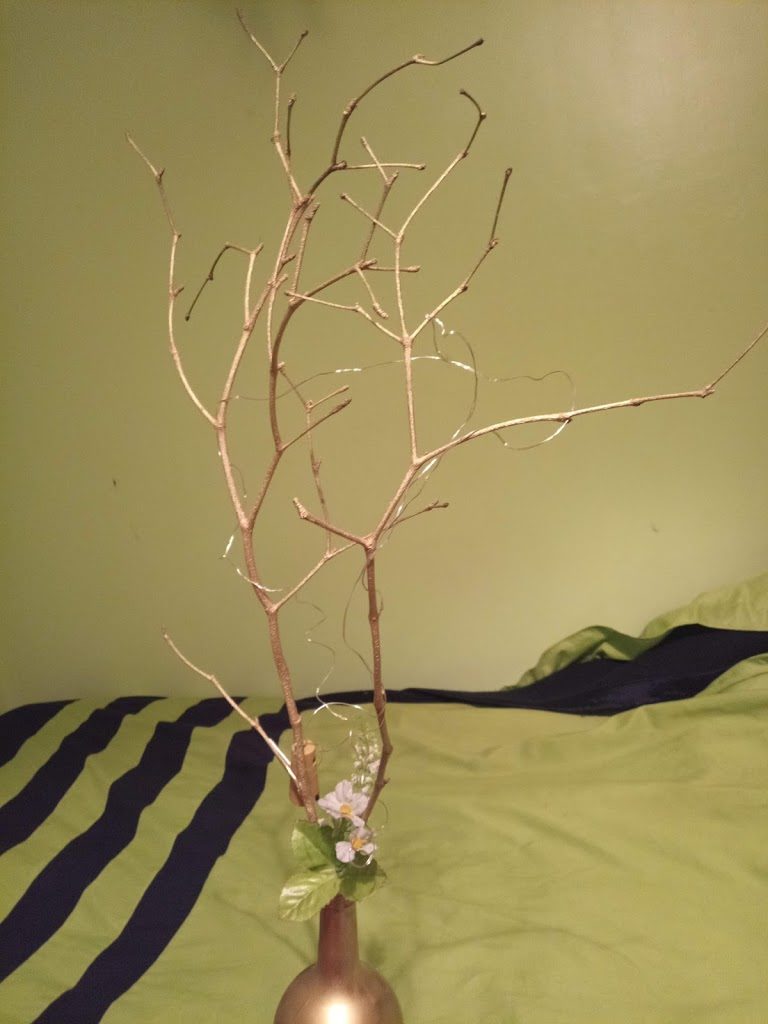 Day.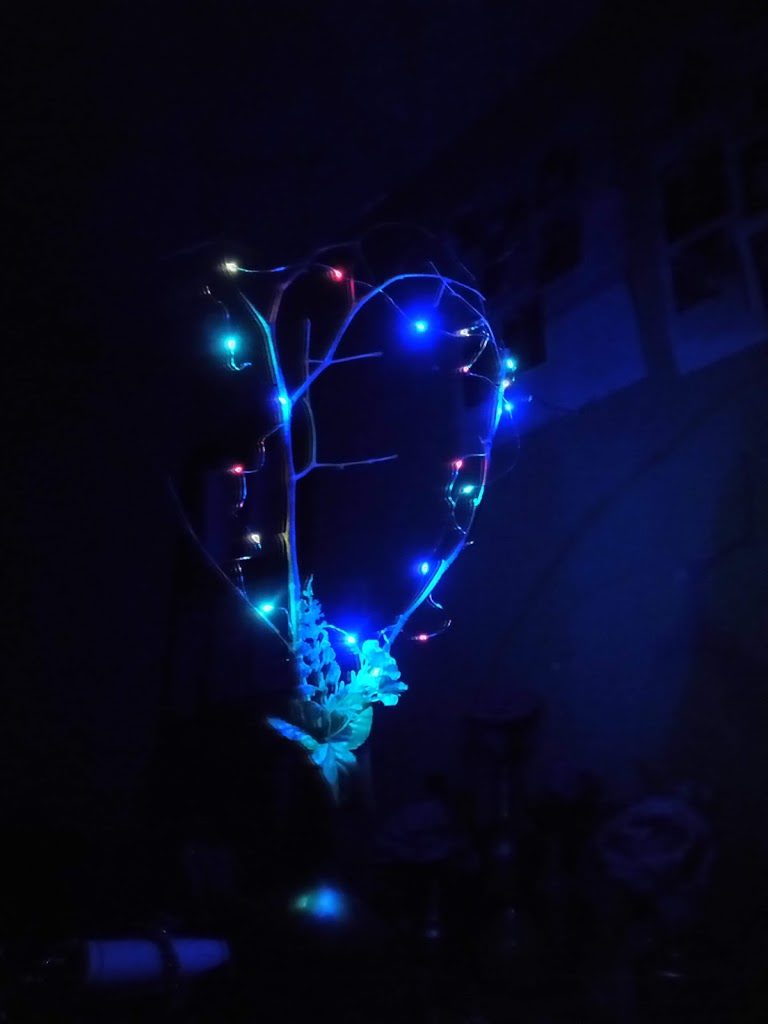 Night
Then I attached some string lights. AWWWWW looks like half my heart. My other half is somewhere glowing too. I bought the string lights on Jumia. They range from 400 to 750 bob.
So yeah! That's all folks I hope you enjoyed and the instructions were easy enough for you to try out on your own. Until next time Turrrrrrrrrrrrrrrruuus.